2013 NFL season preview: Minnesota Vikings
After a surprising season in which Adrian Peterson carried them to a wild card berth, the Vikings will try to improve in 2013. Here's a look at how they're shaping up.
• 4 min read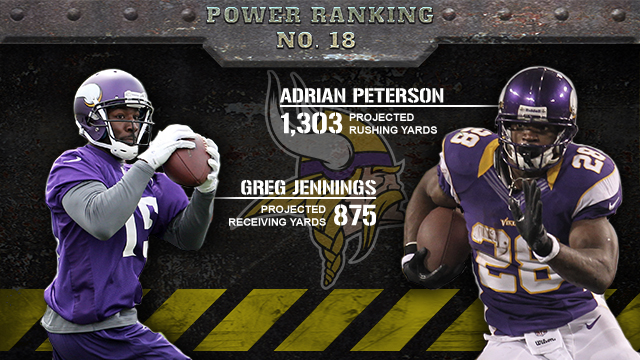 The Vikings were one of the league's most surprising teams in 2012, reeling off 10 wins and grabbing the NFC's wild card playoff spot. So much of the team's ability to return to the postseason is dependent on quarterback Christian Ponder and whether he can take a big step and become a top-15 quarterback (he hasn't shown that he's there quite yet).
If not, you have to wonder if Ponder really is the quarterback of the future -- and the offseason acquisition of Matt Cassel to fill the backup role could very well goose him.
Offense:
Would you have originally traded Percy Harvin for Greg Jennings? Before the season, your answer would have been "probably not." Harvin, after all, has the potential to be one of the league's top receivers, and Jennings is coming off injuries that forced him to miss half of last season. That's pretty much what Minnesota did this offseason after trading Harvin to Seattle and signing the free agent Jennings (unfortunately for the Seahawks, Harvin is out at least until December after undergoing hip surgery). But the point here is that quarterback Christian Ponder probably would rather see Harvin instead of a Jennings who won't stop talking about the Packers and who will turn 30 in September.
Vikings' Rivals: NFC North


2013 Preview • Schedule
Bears @ Vikings: 12/1 (1 p.m. ET)
Vikings @ Bears: 9/15 (1 p.m. ET)


2013 Preview • Schedule
Lions @ Vikings: 12/29 (1 p.m. ET)
Vikings @ Lions: 9/8 (1 p.m. ET)


2013 Preview • Schedule
Packers @ Vikings: 10/27 (8:30 p.m. ET)
Vikings @ Packers: 11/24 (1 p.m. ET)
That said, Ponder should get help from first-round pick, receiver Cordarrelle Patterson -- who was awfully impressive in the early part of the preseason -- and second-year receiver Jairus Wright. Jerome Simpson hasn't shown himself to be a consistent big-play receiver, but Jennings, assuming he's the same player he's shown in the past, should continue to contribute.
And what will happen with Ponder's former backup, Joe Webb -- moved to receiver in the offseason? He could become a solid utility man who gives the Vikings an extra playmaker if he makes the team.And the most dynamic player on the roster will continue to be running back Adrian Peterson, who remains straight-faced when he says he wants to rush for 2,500 yards this season. And after last season's performance, in which he rushed for an amazing 2,097 yards and 12 touchdowns after suffering a pulverizing knee injury in December 2011, who's to believe that he can't make good on that goal?
Defense:
The Vikings single-biggest mistake in the offseason was letting go of cornerback Antoine Winfield -- who Pro Football Focus ranked as the league's top-rated cornerback last season. Well, maybe it wasn't a bad move to try to restructure a contract Minnesota didn't want to pay, but the team shocked Winfield by releasing him. Then, instead of trying to come to an agreement with Minnesota on a new deal, Winfield, who felt disrespected by his old team, eschewed the Vikings and signed with the Seahawks instead. The Vikings secondary is talented with Harrison Smith at safety and Chris Cook, Josh Robinson and first-round pick Xavier Rhodes at cornerback, but Minnesota's defense would be better if Winfield was still on the roster.
Other parts of the defense have plenty of questions to answer. Can Kevin Williams, who almost certainly is just holding his defensive tackle job until first-round pick Sharrif Floyd is ready to take it for himself, play at a high level? Can defensive end Jared Allen -- who hasn't cracked the 12-sack mark in two of the past three seasons (his mark of 22 in 2011, notwithstanding) -- bounce back after a disappointing 2012? Remember, he's coming off an offseason of knee and shoulder surgeries.
Final thoughts:
The Vikings could very well compete for another wild card spot this season, but I also think they're going to struggle to get back to a winning record. Still, there has to be optimism with the Vikings. With coach Leslie Frazier in charge and with a young, talented squad, Minnesota has the chance to make itself into a yearly playoff contender. That is, if Ponder can make himself into an average quarterback at least. Because not even Peterson can lead the team there all by himself.
More 2013 NFL season previews: Select a team
AFC North
AFC South
AFC East
AFC West
NFC North
NFC South
NFC East
NFC West
Pick Six Newsletter
Get the day's big stories + fun stuff you love like mock drafts, picks and power rankings.
Please check the opt-in box to acknowledge that you would like to subscribe.
Thanks for signing up!
Keep an eye on your inbox for the latest sports news.
Sorry!
There was an error processing your subscription.
The Patriots opened as underdogs again somehow, with Vegas installing them as one-point 'dogs...

The NFL has a big problem on its hands and the solution is staring them in the face

Super Bowl Sunday is coming up fast, and you can find all the information you need right h...
Teams in dire need of a franchise quarterback will have to trade up to get one in 2019

The Rams and Patriots are heading to Super Bowl LIII after a crazy championship Sunday

Stop me if you've heard this one before: The Patriots are heading to the Super Bowl