Agent's Take: Examining key issues for Eric Decker's free agency
Eric Decker is coming off his best season. So how much is he worth? We examine the key considerations for the Broncos wide receiver in free agency.
More NFL offseason: Mock Drafts | Prospect Rankings | Pro Days | Top free agents
Eric Decker is one of the most polarizing players who will be available when free agency begins on March 11. There's a sentiment that he is strictly the beneficiary of playing in one of the most prolific offenses in NFL history with Peyton Manning and the fourth option in a talented receiving corps. Some contend that Decker's productivity over the last two years suggests that he could be a primary receiving option on another team.
When I represented players, I took either a lead or secondary role in the free-agency process with several wide receivers, including Drew Bennett, Troy Brown, Curtis Conway, Michael Jackson, Shawn Jefferson and Keenan McCardell. My preference would be to represent Decker instead of Hakeem Nicks, who is coming off of two subpar, injury plagued seasons, or any other wide receiver in this year's free-agent class. There are issues with Decker that could make his free agency interesting, particularly if Todd France, his agent, misreads the market or it doesn't develop as they are expecting.
Here's a look at some of the key considerations of Eric Decker's free agency.
Eric Decker's productivity/negatives
It's the agent's role to portray his or her client in the most favorable light while downplaying or minimizing his weaknesses or negatives. Decker picked the right time for the best season of his four-year NFL career by having it in a contract year. He posted career highs of 87 receptions and 1,228 receiving yards in 2013 with 11 receiving touchdowns. The 2010 third-round pick has been one of the NFL's most productive wide receivers over the last two seasons with 172 receptions (11th in the NFL), 2,352 receiving yards (ninth in the NFL) and 24 touchdowns (tied for third in the NFL).
Besides having outstanding raw numbers, Decker fares well in advanced football statistics. According to Pro Football Focus (PFF), Decker was their 11th-ranked receiver in 2013. His ranking put him right ahead of Larry Fitzgerald (12th) and Josh Gordon (13th). Decker was a pretty complete route runner based on PFF's metrics with more than 100 receiving yards from six different routes (comeback, go, hitch, in, out and post). He had the NFL's highest catch rate on passes of 20 or more yards at 60 percent (15 receptions on 25 passes) and surprisingly also on passes while operating out of the slot at 80 percent (32 of 40). By contrast, Wes Welker and Victor Cruz, who are known as slot receivers, had 64 percent (57 of 89) and 63.2 percent (43 of 68) catch rates in the slot.
Football Perspective created a true receiving yards metric and its goal is to adjust for how frequently a team throws the ball while placing a premium on reception yardage on touchdowns. It also normalizes for playing era and the number of games in a season, which aren't relevant for same season comparisons. Decker also performs well in this metric. He ranked 16th in 2013 with 997 true receiving yards, which put him right behind Vincent Jackson's 999 yards.
Despite Decker's productivity, there are concerns since physical cornerbacks playing press coverage give him trouble. Decker didn't do anything to dispel the notion against the Seattle Seahawks, who are now in the conversation of the greatest defenses in NFL history, in Super Bowl XLVIII because he was virtually nonexistent with one catch for six yards. His final impression of the 2013 season shouldn't outweigh his performance in 32 regular-season games over the past two years.
Decker's Super Bowl performance shouldn't be too alarming considering the Seahawks consistently shut down 1,000-yard receiving threats during the 2013 season. Anquan Boldin was held to one catch for seven yards in San Francisco's first meeting with Seattle. Larry Fitzgerald caught five passes for 35 yards in the Arizona Cardinals' two games against their division rival. Vincent Jackson had two receptions for 11 yards with the Tampa Bay Buccaneers in a Week 9 contest in Seattle. Roddy White had one catch for 20 yards when the Atlanta Falcons faced the Seahawks in Week 10. Tight end Jimmy Graham had one catch for 8 yards in the New Orleans Saints' playoff loss to Seattle.
There's no denying that Decker benefits from playing with Peyton Manning, who arguably had the greatest individual quarterback season in NFL history. It's a disservice to Decker to conclude that his success is solely tied to Manning and Denver's other weapons in the passing game. Decker had 85 receptions, 1,064 receiving yards and 13 touchdowns (second in the NFL) in 2012 with Brandon Stokley at slot receiver and Jacob Tamme as the best receiving option at tight end. He was the clear No. 2 receiving option with these two players who are clearly inferior to 2013's slot wide receiver Wes Welker and tight end Julius Thomas. Additionally, Demaryius Thomas, as Decker readily admits, is on a different level from him. Decker also correctly points out that only a handful of NFL receivers wouldn't play second fiddle to him.
Setting Decker's free-agency target price
An agent is supposed to take his marching orders from his contract and attempt to execute his wishes because an agent works for his client. It's not the other way around. Since Decker has indicated publicly his willingness to leave Denver, his agent should be justified in taking the position that Decker has established himself as a legitimate No. 1 receiving threat over the last two years where his production speaks for itself. The primary focus should be on the top deals for wide receivers that have switched teams in free agency over the last two years. Below is a chart detailing the best contracts.
Best contracts
Player
Team
Year
Guarantee
3-year money
Avg. salary
Length
Mike Wallace
MIA
2013
$30M
$37M
$12M
5 years
Vincent Jackson
TB
2012
$26M
$36M
$11.1M
5 years
Greg Jennings
MIN
2013
$17.8M
$27M
$9.5M
5 years
Pierre Garcon
WAS
2012
$20.5M
$27M
$8.5M
5 years
Averages
---
----
$23.6M
$31.8M
$10.3M
5 years
Note: Jennings has $2.5 million in escalators & incentives in his deal for honors.
There isn't any kind of real correlation between wide receiver production in a contract year and free-agent salary. Below is a chart outlining the contract-year production of the players who got the best free-agent wide receiver deals by switching teams.
Decker's comps
Player
Team
Year
GMS
REC
YDS
YPC
TD
Mike Wallace
PIT
2012
15
64
836
13.1
8
Vincent Jackson
SD
2011
16
60
1,106
18.4
9
Greg Jennings
GB
2012
8
36
366
10.2
4
Pierre Garcon
IND
2011
16
70
947
13.5
6
Their averages
--
----
13.8
57.5
813.8
14.2
6.8
Eric Decker
DEN
2013
16
87
1,288
14.8
11
Another data point to consider is the average compensation of 2013 No. 1 wide receivers on veteran deals. There were 20 such deals last season, including Calvin Johnson's seven-year, $113.5 million contract extension with the Detroit Lions in 2012 containing $53.25 million in guarantees and Julian Edelman's one-year deal from the New England Patriots with a base value of $765,000. Their contracts averaged slightly under $10.2 million per year, contained almost an average of $19.2 million in guaranteed money with 4.6 years as the average contract length.
The average production of these 20 wide receivers was 78 receptions, 1,037 receiving yards and 6 touchdowns in 2013. Their production is also consistent with No. 1 wide receivers over the last two seasons where players on rookie contracts are included, which is 75 receptions, 1,026 receiving yards and 6 touchdowns. Only one player per team was included for each season. For example, Roddy White and Alshon Jeffery were classified as No. 2 wide receivers in 2013 for the Atlanta Falcons and Chicago Bears while Julio Jones and Brandon Marshall were considered No. 1 wide receivers for their respective teams.
After examining these salary metrics, Decker should feel comfortable seeking a five-year, $52.5 million contract, with $25 million in guarantees where $34 million is in the first three years.
Remaining with the Denver Broncos
Thomas' emergence as one of the NFL's best wide receiver makes it unlikely that Decker's best financial option is re-signing with Denver. Decker is viewed as a No. 2 receiver by the Broncos. Thomas has 186 receptions (sixth in the NFL), 2,864 receiving yards (third in the NFL) and 24 touchdowns (tied for third in the NFL) during the last two seasons. He is entering the final year of a five-year rookie contract he signed as the 22nd overall pick in the 2010 NFL Draft. His next contract should exceed the five-year, $60 million deal (with $30 million in guarantees) Mike Wallace received from the Miami Dolphins as a free agent last year.
The goal should be for Decker to leave the door open to remain with the Broncos if free agency doesn't go as expected. Denver's approach of letting him test the free-agent market before engaging in serious negotiations could backfire if the team is sincerely interested in retaining him. The Tennessee Titans took this same approach with Bennett when he was a free agent in 2007. His initial preference was to remain with the Titans. Bennett didn't give the Titans an informal right to match the six-year, $30 million contract (with $10 million guaranteed) he signed with the St. Louis Rams because he felt they should have been in the best position to gauge his true worth independent of free agency since they had six seasons to determine his value. The Titans did receive a courtesy call once the deal was finalized so they wouldn't find out about it from the media.
The Broncos reportedly met with France at the NFL combine in Indianapolis about Decker. An agent attempts to get some sort of ballpark or contract parameter out of the team so it can be used as a negotiating floor in free agency to leverage a better deal from other teams during these discussions. Given the Broncos strategy, this may not have been possible. Considering Denver's financial constraints because of Thomas, it would have been appropriate to suggest that Decker would be interested in remaining with Denver if he would be compensated at the top of the secondary wide receiver market. The highest paid player who signed a contract as a No. 2 wide receiver is Mike Williams with the five-year, $39.62 million contract extension (including $14.6 million guaranteed) he received from the Tampa Bay Buccaneers during the 2013 preseason.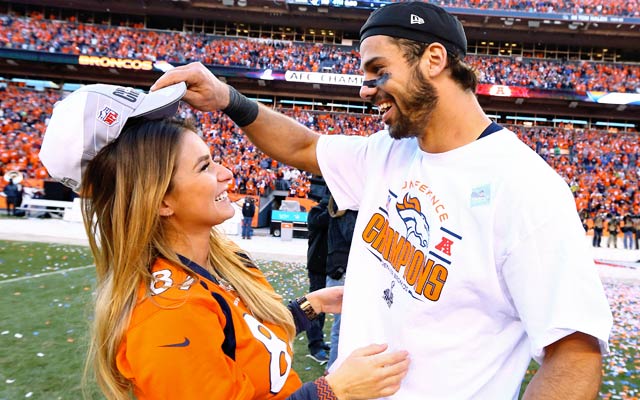 There have been several members of the media who have suggested that Decker shouldn't chase a huge pay day and continue to be arguably the most productive secondary receiving option with the Broncos. There is some merit to that line of thinking, but my experience as an agent was most players -- especially the ones who haven't made significant NFL money -- won't take a steep hometown discount to remain in a comfortable situation.
Potential teams
The ideal team for Decker has a stable quarterback situation, significant salary cap room and doesn't have another highly paid wide receiver. The team that best fits this description is the Indianapolis Colts, who reportedly have interest in Decker.
Andrew Luck is arguably the best young quarterback in the NFL. Thirty-five-year-old Reggie Wayne, who tore the ACL in his right knee during Week 7's contest against Denver last season, is entering the final season of a three-year, $17.5 million deal he signed in 2012. T.Y. Hilton, a third round pick in 2012, assumed No. 1 receiving duties during Wayne's absence. He isn't eligible to renegotiate his rookie contract until after the 2014 regular season and will not be a free agent until 2016.
The Colts demonstrated last year that they aren't afraid of spending in free agency by making Gosder Cherilus the NFL's highest-paid right tackle with a five-year, $35 million contract (with $16.5 million guaranteed). Apparently, there weren't any reservations about the microfracture surgery Cherilus had on his right knee in 2010. Cherilus reportedly traveled to Germany several weeks before free agency for Regenokine treatment on the knee, which is the same experimental procedure Kobe Bryant received.
Barring a flurry of activity to re-sign their own free agents before the new league starts on March 11, the Colts should have close to $40 million in cap room. Any interest in Decker could have been helped by him having one of his most productive games during the 2013 season against the Colts. He caught eight passes for 150 yards with a touchdown in Denver's 39-33 loss to Indianapolis.
Unfortunately, the ideal situation isn't always the actual destination in free agency. The Oakland Raiders could be an option for Decker because of an NFL-high of almost $65 million in cap space. Their quarterback situation is unsettled with 2013 undrafted free agent Matt McGloin and Terrelle Pryor. The Raiders could use an upgrade at wide receiver with Rod Streater and Denarius Moore as starters. General manager Reggie McKenzie may be out of a job if the Raiders don't show significant improvement in 2014 after consecutive 4-12 seasons during his two-year tenure. The lack of job security could lead him to overspend in free agency. Head coach Dennis Allen also has familiarity with Decker because he was Denver's defensive coordinator in 2011.
On the surface, the Jacksonville Jaguars and Cleveland Browns are similar to the Raiders because they have almost $60 million and $50 million in cap space, second and third in the NFL, to go along with quarterback issues.
Jacksonville general manager David Caldwell is being given time to undergo a rebuilding process. He focused on the draft and largely avoided free agency in 2013, his first year on the job. The league requirement for each team to spend a minimum of 89 percent of the cap in cash from over a four-year period from 2013 to '16 should eventually force Jacksonville to be aggressive in free agency. The Washington Redskins were the only team in 2013 that spent less than Jacksonville's $96.598 million payroll (78.5 percent of the $123 million 2013 salary cap). Wide receiver could be addressed during the offseason because of 2012 first-round pick Justin Blackmon's substance abuse problems. Cleveland already has a No. 1 receiver with Josh Gordon -- who led the NFL in 2013 with 1,646 receiving yards and has two years left on his rookie contract -- but is very thin at the position otherwise.
The New York Jets have slightly more than $23.5 million cap space and Geno Smith may not be the answer at quarterback. The cap room will rise to over $40 million if quarterback Mark Sanchez and wide receiver Santonio Holmes are released as expected. Parting ways with cornerback Antonio Cromartie will create another $9.5 million in cap space. Golden Tate may be higher on New York's free-agent receiver list because he is a cheaper option than Decker and general manager John Idzik should have a comfort level with Tate since he was a front office executive with Seattle before joining the Jets. A wide receiver could also be taken by the Jets with the 18th overall pick in the 2014 draft since multiple playmakers are needed.
Decker earned AFC Offensive Player of the Week honors in Week 13 for his 8 catch, 174 yard, 4-touchdown performance against the Kansas City Chiefs but Dwayne Bowe re-signed for $56 million (with $26 million guaranteed) over five years before the start of free agency last year. The Carolina Panthers have quarterback stability with Cam Newton and a glaring need at wide receiver because Steve Smith is 34 years old while Brandon LaFell and Ted Ginn are headed to free agency. Lack of cap space prevents the Panthers from being an option.
Pre-free agency negotiating period
Historically, teams have gotten a sense of the contract demands of free agents they are interested in through meetings with agents at the combine. During these discussions, teams are given salary parameters, if not specific salary figures. These types of discussions, which are prohibited by NFL rules, aren't happening with as much frequency because there is more lag time between the combine and the start of free agency than before.
The NFL also implemented a new three-day period before free agency last year to curb tampering. This year it starts on March 8 at noon ET when teams are allowed to negotiate with the agents of impending unrestricted free agents until the 2014 league year begins on March 11 at 4 p.m. ET. Deals aren't supposed to be agreed to during this period. The negotiating window last year allowed teams to better gauge the free-agent market generally. It also gave teams time to adjust if they initially miscalculated the market.
Ordinarily, NFL teams lobby to become the first team a free agent visits. Based on conversations with several agents, free-agent trips didn't quite have the same significance as in previous years because of the negotiating window. However, a savvy agent will likely schedule the trip of his player's desired playing location first (assuming there is one) while attempting to assure the other teams interested in scheduling trips that the order is not a reflection of his player's preferences. The player's other trips can be piggybacked onto his first visit. This approach has led to the first visit being the only visit a player makes because the team knows its best window of opportunity of signing him is before he goes to see another club.
Mario Williams had other teams ready to bring him in 2012 before the Buffalo Bills made him the NFL's highest paid defensive player with a six-year, $96 million contract (with $50 million in guarantees) on his initial free agent visit.
Outlook
Decker's agent should know by the end of the negotiating window whether any team will be in the ballpark of his contract demands. With more than one interested team, France should be able to leverage a deal at or close to his target price. If the market isn't developing as expected, France must decide how quickly to lower Decker's price in line with the secondary receiver market. The Broncos could be the biggest beneficiary of a soft market because Decker could feel comfortable returning to Denver on a long-term deal lower than he anticipated. Even though it's a deep wide-receiver class in the draft, it would be somewhat of a surprise if Decker's productivity, despite his weaknesses, didn't land him a free-agent contract from a new team in excess of Mike Williams' deal with an average over $8 million per year and more than $15 million guaranteed.
---
Joel Corry is a former sports agent who helped found Premier Sports & Entertainment, a sports management firm that represents professional athletes and coaches. Before his tenure at Premier, Joel worked for Management Plus Enterprises, which represented Shaquille O'Neal, Hakeem Olajuwon and Ronnie Lott.
You can follow him on Twitter: @corryjoel
You can email him at jccorry@gmail.com
It wasn't the matchup that we expected, but the Jaguars would argue that's everyone else's...

CBS All Access allows viewers to stream every NFL game on CBS in their local market

This will be Gene Steratore's first Super Bowl as a referee
The Patriots' quarterback and likely MVP appears to be banged up heading into the AFC title...

Kaepernick made the pledge in October 2016 in the middle of his campaign for social equali...

Landry is scheduled to become a free agent this offseason