NFL Power Rankings: Don't get too comfortable with this top 10
Get ready for chaos over the next two weeks as eight of the top 10 teams play each other over the last two games of the season.
For maybe the first time all season, there was little change in my Power Rankings, particularly at the top. That's surprising, considering we had 11 backup quarterbacks in the lineup this week. The Bills were the big fallers and look like a beaten-down team, while the Rams made a big jump and are starting to once again resemble the squad that Jeff Fisher has been trying to build.
The next two weeks will be telling (and tumultuous for the rankings) as eight of the top 10 teams play each other over the last two games of the season.
Here are the Power Rankings heading into Week 16:
| RANK | TEAM | |
| --- | --- | --- |
| 1 | | Panthers: This is a young team that isn't used to being the hunted. It showed Sunday when they took their foot off the gas in the second half against the Giants. But on the final drive, Cam Newton showed why he may be the NFL MVP. Last Week: 2 |
| 2 | | Cardinals: They traveled across the country and absolutely dominated the Eagles. The loss of Tyrann Mathieu hurts, but the Cards have the depth to absorb some of it. The No. seed hasn't been locked up and they're keeping the pressure on the Panthers. Last Week: 2 |
| 3 | | Seahawks: The defense gave up their first TD in three weeks, but only one. The offense, though, behind record-setting performances from Russell Wilson and Doug Baldwin, put up 30+ points for the fifth time in six games. Last Week: 3 |
| 4 | | Patriots: They weren't challenged by the Titans this week, and they may have put a stranglehold on the top seed in the AFC. Last Week: 4 |
| 5 | | Steelers: Ben Roethlisberger needs to take care of the ball, because when he does, this offense is nearly unstoppable. Last Week: 5 |
| 6 | | Bengals: AJ McCarron became the first Alabama QB to start and win an NFL game since 1987. But more importantly, he gave his team a chance to compete for the No. 2 seed this week in Denver. Last Week: 6 |
| 7 |   | Chiefs: People know this defense is good, but I rarely hear them mentioned with the top units in the league. They should be. They scored twice themselves and set up another score in a blowout win over the Ravens. Last Week: 8 |
| 8 | | Broncos: Big Ben torched the league's No. 1 defense for 380 yards. This one wasn't on Brock Osweiler, but when you give up those kind of numbers on defense, and your leading rusher only posts 48 yards, you're making it hard for him to win. Last Week: 7 |
| 9 | | Packers: It wasn't pretty, but the Pack gutted one out on the road, and in the process are headed to the postseason for the seventh straight year. There's a big game in Week 17 against the Vikings that could decide the NFC North and the No. 3 seed. Last Week: 9 |
| 10 | | Jets: The Jets keep winning, but it may be too little too late. They could finish 11-5 and out of the playoffs and make a case for my proposal of having seven teams make the playoffs in each conference. Last Week: 10 |
| 11 | | Vikings: Teddy Bridgewater led his team to a victory, which is a big first step. But if they are going to win the division and win in the playoffs, he'll need to do that on a more consistent basis. Last Week: 11 |
| 12 | | Redskins: Kirk Cousins is playing with a lot of confidence, and this team has the running game and the defense to compete in the playoffs, but first they need to take care of business on the road in Philadelphia in a game that could decide the NFC East. Last Week: 13 |
| 13 | | Texans: Houston lifted a huge gorilla off its back with a win in Indy on Sunday. But the Texans will need to get Brian Hoyer back to get the job done.Last Week: 14 |
| 14 | | Raiders: The Raiders were officially eliminated from the playoffs for the 13th straight year with their loss to the Packers. But they served notice in 2015 that they are a team to watch for 2016. I expect to see it come together next season. Last Week: 12 |
| 15 | | Eagles: Remarkably, the Eagles still have a chance to win the NFC East if they can handle the Redskins at home this coming week. But when looking at Sam Bradford and this defense, he has to be concerned about the long-term view of his team. Last Week: 15 |
| 16 | | Colts: Matt Hasselbeck has competed admirably, but whether it's him, Andrew Luck, or Charlie Whitehurst, no QB can win with this supporting cast. There's a lot of work to do this offseason in Indy.Last Week: 18 |
| 17 | | Rams: A season that got away from them seems to at least be winding down on a high note for the Rams. They are running the ball and playing aggressive defense again. Wherever they end up playing next season, if they can figure out the QB situation, they may be closer than most people think.Last Week: 27 |
| 18 | | Giants: I'm a big Eli Manning fan, and he has the weapons to score with anyone. But for him this whole season has been about overcoming his own defense. Remember, this is the franchise that coined the phrase, "defense wins championships." They need to act on that in the offseason. Last Week: 17 |
| 19 | | Lions: This team got so far off the rails this season, but there has unquestionable talent. I'm interested to see where things go in the offseason. Remember, less than a year ago they were one play away from advancing to the divisional round of the playoffs. Last Week: 19 |
| 20 | | Buccaneers: The Buccaneers stumbled in St. Louis and are eliminated from the playoffs, but there are some positives on both sides of the ball. Last Week: 20 |
| 21 | | Chargers: Philip Rivers' team finally showed the fight he's displayed all season. Melvin Gordon was the latest member of the team to hit IR this week. A ridiculous run of injuries has made it hard to get an accurate read on this team this year. Last Week: 32 |
| 22 | | Saints: Drew Brees has thrown multiple TD passes in six of the last seven games, but he has questionable protection, receivers who struggle to separate, and a defense that can't stop anybody, which explains why the Saints have only won two of those seven games.Last Week: 23 |
| 23 | | Jaguars: Blake Bortles has made big improvements this season, but he has played like a young player, making many big plays, but also making some crucial mistakes. More consistency is needed on that side of the ball, and some more talent on defense wouldn't hurt either.Last Week: 21 |
| 24 | | Falcons: The Falcons finally finished a game, and they did it on the road to keep the slimmest of playoff hopes alive. There's still plenty to clean up, including the turnovers. But it would be good for Dan Quinn and his program to finish on a high note here in the final weeks of the season. Last Week: 26 |
| 25 | | Bills: Changes are coming for a Bills team that's lost four of its last five and is mired in a lot of locker room finger pointing. Rex Ryan lost this team, and that's something that has to be evaluated in the offseason.Last Week: 16 |
| 26 | | Bears: Losers of three straight and four of their last five, the defense struggles to get off the field, the O-line has taken a step backwards, and Jay Cutler is taking sacks and has four giveaways in the last three games. They've made some progress this season, but there is still work to do on the personnel side. Last Week: 22 |
| 27 | | Dolphins: The Dolphins look to me like a team that has packed it in for the season. It will be another busy offseason in south Florida as they need a new coach, and will have to evaluate their next steps now that they've locked to a QB who doesn't look like he's the guy.Last Week: 24 |
| 28 | | Cowboys: They've hit bottom in Big D. Over the last two weeks, the offense is converting just 13 percent of its 3rd down attempts and has turned the ball over five times. The Cowboys haven't scored 20 points in a game since before Thanksgiving. Last Week: 25 |
| 29 |   | Browns: Johnny Manziel will flash and make a play here and there. But I'm convinced more than ever that he can't be consistent enough or disciplined enough to lead this team. He had six completions on the first drive of the game in Seattle and just 13 the entire rest of the game.Last Week: 28 |
| 30 | | 49ers: This is a roster thin on talent, but they make too many mistakes week in and week out -- from turnovers, to penalties, to inefficient play on 3rd down, to special teams gaffes. In the NFL, it's about players and execution. I'm not sure the Niners have either right now.Last Week: 22 |
| 31 | | Ravens: What's left to say? A wounded team battled hard as long as it could, but turnovers did the Ravens in this week. Credit John Harbaugh for still being aggressive and looking for a spark every week. Last Week: 30 |
| 32 | | Titans: Marcus Mariota's rookie season is over (knee injury), and ownership will be looking for his third head coach in eight months. Ridiculous. Tough to groom a franchise QB that way.Last Week: 24 |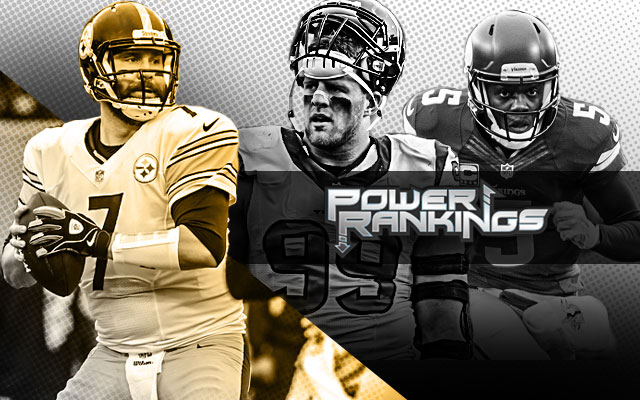 Pick Six Newsletter
Get the day's big stories + fun stuff you love like mock drafts, picks and power rankings.
Please check the opt-in box to acknowledge that you would like to subscribe.
Thanks for signing up!
Keep an eye on your inbox for the latest sports news.
Sorry!
There was an error processing your subscription.

Join our Free $1,000,000 Parlay Challenge
The Texans are fans of the Astros

Stephen Oh has his finger on the pulse of Tom Brady and the Patriots.

Fuller exited Sunday's loss to the Colts with the injury, and was replaced by Kenny Stills...
Johnson preaches accountability after the Eagles get blown out by Cowboys

SportsLine's advanced computer model simulates Monday's Patriots vs. Jets game 10,000 times.

Jackson is having an historical season, one that rivals the great seasons by Randall Cunningham...
Dallas jumped out to a 14-0 lead just over six minutes in and controlled things from there

The Saints proved that even with a backup quarterback, they are one of the more complete teams...