Report: Jim Harbaugh already losing 49ers locker room
Is Jim Harbaugh slowly losing the locker room in San Francisco?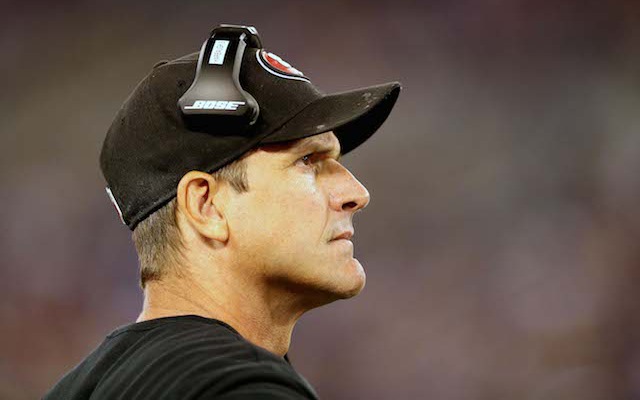 The 49ers regular season hasn't even started and there's already locker room trouble in San Francisco. According to NFL.com, coach Jim Harbaugh is already losing the 49ers locker room. 
The team has had some tense situations over the past couple seasons, but players have been willing to overlook things because the 49ers have been winning. According to NFL.com, the problem is that some players are beginning to think that things might 'spiral out of control' if the 49ers start losing. 
Veterans in the 49ers locker room weren't happy about practicing with Baltimore in August, according to NFL.com. San Francisco opened the preseason against the Ravens on Aug. 7 and stayed in Baltimore a few days afterward to practice with the team. The Ravens are coached by Jim's brother John Harbaugh. 
Apparently players aren't happy that the entire offseason has been all Jim Harbaugh, all the time. Besides the practices set up by Jim and John, the team has also dealt with non-stop talks about a possible contract extension for Jim and lets not forget about the Browns trade talk involving Harbaugh in February. 
Adding more intrigue to this thing is Jay Glazer of Fox Sports. In 2011, Glazer was one of the first to report that the 49ers were interested in Jim Harbaugh. Now Glazer believes that 2014 will be Harbaugh's last season in San Francisco. 
"I'd be surprised if Jim Harbaugh is back in San Francisco next year," Glazer said on Sunday. 
Harbaugh is going into the fourth year of a five-year deal he signed with the 49ers in January 2011. The 49ers are 41-14-1 under Harbaugh, but if the team gets off to a slow start this year, Harbaugh could be gone. 
The 49ers open the regular season on Sunday at 4:25 p.m. ET in Dallas. 
Here's an up-to-date look at the 2018 Pro Bowl roster

New England is 3-0 wearing white in Super Bowls under Bill Belichick

Bettors are favoring the Eagles to keep Super Bowl LII close, but the Patriots remain clear...
No one wants to give the Eagles any respect

The three-time Grammy winner will sing before Super Bowl LII on Feb. 4

Here's a look at the NFL's entire postseason schedule for 2018