Scott Mitchell doesn't believe Lomas Brown tanked play to hurt him
Two months after former Lions lineman Lomas Brown admitted to allowing his quarterback to get hurt by an opponent, it appears Brown's original tale might not have been completely accurate.
• 2 min read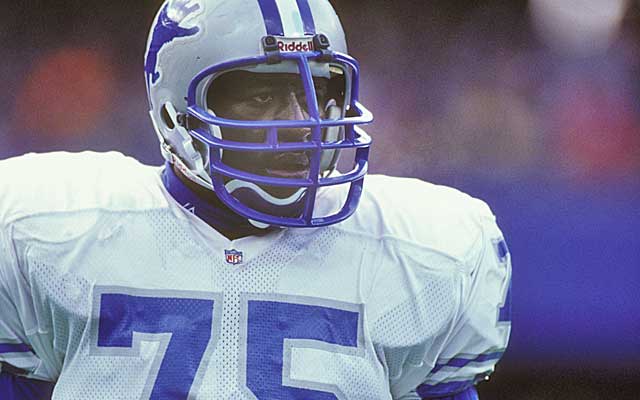 It sounds like Lomas Brown actually didn't help his quarterback get hurt in 1994. (Getty)
In December, former Lions offensive lineman Lomas Brown admitted to doing the unthinkable: giving up on a play so his quarterback would be hit by defenders and (hopefully) knocked out of the game.
The quarterback who was impacted by Brown's decision, Scott Mitchell, was understandably upset, saying, "For him to do that is just reprehensible, beyond words. It's really disappointing, it really is painful."
Two months later, it appears as though Brown's original tale might not have been completely accurate. Which raises new questions about why Brown, now an ESPN analyst, would admit to doing something so nefarious when it didn't actually happen.
"I do think he did it to improve his position with ESPN," Mitchell told the Detroit News. "That is probably the dumbest thing to do -- to tell a story that isn't true. It is an error in judgment and kind of stupid, actually. I don't think Lomas purposely tried to get me hurt."
Mitchell can say that because he watched the tape of that Lions game against the Packers in 1994, the game in which Brown late bragged about tanking a play so a defender could smash Mitchell. But after reviewing the film, Mitchell said that, on the play Brown referenced, he actually picked up a blitzing linebacker.
After he was told that, Brown, via the News, explained that "his job [on that play] is to block the inside linebacker because he has the shortest path to the quarterback. He was hoping running back Barry Sanders would pick up the outside rusher. But Sanders blocked another player."
The play ended when Sean Jones crushed Mitchell, breaking his finger and ending his season.
"I blanked out," Brown said, referencing the initial interview. "I started ranting and raving about what I did. … Until I saw the play I actually thought I did it."
Brown, who's being inducted into the Michigan Sports Hall of Fame on Monday night, feels better that he didn't actually do what he originally said he had done (if that makes any sense). And after talking to Brown, Mitchell -- one of the toughest players of his generation -- said the two have made up.
Now we can go back to thinking nice things about Lomas Brown.

For more NFL news, rumors and analysis, follow @EyeOnNFL on Twitter, and subscribe to our Pick-6 Podcast and NFL newsletter. You can follow Josh Katzowitz on Twitter here: @joshkatzowitz.
Warren Sapp was one of several players named in a lawsuit against NFL Network

Check out the uniforms that Denver and Indianapolis will be wearing on Thursday

The Cowboys are going to need a few things to go their way to get into the postseason
Rudolph will be put under the microscope in Mobile by clubs looking for a quarterback early...

This fan is taking the Saints to court for using 'football games as a platform for protest...

Can Aaron Rodgers get the Packers to the postseason? Even if they win out, they'll need he...