Sorting the Preseason Pile: Peyton Manning gets all fired up
Sorting the Sunday Pile (Preseason Edition!) looks at the biggest stories from the NFL week that was. This week: What got into Peyton? Can the Rams replace Sam Bradford? What would a trade look like? All that and more.
Last year's Super Bowl was, if you'll pardon the vernacular, an ass kicking. Seattle thumped Denver in every facet of the game at every point in contact, from start to finish. No wonder the Broncos wanted to get tougher this season.
If Peyton Manning's preseason is any indication, they're certainly taking on a different mentality. Manning ripped into his offensive unit during a practice with the Texans and then on Saturday night drew his first-ever flag for unsportsmanlike conduct after getting in D.J. Swearinger's face.  
Swearinger put a serious knock on Wes Welker, giving the Broncos wideout a concussion, his third in 10 months. Manning went up top on the Texans secondary shortly after that, hitting Emmanuel Sanders for a touchdown with five seconds left in the half, sprinted down the field and got in Swearinger's face.
Handing out what Swearinger described as a "few choice words" cost Manning 15 yards.
But if you think he gives any effs you need to think again.
"Fifteen yards with five seconds left in the first half — it can't hurt you that much, right?" Manning said.
Swearinger -- who ticked off the Broncos throughout practice AND the Falcons the week before, as we saw during Hard Knocks -- didn't care either.
"I wasn't surprised," Swearinger said. "I was just, 'Why, bro?' You know what I'm saying? It's whatever. ... Peyton can say what he want to say. It really doesn't matter. All I care about is the W."
The larger point here is the different approach for the Broncos this season. Manning is fired up all the time. Nothing new there. But if he's going bananas during the preseason, getting in dudes' faces and drawing flags, maybe he's been coached up a bit by John Elway on how to leave it all on the table near the end of your career.
"I think it's especially a mentality. Not only the physical toughness but the mental toughness," Elway said during the telecast. "Because things aren't going to go right for us all the time. We're gonna get punched in the mouth and it's how we respond to getting punched in the mouth.
"The mentality guys have now, I think they're going to punch back."
Not expecting a full Hogan-WWE level heel turn from Manning here, but seeing 18 get fired up every week would be fun to watch.
Slim QB options for Rams
Hope springs eternal for every NFL team in early August. But hope isn't always invincible until September, as the Rams learned on Sunday when Sam Bradford, recovering from an ACL tear, was lost before the season began with the same injury to the same knee.
It's a brutal blow for a team looking to push into the mix of the best division in the NFL. For as much talent as Les Snead and Jeff Fisher acquired in the Robert Griffin III trade, Bradford has been an anchor on this team.
Not even in a "he stinks" way, either. Sometimes Bradford's been bad, sure. At one point last year it looked like his Franchise Quarterback ship sailed completely. But largely the biggest issues for Bradford in his career have been either a lack of weapons, a lack of protection or injury.
And that leads us to the latest debacle. There's nothing the Rams can really do about Bradford's injury other than toss him on IR and start preparing to move forward at the position before 2015 (when they'd save nearly $13 million by cutting Bradford, still on his rookie deal as the final No. 1 pick under the old CBA structure).
So who replaces Bradford? Immediately it's Shaun Hill, one of the more capable backup options in the league, though he hasn't started a game since 2010. Fisher wasn't scared to "Give 'Em Hell with Kell" last year after Bradford's injury, but St. Louis has to at least consider other options, likely via trade, even though it's not a guarantee the Rams can pull anything off.
The Rams ability to trade for a QB if Sam Bradford is out will be impacted by a lack of cap space (last in the NFL with $1.678M).

— Joel Corry (@corryjoel) August 24, 2014
Here are five (point five) such options.
Mark Sanchez, Eagles -- Sanchez' shine is bright at the moment, shredding the preseason as the backup for the Eagles behind Nick Foles. He's got significant experience in Brian Schottenheimer's system from his days working at the Jets and is healthy after undergoing shoulder surgery earlier this year.
Ryan Mallett, Patriots -- No one roots for injuries, but Bill Belichick might be pulling for some quarterbacks to go down. The result is a suddenly rejuvenated interest in his current backup Mallett, who has one year left on his deal. Mallett's preseason so far is uninspiring and he's two weeks away from it being a largely bad thing if he gets to play. You won't find many stronger arms in the league, but if you want a guy to flip teams this quickly before the start of the season, Mallett might not be the top option. The Patriots would be pleased with any sort of return for him that could avoid A. letting Mallett walk or B. a franchise-tag-and-trade situation next year.
Kirk Cousins, Redskins -- Many folks, including Joe Theismann, think Cousins outperformed Robert Griffin III leading up to the season. He's a former three-year starter at Michigan State, has performed capably in spot action at the NFL level, appears to be progressing well and is a smart enough football guy to pick up Schottenheimer's system in relatively quick fashion. The Redskins are pot-committed to RG3 at this point and extracting some value from the Rams by sending Cousins their way would help mitigate the loss of talent they're dealing with now.
Brian Hoyer, Browns -- Trading for a starter! Why not, right? Johnny Manziel is the future, Hoyer is a capable, game-managing backup, he wouldn't require a ton in exchange and it would take a massive pain off the Browns' hands. Sure, maybe Manziel isn't "ready" right now, but is Hoyer really prepared to step in and win games from the get-go? Maybe. He'd be an upgrade over Hill at least. I think.
Tim Tebow, ESPN -- HAHAHAHA NO JUST KIDDING.
Christian Ponder, Vikings -- The Vikings have an excess of quarterbacks at this point, with Matt Cassel starting, Teddy Bridgewater backing up and Ponder playing out his contract. If they could get anything for Ponder at this point, they'd absolutely consider moving him.
All of this misses the larger point, though: St. Louis is in a complete and total nightmare now. The 2014 season hinged on Bradford making a leap with an improved offensive line and improved weapons. With him out, this season is all but sunk already. St. Louis' defense will make them a pain for opponents but every win will push them further away from acquiring the No. 1 pick and a potential franchise quarterback in the 2015 draft.
MORE RAMS
There's a reason I predicted Robert Quinn could break the single-season sack record next year -- and it's summed up nicely in his sack against the Browns where he absolutely smokes by Joe Thomas, one of the best left tackles in the game.
If you wanted a reason to hope for the Rams this year, it's Quinn and that defensive line.
SPEAKING OF WHICH: it's a miracle the Internet is still functioning after Michael Sam sacked Johnny Manziel and did the "Money Fingers" motion.
The only thing more likely to disrupt the web's flow would be Nicki Minaj doing the Anaconda lap dance on Brett Favre.
Fly, Falcons, Fly
Was kind of hoping Julio Jones would refrain from looking amazing before my fantasy draft this week so I could steer clear of drafting him too early but NOPE.
I'm still not convinced about the Falcons being good this year, mainly because of the problems they face on the offensive line and generally on defense. But they've got talent a plenty at wide receiver, don't they?
Devin Hester might end up being productive. That's how stacked they are.
Cowboys Concerns
There are plenty of reasons for the Cowboys to be worried about 2014. The offensive line shouldn't be a problem, but Jerry Jones is worried about the three sacks Tony Romo took during the third preseason game against the Dolphins.
"That concerned me," Jones said, "not because of being able to correct what it takes to block them, but it just concerned me that he was taking those sacks."
I get that concern, of course. Tony Romo getting sacked + Tony Romo passing a bunch + wonky vertebrae = Tony Romo getting hurt. Pretty simple math.
But everyone's already under the bus. No need to back the thing up while everyone's lying underneath it -- rev the engine and speed off.
"They're a strength, but it shows that they've got some more work to do," Jones said. "I think that's the kind of thing they'll have plenty to work on and when they do they'll make them better for San Francisco.
"I'm just glad we were able to sit here and talk about that without talking about Romo being a little tight in the back."
It's really hard to imagine a scenario where Romo plays the entire season.
Strong Saints Starts
Part of the problem with the preseason is we want to put tons of emphasis on it while simultaneously making sure we don't worry about what's happening too much. But if you buy into what you see in Week 3, you're loving the start for the Saints.
Drew Brees looked like his same old offensive self, going 9/15 for 128 yards in just under a quarter of action. He found all of his weapons (aside from Brandin Cooks who missed the game with a fever), hitting Jimmy Graham and Marques Colston for a touchdown each. His numbers would've been better if Kenny Stills hadn't dropped a deep pass.
The defense looked good too. Keenan Lewis should've picked off Andrew Luck early and Kenny Vaccaro managed to get him later near the end of the first quarter.
The Saints managed to generate pressure (Cameron Jordan is in for a monster year) on Luck too, and would've put up better numbers if they hadn't been flagged a few times for roughing and the like.
Rob Ryan's unit could backdoor a top-five finish this season.
Red Flags in Carolina
Elsewhere in the NFC South, you've got to be concerned with the news of Cam Newton dealing with fractured ribs. He's a big, strong dude, but that's not a shrug-it-off type injury.
Add in the Patriots (particularly Chandler Jones) manhandling of Byron Bell and you wonder if Cam can hold up for a full season of the hits he could face with Bell and Nate Chandler protecting him.
The injury in question was actually on a scramble where he dove head first and Jamie Collins put a knee in his back, but the pressure is a problem. Especially when Newton didn't have a normal offseason to get on the same page as his new set of wideouts.
I'm on record predicting a better year for that corps and I'm fine predicting that. But it won't matter if Cam's not playing because he can't walk or stand up.
Boo the Bills
EJ Manuel ended up going 19 of 28 for 128 yards, a TD and a pick. But that doesn't tell the whole story. After the first quarter (i.e. when the Buccaneers were playing their first-team defenders), Manuel was 6/12 for 54 yards (4.5 YPA!) and a pick.
At one point the Bills offense went full Benjamin Button:
He rallied later in the quarter but if you're the Bills -- who were being booed mercilessly and understandably by their home crowd -- you're seriously concerned about how this season will go. There are weapons on offense but this team is only making it as far as Manuel will drag them.
Worth 1,000 Words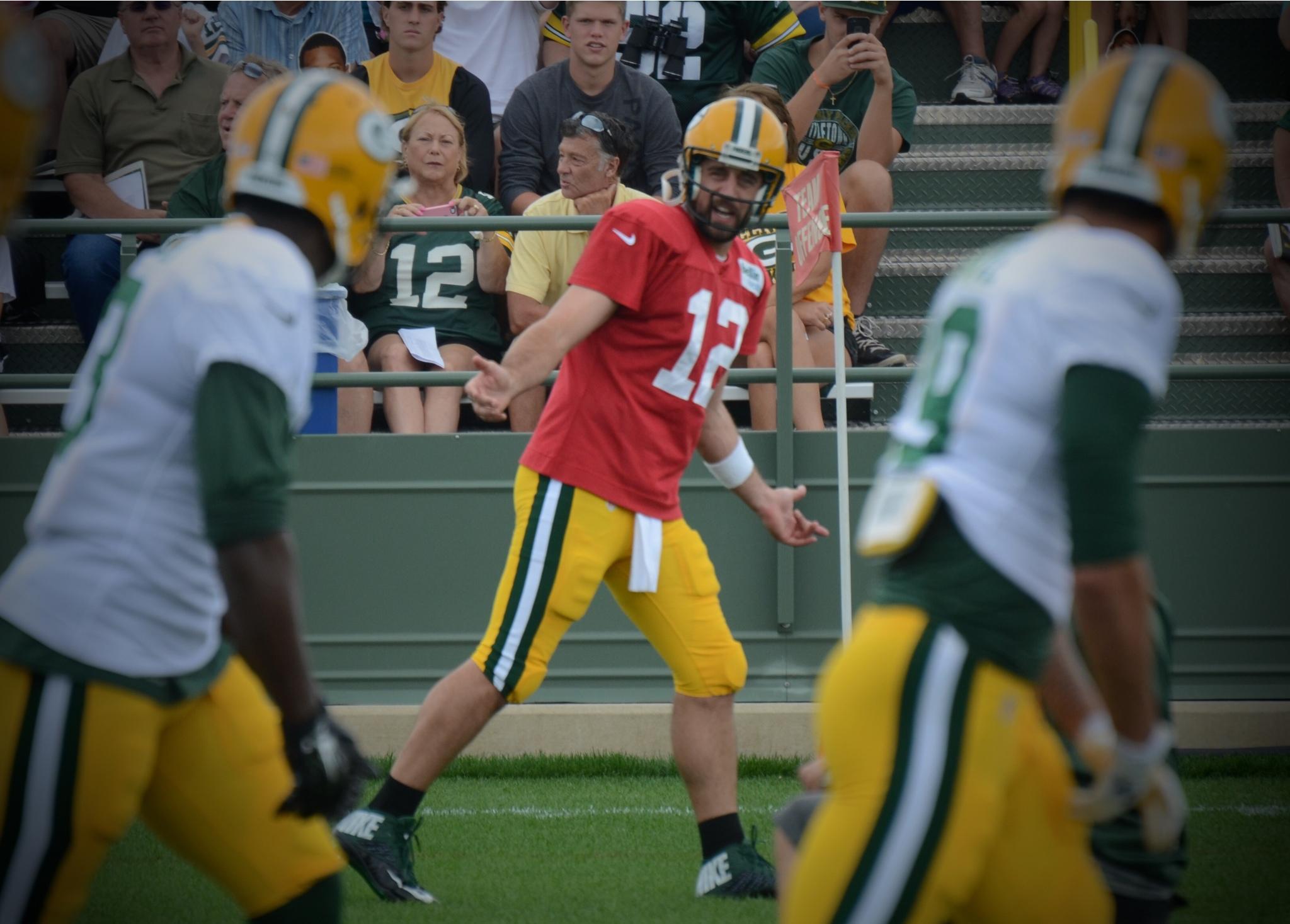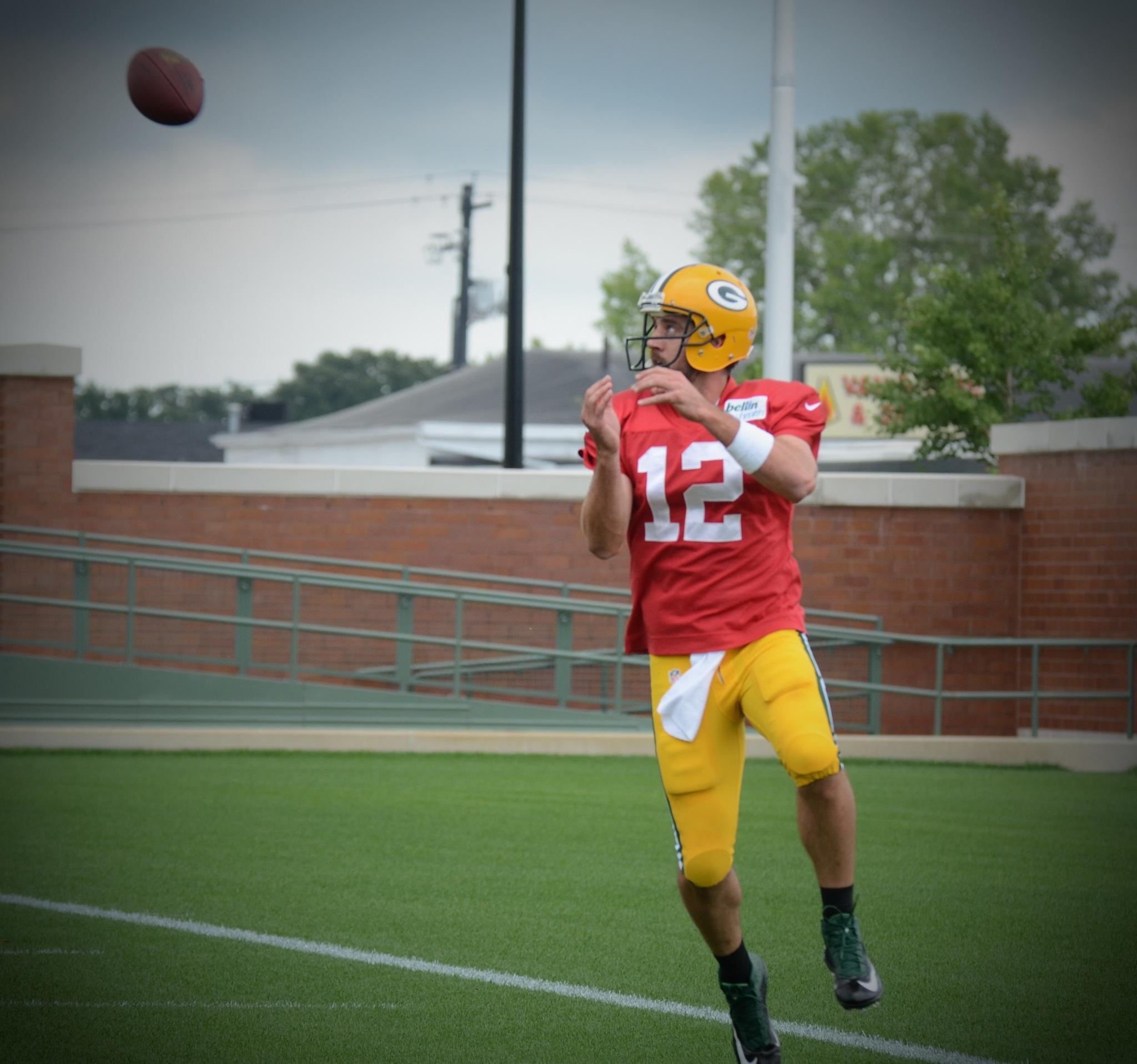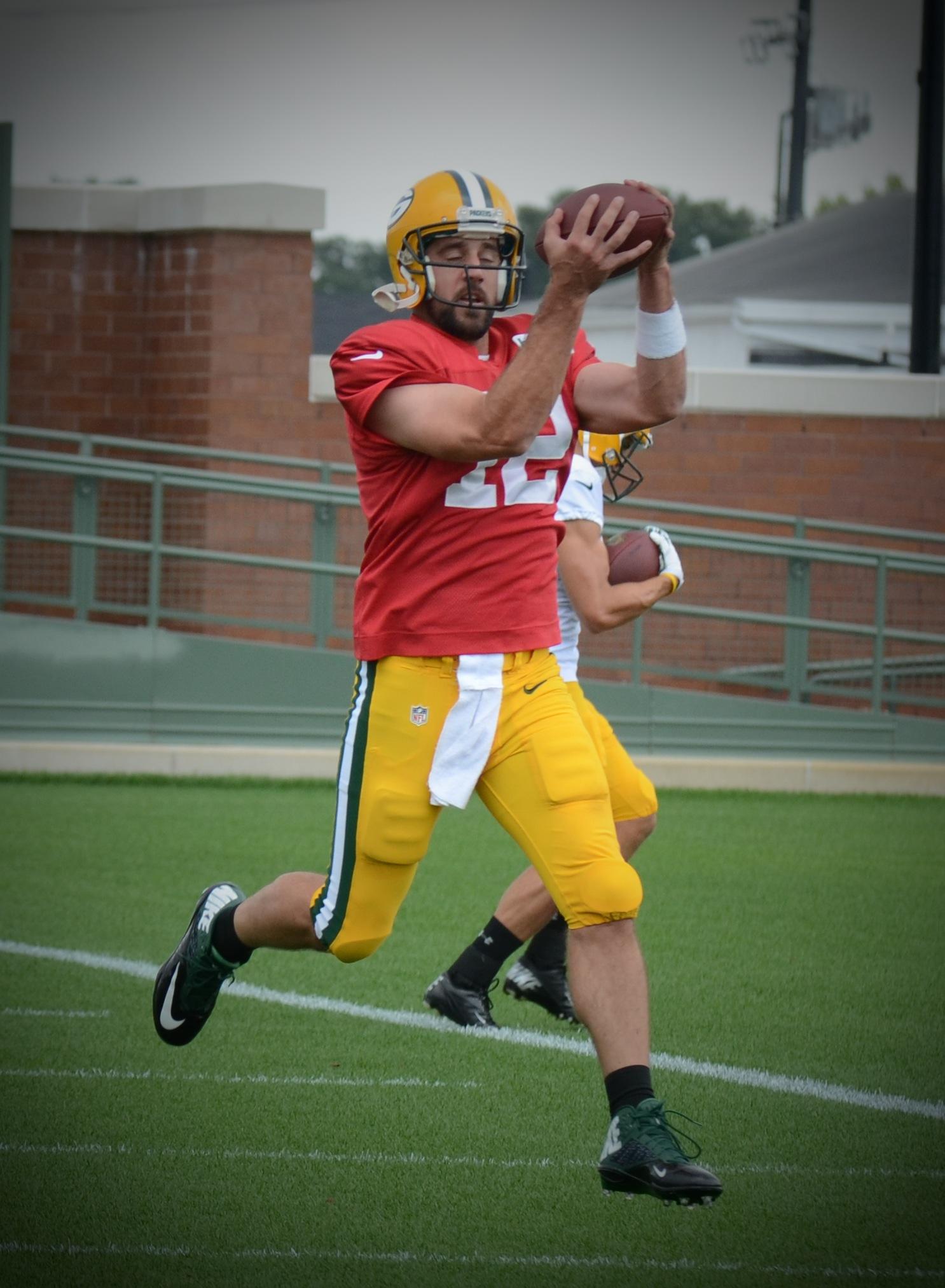 Brees is set to become a free agent next month but wants to stay in New Orleans

Gordon's various suspensions will once again prevent him from truly reaching free agency

The Colts traded for Brissett prior to the start of last season due to health concerns for...
Colvin was a big part of Jacksonville's defensive improvement but is likely moving on

Vinatieri is about to finalize a deal to return for his age-46 season

Freddie Roach is one of the most decorated boxing trainers there is