Super Bowl Flashback: Broncos are 2-4 in six appearances
Peyton Manning has something in common with every Broncos quarterback who has ever started a Super Bowl.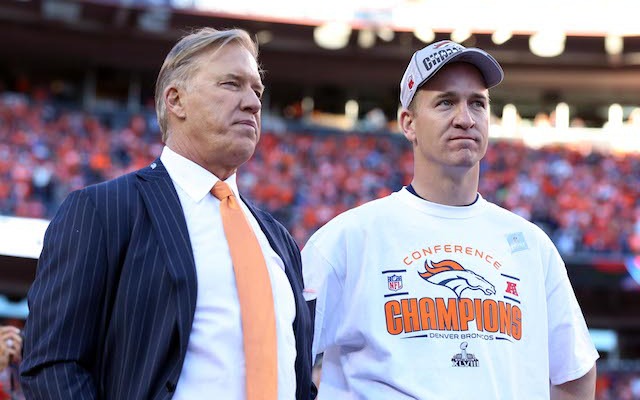 More SB coverage: XLVIII odds | Expert picks | Super Bowl weather | Latest news
When Denver takes the field at MetLife Stadium on Sunday, it will mark the seventh time in franchise history that the Broncos have played in a Super Bowl. Only the Cowboys and Steelers, who have both appeared in eight Super Bowls, have made it to the NFL's biggest game more than the Broncos have.
Broncos fans are probably hoping that Sunday's game against the Seahawks doesn't turn out like Denver's first four Super Bowl appearances. From 1977 to 1989, the Broncos appeared in four Super Bowls and lost them by an average of 28.3 points. The closest loss in that span was a 27-10 loss to Dallas in Super Bowl XII. 
The Broncos Super Bowl history isn't one giant nightmare though. John Elway ended his 16-year career in Denver with two straight Super Bowls wins with one following the 1998 season and one following the 1999 season. 
At media day on Tuesday, Elway said that he's noticed the Super Bowl has gotten bigger since the last time he was there in January 1999, "It's just continued to grow, and I think that's a compliment to the NFL and what it's been able to do, just continuing to grow this game," Elway said. "It's a compliment to the players too, and the way that the players play, and the interest that it now gathers. So it just continues to grow and it's such a spectacle. I'm glad we're a part of it."
Here's a look at the Super Bowl history of the Broncos. You can see Seattle's Super Bowl history here.
Super Bowl XXXIII: Denver 34, Atlanta 19 -- In the final game of Elway's 16-year career, the Broncos quarterback threw for 336-yards and a touchdown as Denver beat the Atlanta Falcons 34-19. Denver led 17-6 at halftime and the game was over almost as soon as it started. Elway earned the first and only Super Bowl MVP award of his career. Why you might remember this Super Bowl: Falcons safety Eugene Robinson was arrested the night before the game for trying to solicit a prostitute. Unfortunately for Robinson, the prostitute turned out to be an undercover cop and Robinson was taken to jail. 
Super Bowl XXXII: Denver 31, Green Bay 24 -- The Broncos were 11-point underdogs and Elway played horrible, but it didn't matter because Denver had Terrell Davis. Davis rushed 30 times for 157 yards and three touchdowns to help give Denver the win over Brett Favre and the defending champion Packers. Why you might remember this Super Bowl: Elway may have struggled in this game, but most people don't remember that because of one play in the third quarter. With the game tied at 17 and the Broncos facing a third-and-6, Elway scrambled and ended up helicoptering into three Packers defenders. The helicopter jump worked and Elway got the first down.
Super Bowl XXIV: San Francisco 55, Denver 10 -- The Broncos had been blown out in a Super Bowl before, but not like they were against the 49ers. If Denver's 42-10 loss to Washington in Super Bowl XXII was embarrassing, the loss to San Francisco was humiliating. Super Bowl MVP Joe Montana threw three first half touchdowns as San Francisco jumped out to a 27-3 halftime lead. Things didn't get much better for Denver in the second half as the Broncos were outscored 28-7. Why you might remember this Super Bowl: The 49ers 55-10 win is still the largest margin of victory in Super Bowl history and San Francisco's 55 points are the most ever scored in a Super Bowl. 
Super Bowl XXII: Washington 42, Denver 10 -- Of the Broncos first four Super Bowl losses, this one might have been the most painful. For one quarter against Washington, the Broncos looked like they were going to dominate the game. Denver jumped out to a 10-0 lead in the first quarter, but then the wheels fell off the wagon and the wagon caught on fire. Redskins quarterback Doug Williams threw four touchdown passes in the second quarter and Washington scored 35 total points as the Redskins turned the game into a route. Williams threw for 340 yards and four touchdowns in the game and took home the Super Bowl MVP Award. Why you might remember this Super Bowl: With the win, Redskins quarterback Doug Williams became the first African-American quarterback to lead his team to a win in the Super Bowl. 
Super Bowl XXI: NY Giants 39, Denver 20 -- John Elway's first Super Bowl was a memorable one -- for the Giants. Phil Simms completed a Super Bowl record 88 percent of his passes (22 of 25) for 268 yards and three touchdowns as New York won its first Super Bowl title in franchise history. Why you might remember this Super Bowl: Giants quarterback Phil Simms became the first Super Bowl MVP to utter the most famous postgame words that have ever been uttered, "I'm going to Disney World." 
Super Bowl XII: Dallas 27, Denver 10 -- Peyton Manning has something in common with John Elway -- they were both drafted by the Colts -- but he also has something in common with Craig Morton, the man who started for the Broncos in Denver's first Super Bowl appearance. Morton's start against the Cowboys made him the first player in NFL history to start a Super Bowl for two different teams. Morton was the Cowboys starter in a Super Bowl V loss before ending up in Denver and leading the Broncos to Super Bowl XII. Unfortunately for Morton, he wasn't able to get the beat his old team. Morton, Manning and Kurt Warner are the only quarterbacks to lead two different franchises to the Super Bowl. As for the actual game, the Cowboys led 20-3 before the Broncos finally scored a touchdown. Why you might remember this Super Bowl: This is the only Super Bowl in NFL history that had a split MVP and one of only seven time's in 48 years that a defensive player won the MVP award. Cowboys defensive tackle Randy White shared the award with teammate Harvey Martin. 
Let's call it the Blair Walsh revenge game

Jeremy Lane also stood near Bennett along with pass rushers Cliff Avril and Frank Clark

Bennett also dedicated it to 'all of the other athletes using their platform to promote ch...
The Patriots quarterback shows commitment from Day One

Cardinals' running back says he's feeling more energized

The Vikings' receiver is wearing his heart on his foot