CBSSports.com Hobey Baker Award Watch: Ten finalists named
The Hobey Baker Award is down to 10 candidates now. Here's a look at who made the cut.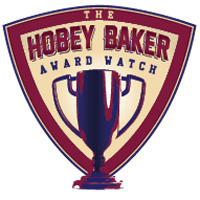 The Hobey Baker Memorial Award Field was narrowed down to its 10 finalists Thursday. That list will be pared down one more time to the top three candidates for the Hobey Hat Trick before a winner is picked. Narrowing down to 10 even had to be tough enough this year, but picking a winner is going to be even more difficult.
No player has established himself as the clear favorite to win the Hobey Baker this year. So for the players who still have games to play, these next few weeks could be crucial for their candidacy. Big performances in the conference tournaments could go a long way with voters.
The big headline out of the Top 10 is that no players from Minnesota made the final cut. The Gophers have been one of the best teams this season, but that might have been part of the problem for the individuals. While Erik Haula is the leading scorer, it's a team that has largely won with scoring throughout its lineup. Perhaps the individuals get hidden that way, but Gopher fans won't be happy about it.
St. Lawrence University and the University of North Dakota ended up with two finalists each. Also, two sophomores made the cut this year. Four finalists come from the WCHA, while three came from the ECAC and one each came out of Atlantic Hockey, the CCHA and Hockey East.
Here's a look at each of the 10 players still in the running for the 2013 Hobey Baker Memorial Award.
Greg Carey – Jr. – F – St. Lawrence: Currently the nation's leading goal scorer with 28 tallies on the year, Carey won't have a chance to pad his stats as St. Lawrence's season is over. His numbers are quite good with 51 points to go along with those 28 goals, but with St. Lawrence already out, it will be tough for Carey to stay fresh in the eyes of voters. He still has a chance to sneak into the Hobey Hat Trick, but it seems like it could be a long shot.
Carsen Chubak – Jr. – G – Niagara: One of the huge surprises this season was the play of Niagara this season. Chubak was a huge difference maker for that team with some ridiculous numbers. His .941 save percentage was among the best in the country and goes along nicely with his 23-5-5 record and 1.88 goals-against average. The lone representative of Atlantic Hockey, Chubak will have a tough time winning the Hobey, but having come off a bad injury last season, he has made the most of his time and has Niagara likely headed to the national tournament.

Austin Czarnik – So. – F – Miami: Perhaps the biggest surprise among the finalists, Czarnik does not lead his team in scoring, but he has been a huge part of Miami's success this season. With 36 points in 39 games, he was part of the RedHawks' potent offense that gave Miami the CCHA regular-season title. He's going to need a pretty special performance these next two weeks to keep himself in the hunt, but Czarnik is an awfully exciting player to watch who always seems to come through in big games.
Kyle Flanagan – Sr. – F – St. Lawrence: He just recently signed as a free agent with the Philadelphia Flyers after a dazzling senior campaign. Flanagan had 47 points as SLU's captain and was one of the most consistent performers since the season began. He started to get overshadowed a bit by Carey's goal scoring, but Flanagan was every bit as important for the Saints. He'd have a tough time beating out his teammate for the award, which makes him a Hobey Hat Trick longshot.

Johnny Gaudreau – So. – F – Boston College: Though his sophomore standing could be seen as a strike against him, Gaudreau's play this season was about as good as everyone figured it would be after his sensational freshman campaign. One of the best puck handlers in college hockey, Gaudreau has 49 points this season, including 20 goals and 29 assists. It's tough to win the Hobey as a non-senior and harder when you're just a second-year player, but the Calgary Flames prospect has time to pad his candidacy and is one of the best known players nationwide.

Eric Hartzell – Sr. – G – Quinnipiac: The Bobcats are atop the Pairwise rankings, which are used to help determine the NCAA national tournament -- and a big reason for that is Hartzell. The senior goaltender has put up sound numbers with a 26-5-5 record, .935 save percentage, 1.50 goals-against average and four shutouts. If Quinnipiac is going to have any postseason success, Hartzell will probably be in the middle of it, which would help his candidacy greatly. He is expected to field several NHL offers as soon as QU's season is over.

Corban Knight – Sr. – F – North Dakota: One of the most consistent performers this season, Knight has been a leader in many ways for UND. At one point he amassed a 19-game point streak in which he put up 31 of his 48 points. He's only been held off the score sheet seven times this season and plays in all situations. He's also the nation's best faceoff man. In games he's scored at least a goal, UND has lost just once. What hampers Knight's Hobey candidacy, perhaps unjustly, is that his teammate Danny Kristo has been just as good and heading into this weekend has two more points than Knight.

Danny Kristo – Sr. – F – North Dakota: Currently third in the country with 24 goals and tied for fifth in the nation with 50 points, Kristo has been one of the most exciting players in the country this year. The Montreal Canadiens draft pick has a good balance between goals and assists, which voters will like to see. An early season suspension might be an unfair strike against Kristo as character comes into play when Hobey voters make their decision. Considering the infraction, it may not end up being too big of a factor.

Drew LeBlanc – Sr. – F – St. Cloud State: Hobey voters are going to love that LeBlanc decided to come back for a medical redshirt senior season. He could have left for a pro contract, but he returned to captain St. Cloud State to an incredible run to a shared WCHA regular-season title. He is the nation's assist leader with 37, which is good and bad. Some voters may put more weight on goals scored and LeBlanc has 13. LeBlanc was recently named the WCHA's player of the year, though, so that could really boost his candidacy, too.
Ryan Walters – Jr. – F – Nebraska Omaha: Currently the nation's leading scorer with 52 points, he's likely to lose the lead with some of his closest competition still playing. UNO's season is over, so Walters won't be able to do much more. His 52 points still position him well for consideration as do his 22 goals and 30 assists. He didn't miss a game all season and, after a slow start, he was held off the score sheet just three times since November. UNO couldn't make it all the way, but Walters was a huge highlight for the Mavericks and may just get into Hobey Hat Trick.
For more hockey news, rumors and analysis, follow @EyeOnHockey and @chrismpeterson Twitter and like us on Facebook. Also, subscribe to our YouTube Channel.
The former Boston Bruin was the first black player to play in the NHL

Inclement weather led to the Charlotte Checkers and Bridgeport Sound Tigers playing in front...

The NHL chose the Detroit rocker as its All-Star Game entertainment and not everyone is th...
NHL fans from all over seem to agree on one thing: Hating Kid Rock

The team tweeted on Monday that Shaw would be re-evaluated in 7-10 days

The Montreal forward was hospitalized after taking a Zdeno Chara slap shot to the head