Pat Knight walks into an elevator, sees me and starts squinting...
Lamar fired Pat Knight on Sunday after his third team had a 3-22 record. Bob Knight's son also has been fired at Texas Tech. Still, he has a great sense of humor about himself. Hence, this story.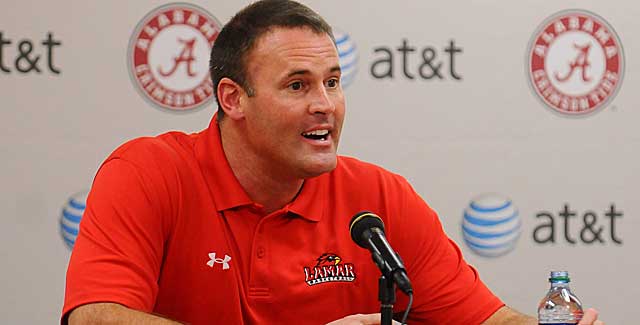 More college hoops: Pat Knight fired at Lamar | More news, notes
Pat Knight is gone and he's not coming back, not as a head coach in Division I. (No offense to Lamar, but there aren't a lot of Division I jobs below Lamar. If you go 3-22 to get fired at Lamar, you're finished as a head coach.)
So this could be the last chance I'll have to tell my Pat Knight story, one of my favorite stories about a basketball coach. Well, one of my favorite printable stories. And this one looked like it could go either way for a moment …
First, the background. In May 2006 I wrote about the trend of sons getting jobs, great jobs, because of the fame of their father: Sean Sutton was designated as his father's replacement at Oklahoma State. Same thing happened at Washington State with Tony Bennett, Drake with Keno Davis … and Texas Tech with Pat Knight.
My story that May wasn't even close to perfect -- Sean Sutton wasn't the answer at Oklahoma State, and Keno Davis did just fine at Drake -- but I guessed right nailed the part on Pat Knight:
When Bob Knight retires, possibly after the 2006-07 season, the rest of the Big 12 is having a party. Pat Knight will be invited. He'll be the one wearing the lampshade.
No, that's not one of my favorite stories! What happened next is one of my favorite stories.
And what happened next was the Nike recruiting camp at Indianapolis, two months after that story appeared in May 2006. I'm in an elevator at the coaches' hotel, just me, when the doors open and Pat Knight walks in. He's about 6-foot-3 and in sturdy shape, and this was 2006, before I started to box (and discovered I wasn't bad!). Point being, Pat Knight fills the elevator and I'm wondering what's about to happen -- and not at all sure I'm equipped to handle it, whatever it is.
Knight and I had never met, but he took one look at me in that elevator and he started to squint.
Knight: "Are you …"
Me: "Yeah. Gregg Doyel. You mad at me?"
Knight, now beaming: "Not at all. If I'd known I was going to run into you this weekend, I'd have brought a lampshade and autographed it for you."
Funny, humble, gracious. Well done, Pat Knight.
Smoke brought out the diamonds on Thanksgiving Day

Raisman said she is 'beyond disgusted' by Nassar's actions and says it's 'about time' he's...

A Florida woman allegedly stalked and harassed Stewart for more than a year after he failed...
Jonah Keri talks to with Vox senior politics reporter Jane Coaston

The movie also stars Channing Tatum, James Corden, Zendaya and Danny DeVito

Travel plans for the PyeongChang Games have been 'stagnant,' one agency told USA Today