Bacon 'Bag: Web.com madness, strange course findings, husband advice
Our weekly mailbag ends with one of my favorite mailbag questions ever.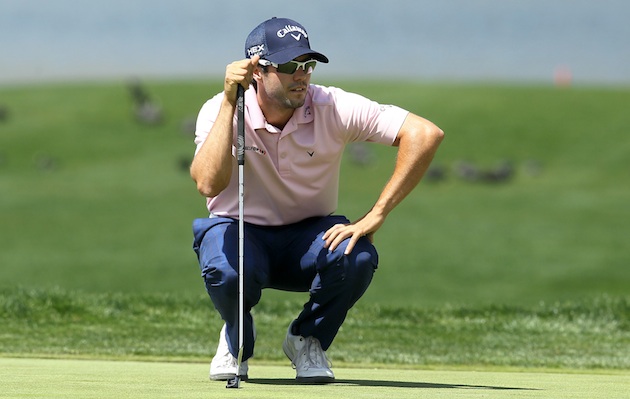 Adam Hadwin could have made the PGA Tour but for one missed putt. (Getty Images)
Golf is full of questions. How do I hit it farther? How do I break 90? What is wrong with Tiger Woods? Why are you such an idiot?

It's a game that will never be figured out in the millions of years that people will play it, but it's fun to try to figure it out. Every week it'll be you guys who help us answer the in-depth (and ridiculously fun) questions about the game. Have a question? Fire them our way on Twitter to either @shanebacon or @eyeongolf with the hashtag "#eyeqs". We will pick out the best of the week, answer them as best we can and continue this throughout the rest of the year.

So we begin right here with our weekly Q and A with the readers …
@shanebacon If you were Adam Hadwin, how much money would you have offered James Hahn to miss that 3 footer on 18? #eyeqs

— Dave Marcial (@QuickHooks) October 29, 2012
A. If you don't know the story, Adam Hadwin entered the final event of the Web.com Tour needing a tie for second place to jump into the top 25 on the money list and earn his 2013 PGA Tour card. Hadwin played great all week, and with one last player on the course on Sunday, he was tied for second, just what he needed.
The problem was, that person was James Hahn, who made birdie on the final hole to finish in second place alone and bump Hadwin out of the position he needed to land in the top 25. Now, Hadwin has to go to Q-School instead of the buffet line of lobster and millions that is the PGA Tour.
So, how much is this probably worth? 
Say Hadwin doesn't make it through the final stage of Q-School and has to spend another year on the Web.com Tour. He earned $168,713 in 2012, which was good enough for 30th on the money list. Ben Curtis was 30th on the PGA Tour money list this year, earning $2,484,095. 
So, I guess it would be conceivable to say that Hadwin could have offered Hahn almost a million bucks to miss the putt, all things considered with the bigger purses on the PGA Tour and the added sponsorship money. As for Hahn, he was well within the top 25 before he rolled in that birdie putt. Meanwhile, Jim Herman made it on the number by $940.
@shanebacon what's the strangest thing you've found in a fairway?#eyeqs #shark

— nicole montanez (@nicolemontanez) October 29, 2012
A. This question was obviously brought up because of the shark that was mysteriously found in the middle of a fairway last week.
I don't have a ton of "strange" things I've found in fairways before, but I did get a nice little wakeup once while standing over my golf ball in the middle of the fairway at Troon North in Scottsdale. I looked up only to see a baby rattlesnake about five feet from me, not enjoying my company. Needless to say that was the end of that golf ball, and possibly those golf shorts. Baby or no baby, I don't deal well with poisonous things. 
@shanebacon There must be some golfers that for some reason just really get on your nerves (eg. Keegan for me) Who annoys you? #eyeqs

— Alex Newman (@Alex___Newman) October 30, 2012
A. Instead of personally answering this, I asked a few friends of mine who watch golf or pay attention to it from time and time and it is insane the amount of names I got. 
The regulars that didn't surprise me were Ian Poulter, Kevin Na, Rory Sabbatini and Colin Montgomerie, but some answered Ernie Els, Vijay Singh, Rickie Fowler and even Zach Johnson, which caught me off guard.
So, basically, every golfer out there gets under a certain fan's skin. (And to your credit, two friends did answer Keegan Bradley, so you're not alone, Alex. My friend even said Keegan was, and I quote, "the biggest weasel in all of sports," so yeah.)
@shanebacon How do I stop my husband from spending hours at the golf course? #eyeqs

— Monique Gordon (@monz_gordon) October 30, 2012
A. Well, this is hands down my favorite question I've received since starting this mailbag. How do you stop your husband from spending hours on the golf course? Let me pull out my Dear Abby bifocals and tackle this one.
First, he's a golfer, right? And you knew this when you married him? Because golf normally takes four or five hours, not counting the practice time, time it takes to get to the golf course and obligatory beers after the round. It's an extremely time-consuming game, and it does get under a lot of people's skin if they can't handle the time the other person is away (a weekend is two days, and if you're golfing all day and working all week, that leaves you basically one day to hang out on the weekend).
You basically have a couple of ways of going about this.
The first one is a bit more simple. You can accept the fact that he loves the game and it's a passion of his and that he is probably never going to stop (unless he gets the shanks, but that's a whole other beast). Golf is as addicting as anything in this world, and once you catch the bug, it isn't easy to shake. If you love the man, you have to love that he has hobbies that he enjoys and move on from it (I'm sure you have hobbies too, like yoga or spin or gardening or Cabernet, and he most likely allows you to enjoy those things; granted, they don't take as long).
The second is a bit more intense, but also a solution. Take up the game. Go get some lessons and hit range balls and work on your putting stroke and feel what he feels. Golf is an extraordinary game that millions of people love and it takes one perfect golf shot to get you hooked, trust me. If you hate that he spends all this time away from you, join him. Maybe not all the time (men do like their guy time on the course), but if you could go out a couple of times a month with him, that's five hours together that you're missing out on.
That is about all there is to say about that. Either you join him or you accept it. Or break all his golf clubs. That could also work. 
All you need to know from tournaments, participants, field cuts and money distribution

From Rory McIlroy to Charley Hoffman, here's who could steal $10 million

ANGC is about to have its 7th chairman this fall
The No. 4 player in the world likely only has four or five tournaments left in 2017

This recent development in the golf world is not an encouraging one, and Vonn is not pleas...

Find out when and how to watch the 2017 Northern Trust live this week