Eye on Golf Equipment: The Seamus wool headcovers
Our Eye on Golf equipment reviews roll on with a look at some new, classic headcovers that are produced out of Oregon.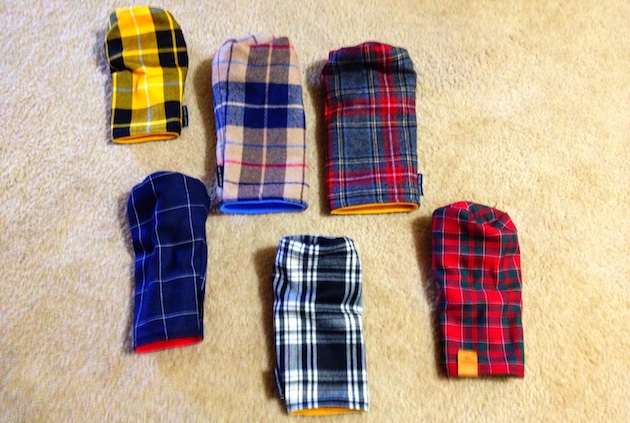 The Seamus headcovers combine a cool old school look with durability. (CBS Sports.com)
Golf is a sport with ever-changing tools. There are drivers, putters, balls, towels, bags, socks, grips and everything in between. Here at Eye on Golf, we're reviewing the latest in golf equipment each week in hopes our words will help you make a better decision on what's best for you. This week, we look at the Seamus wool headcovers. 

One of the best parts of our job here at Eye on Golf is when we get to check out an up-and-coming brand that is both timeless and modern. 
When we made our way out to Bandon Dunes, we came across a headcover called Seamus Golf, a woolen golf club headcover that is so simple in their look while really popping your golf bag. 
I got a chance to check out a few of the styles, and I loved every single one of them. They have smaller options for hybrids and larger ones for your big-headed driver, and everything in between. 
The idea was to give a golfer a chance to have a high fabric headcover that will hold up under almost all conditions, and Seamus did that with these cool options.
If you have a chance, check out the Seamus products, name after their family dog, Seamus O'Reilly, as the product is perfect for just about every golfer in your foursome, young or old. 
www.seamusgolf.com, $45-65
SportsLine simulated the Canadian Open 10,000 times after calling Matt Kuchar's British Open...

Kuchar will try to take down Dustin Johnson at Glen Abbey

The Champion Golfer of the Year had a proper celebration
We need to take a step back and look at the macro of what Jordan Spieth is doing

The year's final major could be an all-timer

Caddie Michael Greller (that's a lot of Michaels) told Spieth he's among the best ever