Teen Andy Zhang learning lessons no eighth grader could otherwise absorb
Youngest player in Open history shoots 79, which isn't nearly as bad as it sounds.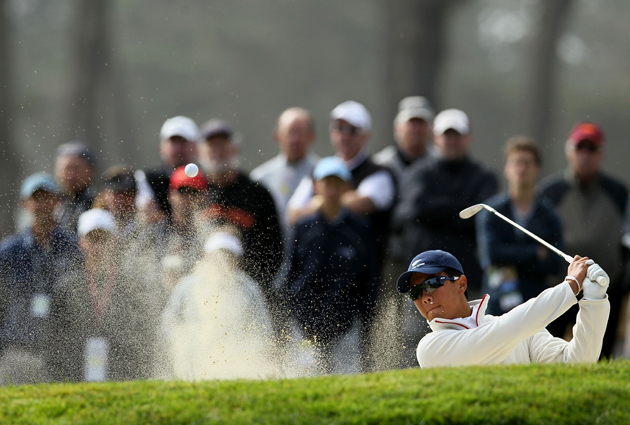 Youngster Andy Zhang learned several lessons on Thursday says Steve Elling. (Getty)
SAN FRANCISCO – All things considered, namely his age, Andy Zhang's incredible baptism under fire on Thursday wasn't nearly as bad as it looks on paper.
The 14-year-old native of China, who now lives outside Orlando, shot a 9-over 79 in the first round of the 112th U.S. Open, where he officially became the youngest player in tournament history.
But he did it in style, by making a birdie on the 18th, where he then launched into a comically choreographed handshake with caddie Chris Gold. Not a bad finish for a kid who just completed the eighth grade.
"It was really tough," Zhang said. "I didn't hit the ball quite well, but my putting was okay. So, but the course is really tough. So I'm actually okay with what I shot today."
As well he should. It could have been an outright catastrophe.
Clearly a bit out of his element all week and fighting his nerves, he began the day with a triple-bogey and double-bogey, and was actually 8-over through five holes.
"I was on the first tee, I was like, just please don't hit a hundred-yard slice off the first tee and I was shaking really hard," he said. "But I hit a great shot."
In short, he played the last 13 holes of an exceptionally punitive U.S. Open track in 1 over, and that was with a double-bogey on a par-5 hole. That's a stretch that nearly anybody outside of the top 5-6 guys on the board would have gladly taken.
Developmentally well ahead of players older than he already, Zhang said he's soaking it all up this week and will quickly apply what he has learned about strategy and playing under pressure.
"It's something that I can never learn playing the junior tournaments," Zhang said. "The junior tournaments, I start bad with maybe with a triple or double and then I can work my way in like probably finish around 1*over or even.
"But not here. Not in the Olympic Club. But still I think I kept myself pretty calm out there. I think I'm pretty happy with that."
He's one of the best quotes in the golf world, and he didn't disappoint in Malaysia

The No. 7 player in the world had a busy weekend in Stillwater

The two high-ranking political officials teed it up over the weekend in Virginia
SportsLine simulated the 2017 CJ Cup 10,000 times and came up with some surprising picks

The former U.S. Amateur champion will draw from Bobby Jones and Clifford Roberts into the...

Tiger has been progressing quickly in his rehab, apparently