Adam Greenberg finally gets his at-bat
Adam Greenberg finally got his long-awaited first big-league at-bat. It was a three-pitch strikeout against Mets ace -- and Cy Young candidate -- R.A. Dickey.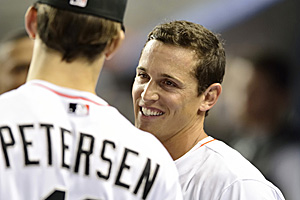 This smile came after the strikeout. (US Presswire)
Although it wasn't quite a fairy-tale ending, Marlins pinch hitter Adam Greenberg can now rest easy. He's gotten his one official major-league at-bat.
Related: Hard-luck Greenberg to make pinch-hit appearance Tuesday for Marlins
Tuesday night, Greenberg stepped into the box against one of the front-runners for the NL Cy Young award, Mets ace R.A. Dickey.
Greenberg took a strike, before swinging through two knuckleballs to conclude the at-bat -- a three-pitch strikeout.
Still, Greenberg had an ear-to-ear smile as he entered the dugout. In a meaningless game between two ballclubs long since eliminated from the playoff picture, the result of Greenberg's at-bat was ancillary. The story is he got an at-bat and can now move on.
Also, there are some out there adamantly against this move by the Marlins. Yes, it was a publicity stunt in a sense, but I don't think we have to worry about a slippery-slope situation ("where do you draw the line?") because Greenberg's situation was unique. He only saw one big-league pitch in his life and it hit him in the head. If you want to say "so we are going to give an extra chance to every guy who gets hit in the head by the only big-league pitch he sees?" My answer would be "why the hell not?" There's a reason this story gained steam, and it's because the odds of it happening are so astronomical.
Here is Greenberg's mother reacting to his at-bat:
For more baseball news, rumors and analysis, follow @EyeOnBaseball on Twitter, subscribe to the RSS feed and "like" us on Facebook.
Our annual look back at the preseason predictions and rankings shows lots of good and bad

Keep it locked right here for everything you need to know about the world of baseball Tues...

There have been several racially charged incidents at Fenway Park this year
Washington's right fielders have sputtered offensively since Harper went down

The good news? Wichita still has a chance to win the series Tuesday night

The 2017 season is going to shatter the all-time collective home run record