Gold Glove Awards adding a sabermetric component
The Gold Glove Award voting process is adding a sabermetric component.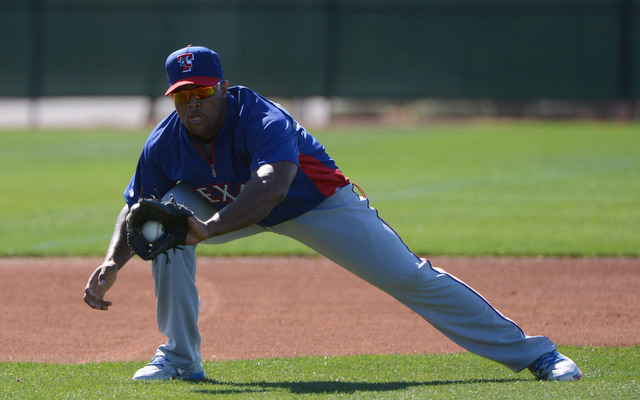 The Gold Glove Awards have always been hard to take seriously because the voting process is so flawed. League managers and coaches vote for the award, and it's always been more of a popularity contest than anything. Offensive production often swayed the vote as well.
That is going to change, at least somewhat. Rawlings announced they are adding a sabermetric component to the voting process at the SABR Analytics Conference in Phoenix on Friday. From the release:
As part of the multi-year collaboration beginning with the 2013 season, SABR will develop an expanded statistical resource guide that will accompany the Rawlings Gold Glove Award ballots sent to managers and coaches each year. In addition, SABR will immediately establish a new Fielding Research Committee tasked to develop a proprietary new defensive analytic called the SABR Defensive Index™, or SDI™. The SDI will serve as an "apples-to-apples" metric to help determine the best defensive players in baseball exclusively for the Rawlings Gold Glove Award and Rawlings Platinum Glove Award selection processes. The collaboration also installs SABR as the presenting sponsor of the Rawlings Platinum Glove Award.

(snip)

Beginning in 2013, the managers/coaches vote will constitute a majority of the Rawlings Gold Glove Award winners' selection tally, with the new SDI comprising of the remainder of the overall total. The exact breakdown of the selection criteria will be announced once the SDI is created later this summer.

(snip)

The SDI's ability to accurately compare players from different positions will help determine the updated Rawlings Platinum Glove Award presented by SABR. Fans will continue to have a voice during this process, once the newest class of Rawlings Gold Glove Award winners is announced in November.
Advanced fielding metrics like UZR and Total Zone are freely available online at sites like FanGraphs and Baseball-Reference.com, though they are easy to misintrepret and often misused. Defensive statistics in general are very much a work in progress and they are best used in addition to the eye test, not as a replacement. Adding a sabermetric input into the Gold Glove Award process is good news for the game -- the more information used, the better.
For more baseball news, rumors and analysis, follow @EyeOnBaseball on Twitter, subscribe to the RSS feed and "like" us on Facebook. Also, individually interact with us on Twitter: @MattSnyder27, @daynperry and @mikeaxisa.