Leaderboarding: Best pitchers at leaving guys on base
For our latest installment of Leaderboarding, let's look at left on base percentage for starters and relievers.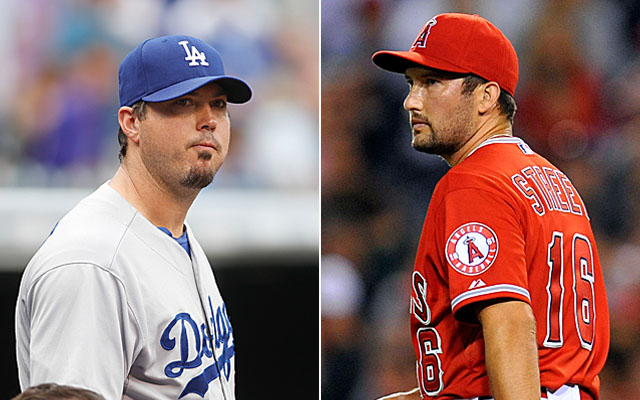 Previously in Leaderboarding: Best at taking the extra base
No day baseball to watch and a slow news day is a nice combination for another edition of Leaderboarding. In light of Huston Street being traded late Friday night, let's take a foray into his specialty -- at least from the past two seasons -- left on base percentage (henceforth: LOB%).
That is, which pitchers have been the best at buckling down once there are ducks on the pond and making sure the inning closes without any damage? 
Here's a quick Fangraphs.com explanation:
Left on Base Percentage (LOB%) measures the percentage of base runners that a pitcher strands on base over the course of a season. This stat does not use the left on base numbers reported in box scores, but instead is calculated using a pitcher's actual hits, walks, and runs allowed results:

LOB% = (H+BB+HBP-R)/(H+BB+HBP-(1.4*HR))
First, qualified starters (which means at least one inning pitched for every team game).
Top 10 MLB starting pitchers in LOB%
1. Josh Beckett, Dodgers: 86%
2. Masahiro Tanaka, Yankees: 83.9%
3. Chris Young, Mariners: 83.6%
4. Alfredo Simon, Reds: 83.5%
5. Clayton Kershaw, Dodgers: 82.9%
6. Adam Wainwright, Cardinals: 82%
7. Scott Kazmir, Athletics: 81.9%
8. Jason Vargas, Royals: 80.3%
9. Zack Greinke, Dodgers: 80%
10. Johnny Cueto, Reds: 79.6%
Lots of studs in there. In looking at some of the peripherals, either a high strikeout rate or high groundball rate -- in some cases, both -- landed everyone on here, except Chris Young. This might explain the drastic difference in his ERA (3.28) and FIP (5.03) and it's a big reason many believe a regression is in order for Mr. Young. Everyone else is very skilled at either missing bats (the most important skill), getting weak contact or both.
Anyway, onto the relievers, where we'll see much higher rates due to the smaller workloads, of course.
Top 10 MLB relief pitchers in LOB%
1. Huston Street, Angels: 100%
1. Koji Uehara, Red Sox: 100%
3. Darren O'Day, Orioles: 95.2%
4. Brad Boxberger, Rays, 94.2%
5. Pat Neshek, Cardinals: 93.5%
6. Drew Storen, Nationals: 91.5%
7. Francisco Rodriguez, Brewers: 91.2%
8. Zach Duke, Brewers: 90.9%
9. Greg Holland, Royals: 90.6%
10. Joe Beimel, Mariners: 90.4%
Lots of good skill in there and some pretty underrated relievers (O'Day, Storen, Duke) made appearances.
As far as the top, basically, if you want score against Street or Uehara, it probably needs to be in the form of a home run. Uehara was over 90 percent last season and Street was at 99.5 percent. Again, the most important skill here is the ability to miss bats, but control and keeping the ball on the ground in the infield help as well. In the past two seasons, Street has appeared in 92 games and only three times -- all in 2013 -- did he give up any runs without allowing a homer. In terms of stringing together multi-run rallies due to a handful of singles in a row, well, that pretty much isn't gonna happen against Street or Uehara.
Wright was arrested at his home Friday

The former Tigers teammates were voted into Cooperstown by the 16-person Modern Era Commit...

The Yankees still have room for a good-sized signing even after Saturday's trade with Miam...
St. Louis gets some much needed help for their bullpen

Keep tabs on the top 50 free agents right here

Morrow thrived with the Dodgers last season