Mets' chicken has a happy ending
Mets reliever Tim Brydak found a home for the chicken he bought as a joke. "Little Jerry Seinfeld" won't be headed to Kenny Rogers' Roasters or any other table, but instead to a farm to live out his years.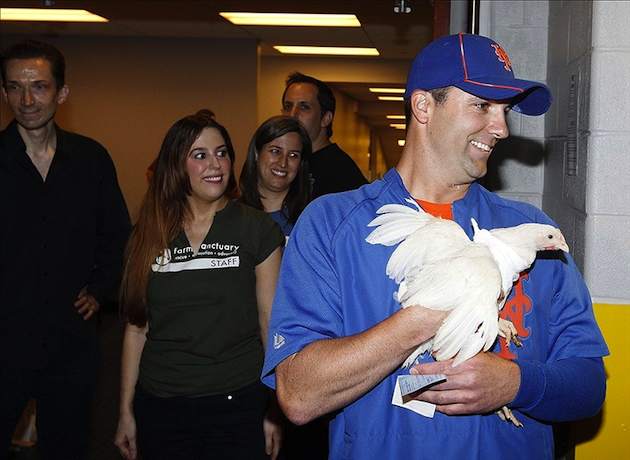 It appears the ending for "Little Jerry Seinfeld" will be better than the last episode of his namesake's sitcom.

The Mets' Subway Series, a chicken dubbed "Little Jerry Seinfeld" will head to Farm Sanctuary in Watkins Glen, N.Y. to live out the rest of his life.

"Little Jerry found himself a new home," said Mets reliever Tim Byrdak, according to NJ.com. "He avoids the fryer and the oven and everything else you can cook the chicken with. They rescue animals and this is one they definitely were interested in. The power of social media saved the bird's life today."

After Mets closer Frank Francisco called the Yankees "chickens," this week, Byrdak bought the live chicken in New York's Chinatown as a joke. Byrdak said he originally named him "Little Derek Jeter," but changed the name to honor one of the team's biggest fans. The name was also a shout-out to a Seinfeld episode in which Kramer buys what he thinks is a hen, but turns out to be a rooster. Kramer named it after his neighbor, Mets fan Jerry Seinfeld.

Seinfeld himself chimed in on Saturday, telling the New York Post, "As much as I enjoy the Byrdak humor, he should be aware LIttle Jerry Seinfeld is no chicken."

A good chuckle was had by all, but then Byrdak had a problem. He didn't know what to do with the chicken. So he went to Twitter.
Does anyone live on a farm that could take a chicken off my hands?

— Tim Byrdak (@Givemethelefty) June 23, 2012
That's where Farm Sanctuary came in, responding on Twitter that the chicken could live out its years there.

Byrdak added a $500 check to cover the bird's living expenses. He added he learned a valuable lesson: "Always plan ahead when you're going to get an animal," Byrdak said (via NJ.com). "Make sure you get someone to take care of it after you don't need him anymore really or find a home for him."

Or, you know, don't get an animal just for a one-day joke.
For more baseball news, rumors and analysis, follow @EyeOnBaseball on Twitter, subscribe to the RSS feed and "like" us on Facebook.
The coveted right-hander would certainly be a fit in Milwaukee

We rate the best mustaches from random baseball cards because, why not?

Colon wants to break a Dennis Martinez record
The Twins have been rumored to be interested in Darvish all winter

Rolen is one of the best third basemen of all time, but you wouldn't know it based on this...

Neither Josh Donaldson nor Brian Dozier have talked about a new contract extension