Prospect spotlight: Mariners RHP Taijuan Walker
Right-hander Taijuan Walker struggled in June at Double-A, but at 19 he's one of the youngest players in the Southern League but doesn't look a bit out of place.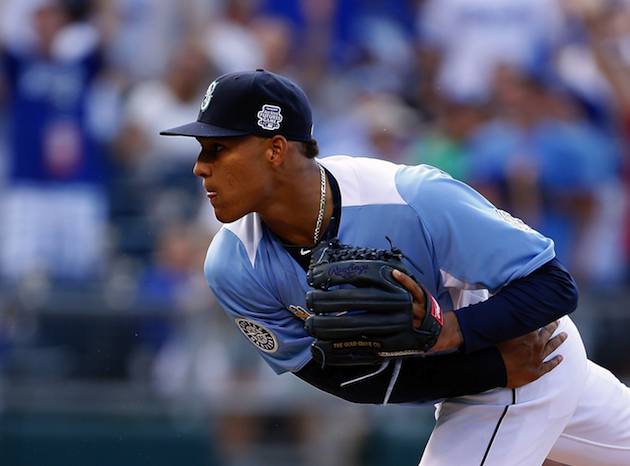 Taijuan Walker is 7-6 with a 4.12 ERA at Double-A Jackson. (Getty Images)
Standing next to Taijuan Walker, the last thing you think is that this is a 19-year-old kid. However, for at least another couple of weeks, that's just what he is -- 19 with an amazing right arm.

Walker's listed at 6-foot-4, 210 pounds, and is every bit of it. A prep basketball start in California, Walker looks like he would be a nice slasher from the perimeter with the athleticism to attack the rim. Instead, he's attacking hitters in Double-A. The Mariners' top pick in the 2010 draft (43rd overall), Walker breezed through the Midwest League last year and the team had him skip high-Class A to see how he fared against more advanced players.

The numbers -- Walker's 7-6 with a  4.12 ERA at Jackson -- don't tell the exact story about the right-hander. Through the first two months of the season, he was 4-1 with a 2.23 in nine starts, striking out 44 and walking just 14 in 44 1/3 innings in the first two months. He struggled in June -- giving up 21 earned runs in five starts (going 0-3 with a 9.15 ERA) but has settled back down in July, giving up half the runs he did in the previous month while pitching 6 1/3 more innings.

Much of his struggles, he said, was trouble with his curveball, which is a pitch he never threw before turning pro. The Mariners shelved his slider to avoid putting stress on his elbow, just like they did with Felix Hernandez early in his career.

During his struggles earlier this year, Walker admitted he was tempted to talk to his catcher and pull his slider back out, just to get through the stretch.

"I want to. I'm really, really thinking about doing that," he joked last month. "I want to. It's hard not to, especially when my curveball isn't there. I just want to call the catcher out and tell him, 'we're going to throw sliders today, scrap the curveball."

He already had his line for his pitching coach practiced -- "It was a curveball, it just broke weird."

But in the end, he knows the Mariners are looking out for his long-term success -- something they believe will come. One scout told CBSSports.com, "I never like to anoint guys, but he's special."

Walker's special because of his physique, the fact he throws an easy high-90s fastball and the curve and change up are developing. But more than that, the team loves his work ethic and his maturity. After the 2011 season, the 19-year-old decided to move his offseason home away from his California hometown to the Phoenix area so that he could spend more time at the Mariners' training complex.

"I'm a huge family guy and I didn't want to leave my family. I had to do it for me and my career," Walker said. "Hopefully it will all work out and I'll be able to spend more time with the my family instead of staying in the minors a long time because i went to Arizona and got the extra work. You've got to dedicate yourself to the game. It's your job."

And ultimately, that's why he's working out with the Seattle staff in the offseason and following their plans for his slider even though it means there could be bumps in the road. Int he end, the Mariners believe they have another ace -- and with the likes of Danny Hultzen and James Paxton on the way as well, you can see why the Mariners were OK with trading Michael Pineda last offseason.

PROSPECT NOTES

• For the first time as a professional, Orioles right-hander Dylan Bundy pitched into the seventh inning on Wednesday night. Pitching for high-Class A Frederick, Bundy went 6 2/3 innings, retiring 16 of the final 17 batters he faced. He was pulled from the game after reaching his pitch count. Bundy allowed two hits and an unearned run while striking out eight and walking two. In 10 starts at Frederick, Bundy is 5-3 with a 2.57 ERA and 56 strikeouts in 49 innings.

• Cubs third baseman Dustin Geiger knocked in eight runs for low-Class A Peoria in an 11-10 victory. Geiger, serving as the team's DH, went 4 for 5 with a double and two home runs. The 20-year-old hit a three-run homer in the first, a three-run double in the fifth and two-run homer in the ninth. A 24th-round pick in 2010, Geiger hit just .206 in July, but eight of his 22 hits were home runs in the month. He has 13 on the season.

• In his first start for the Brewers organization, right-hander Johnny Hellweg allowed just one hit and an unearned run, while striking out seven in five innings for Double-A Huntsville. He's 6-10 with a 3.25 ERA this season. The 6-foot-9 Hellweg has 95 strikeouts and 62 walks in 124 2/3 innings this season. The top prospect in the deal, shortstop Jean Segura, has seven hits in 16 at-bats in his four games for Huntsville. The third player, right-hander Ariel Pena, didn't do so well, giving up five earned runs on seven hits on Monday.

• Last year's fifth overall pick, Kansas City's Bubba Starling, is finally playing every day, playing 27 games for the Rookie Appalachian League Burlington Royals. So far he's hitting .275/.378/.495 with five home runs and five stolen bases. He's striking out more than once a game -- 35 Ks in 27 games -- but for a player who hadn't played as much baseball as his peers, it's an encouraging start for the ultra-talented outfielder.
For more baseball news, rumors and analysis, follow @EyeOnBaseball on Twitter, subscribe to the RSS feed and "like" us on Facebook.
The good news? Wichita still has a chance to win the series Tuesday night

Soon more home runs will have been hit in 2017 than in any other season in MLB history

Ferrell somehow avoided going to the ground
Plus, we saw a possible AL Wild Card Game preview in the Bronx and lots more from around M...

The Pirates disappointed in 2017. Will 2018 be any different?

Let's see how SportsLine forecasts the race for MLB's 10 playoff spots