The great Mariano will try to pull off one more miracle -- a 2012 return
Mariano Rivera hasn't given up on pitching in 2012 after a diagnosis that suggests he has no chance to do it.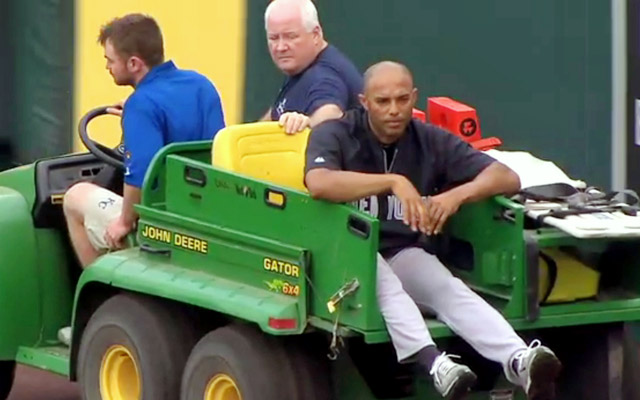 Mariano Rivera (right) will try to buck conventional wisdom and come back this year.
(AP)
Assuming Mariano Rivera's initial diagnosis of a torn ACL in his right knee is confirmed by Yankees doctors, Rivera is said by intimates to still be of a mind to try to make it back to pitch this season despite the long odds. And already, there are small signs he believes he can buck conventional wisdom and medical history and do it. Derek Jeter told Yankees writers he spoke to Rivera and predicted of the all-time great, "He'll be back.''
More on Rivera, Yankees
Related links
Perhaps Jeter was just trying to say something positive on one of the gloomier days in recent Yankees history. But I don't think so.
Rivera, already considered a marvel by all and almost inhumanly perfect by many, has bucked the odds before. This time, he's up against it, though, in that he is 42 and he said he also has a meniscus tear in the knee, which further complicates the rehab.
People around the club have been told this type of injury normally required 8-to-12 months of rehab, so they are certainly are not counting on a 2012 return. Though, there is some precedent for it, as Brewers righthanded pitcher Yovani Gallardo was able to return for one playoff start in October, 2008 after suffering a torn ACL in the same right knee on May 1 of that year, as @mitchstetter, a Gallarado teammate said.
To return in four to five months would seem to be impossible. But then, Rivera's career is as close to that as it gets. His career WHIP of 0.998 according to Baseball-Reference.com is second all-time to Addie Joss's 0.968 and the only one under 1.000 in 100 years, as my CBSSports.com colleague Bob Elliott points out.
While Rivera -- who injured his knee while attempting to make a difficult catch shagging flies in warmups in Kansas City on Thursday -- rehabs, setup man David Robertson, who's been exceptional the past couple years, should be given the closer's job. Yankees manager Joe Girardi said he wanted to sleep on the decision. But the reality is Robertson has earned it, and it would qualify as a major surprise if Girardi goes with Rafael Soriano, who has more closing experience, just to keep Robertson in his current role.
The thoughts are all about Rivera at the moment, though, and while he didn't say for sure this spring that he was intending 2012 to be his final season, the indications were there that that was his mindset. Right now, however, his thoughts are focused on the opposite; he's all about trying to get back to pitching, not figuring when he will stop pitching for good.
Rivera told Yankees writers that he wasn't sure if he'd ever pitch again, and that's an honest assessment under the circumstances. "I don't know,'' he told them. And he can't know.
The writers described Rivera as being as emotional and as down as they'd ever seen him. He understands the odds are against making it back this year, and Girardi, in answer to a question about whether the injury was season ending, said, "I've never seen anyone come back before that.''
Of course, we've never seen anyone like Mariano before.
Spring training baseball gets underway Friday

Christopher Crawford weighs in on all things prospects

Pawol is expected to umpire in the minors again come the regular season
No. 3 Texas Christian is looking to ruin Long Beach State's return home

Martinez's physical isn't taking much longer than usual

The Rangers have a lot riding on Mike Minor and Matt Bush