2014 Offseason Report: Washington Wizards
The Wizards invested in Marcin Gortat and replaced Trevor Ariza with Paul Pierce. What an interesting summer.
• 5 min read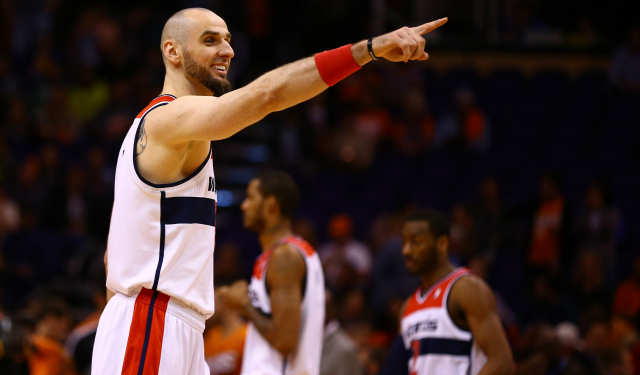 CBSSports.com's Eye On Basketball is taking a team-by-team look at the 2014 NBA offseason. We continue with the promising Washington Wizards. Check out the rest of the offseason reports here.
How they finished 2014: The Wizards lost to the Indiana Pacers in six games in the Eastern Conference semifinals, but the season was a clear-cut victory. Mired in mediocrity for so long, optimism still feels foreign for their fans, but every last one of them had to be encouraged with how things came together. Before the first-round matchup against the Chicago Bulls, Washington hadn't reached the playoffs since 2008 and hadn't won a series since 2005. Until February, All-Star point guard John Wall had never even seen his squad above .500 in the standings. 
The Wizards had a stingy defense and an offense that improved as the year went on. They had solid starters at every position, although two of them — small forward Trevor Ariza and center Marcin Gortat — were about to hit free agency. The backcourt was arguably the best in the league, with shooting guard Bradley Beal looking unstoppable in certain playoff games while still too young to legally celebrate with an alcoholic beverage. Washington made a huge leap and was confident its core could reach greater heights.
Offseason needs: The two main objectives were re-signing Ariza and Gortat, who were integral to the Wizards' success. Both could have had inflated price tags because of the postseason run, so the front office had to make backup plans. Ideally, those wouldn't be necessary. 
Beyond that, Washington needed a better bench. It needed a stretch four, another creator and guys who could get to the line and protect the paint. The Wizards had to identify some free agents or players on the trade market who could help them in small ways. 
The draft: Nothing to see here. Washington started the night with the No. 46 pick, but traded it to the Lakers, who selected Jordan Clarkson.
The Wizards had no first-round pick because they'd traded it to Phoenix in the deal that brought Gortat to Washington just before last season started. 
Free agency and trades: June 3: Less than three weeks after being eliminated by Indiana, the Wizards announce they've reached an agreement with head coach Randy Wittman on a three-year, $9 million extension. While Wittman still has to prove he can oversee a consistently efficient offense, it's easy to see the logic in rewarding him for turning the team around. The players are comfortable with him, and continuity can help the group grow together.
July 1: On the first day of free agency, Gortat agrees to a five-year, $60 million deal. This was considered by some to be an overpay, as he'll be making $13.6 million in 2018-2019 at 35 years old. He would not have been easily replaceable, however, and Washington definitely didn't intend to give up its first-round pick only to watch him walk. 
July 12: Ariza agrees to a four-year, $32 million deal … with the Houston Rockets. This was sort of a shock — the Wizards had been vocal about wanting to bring him back, and the Rockets still had the option of matching Dallas' offer sheet for small forward Chandler Parsons. With swingman Martell Webster recovering from having his third back surgery of his career, things started to look scary. Otto Porter and Glen Rice Jr. have plenty of potential, but neither seemed ready to step into the starting small forward spot.
July 12 (hours later): Paul Pierce agrees to a two-year deal for the mid-level exception with Washington, taking the entire league by surprise. With that one move, the Wizards replaced Ariza, added a stretch-four option and took some pressure off of the backcourt in terms of playmaking. They also gave the locker room another veteran voice, the only one with championship experience. Pierce will be 37 by the time the season starts, but he was effective for Brooklyn last season and it's hard to imagine a better Plan B at his position. Assistant coach Sam Cassell, a former teammate in Boston, sold him on the situation.
At that point, Washington's summer was already a success. More good news followed, as the Ariza deal turned into a sign-and-trade netting the Wizards an $8.5 million trade exception, bench bigs Kris Humphries and DeJuan Blair arrived in exchange for virtually nothing, and cheapo deals brought back Drew Gooden, Kevin Seraphin and Garrett Temple.
The coaching staff underwent a bit of a makeover, as Cassell wound up leaving to join Doc Rivers with the Clippers. The Wizards replaced him with Roy Rogers, and made headlines by hiring David Adkins in a player development role. Adkins, who spent the last five years as an assistant with the University of Maryland's women's team, coached hometown hero Kevin Durant in high school at Montrose Christian.
Overall grade and accomplishments — B+: Washington accomplished what it set out to do. Sure, it had planned on keeping Ariza, but it reacted immediately with Pierce and managed to add bench players who should contribute. Given how well Porter and Rice played in summer league, the Wizards look like they'll be deeper and better next season, provided that everyone stays relatively healthy. 
The question is whether or not their plan was a good one. Or, more specifically, the questions are as follows: Is Wittman the guy to guide them over the long haul? Is Gortat worth sacrificing future flexibility? Is Pierce going to put them over the top? 
You could argue that this team needed to add more youth, especially in the frontcourt. You could argue that this team is setting itself up to peak at "above average" rather than becoming a legitimate Eastern Conference contender. You could argue that, while the trip to the second round was nice, this team wasn't good enough to play it safe. I'd say that there's reason to be excited about this team and the progress it can make in the near future.
If Washington fails to build on last season, though, it's not necessarily harmful. Since Pierce only signed for two years, the Wizards will have tons of cap space in the summer of 2016. That's when Nene's large contract comes off the books, and that's when Durant is a free agent. The Wizards did well this offseason to position themselves as relevant in between now and then.
Former longtime Knick Carmelo Anthony makes his return to New York

Mirotic and Portis combined for 49 points as the Bulls won their fifth straight game, beating...

Gobert, who missed 11 games earlier this season with a knee injury, will have an MRI
Get all the latest scores, news and highlights from Friday's NBA games

Porzingis is questionable for Carmelo Anthony's return to MSG on Saturday

The Spurs and Rockets will renew their in-state rivalry on Friday night