Anthony Davis out 4-6 weeks with hand fracture
Pelicans star forward fractures fifth metacarpal, out 4-6 weeks. Can the Pelicans survive without him?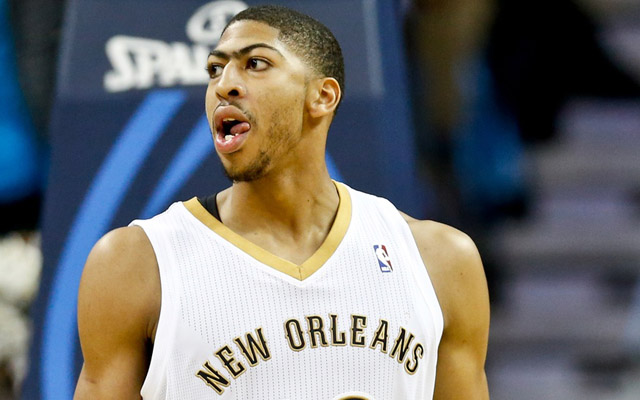 The New Orleans Pelicans announced Tuesday that forward Anthony Davis suffered a non-displaced fracture of the fifth metacarpal of his left hand Sunday vs. the Knicks. He's expected to miss 4-6 weeks according to the team's release. 
The injury has two immediate impacts. One, obviously, the Pelicans should struggle. Zach Lowe of Grantland broke down the details on this scenario. I will add, though, that I've seen a pattern where intermediate, non-season-ending injuries to major players do seem to have an effect on motivating the rest of a team. They've won two straight including the game Davis went down in, and outlasted the Bulls in triple-overtime Tuesday night. They have a tough schedule but that might help them to sneak up on a few teams. At 9-8, if they can manage to stay four games under .500 by the time he gets back, they'll be OK. 
The other issue involves the All-Star Game. Davis has been arguably the best power forward in the league over the past five weeks. Blake Griffin is a lock for the starting spot alongside Kevin Love down low,with Kevin Durant at small forward. Davis will get competition for a backup bigs spot from LaMarcus Aldridge, among others. Being out December is going to compromise his chances to build some momentum headed into the reserves voting at the end of January. If he can return the first or second week of January, that's enough time to pick back up, but it's going to be tight. 
Either way, a really unfortunate injury for New Orleans, but at least he should be back for the All-Star Game in New Orleans. Hopefully he bounces right back. 
Irving has requested a trade away from the Cavaliers

The Lakers made a strong push for Rose, but he would have been a backup in Los Angeles

The small forward spent last season with the Sacramento Kings
Knight still has three years left on his five-year, $70 million contract

The Golden State forward is accused of assault, battery and making misleading statements

The Nets get their shooter a year later, and the Blazers reportedly will waive Nicholson