Cavs working to clear max space for LeBron James
CBSSports.com's Ken Berger reports the Cavs are trying to move Jarrett Jack to make room for a max contract for LeBron James.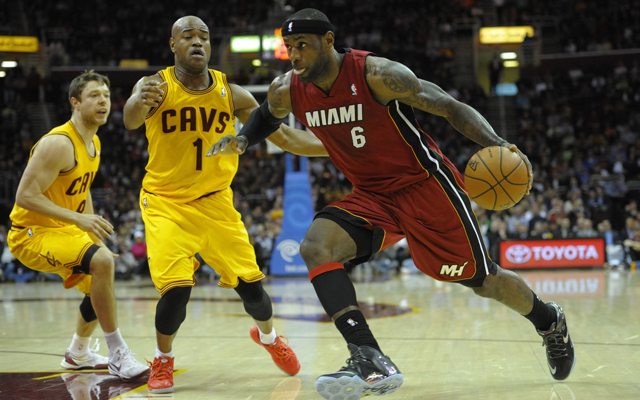 More on LeBron: James' free agency page | Doyel: NBA revolves around LeBron
Ken Berger of CBSSports.com reports that the Cleveland Cavaliers are actively pursuing cap room for a max contract offer, presumably with LeBron James in mind: 
The Cavaliers, meanwhile, have engaged several teams in trying to find a taker for contracts in a possible multiteam trade in which they would dump Jarrett Jack's $6.3 million salary to clear a max free-agent slot, league sources told CBSSports.com. In one such scenario, according to Yahoo Sports, the Cavs would send Jack to the Nets while trying to find a third team to take Marcus Thornton, who is owed $8.6 million next season.
via LeBron James, Pat Riley planning sitdown to discuss free agency - CBSSports.com.
Berger reported Monday that the Cavs reached out to the Hawks about a potential deal but the Hawks don't have interest in Jarrett Jack. 
Cavs engaged Hawks in trade talks about a week ago, source says. Clearing Jack's $6.3m salary is key to opening max slot for LeBron.

— Ken Berger (@KBergCBS) July 7, 2014
The Hawks, also in the mix for Cavs free agent Luol Deng, have not shown much interest in taking on Thornton's contract, source says.

— Ken Berger (@KBergCBS) July 7, 2014
You would imagine a sign-and-trade for Deng could persuade the Hawks to send something else out to the Nets in exchange for Jack. But the bigger point is that Cleveland is actively looking to create room for James. 
If James, whose agent has reportedly already met with Dan Gilbert, decides to return to Cleveland, they'll have to act fast. Clearing Jack shouldn't be much of a problem even after signing him to a free agency deal last year. He still has good value as a veteran point guard. But the Cavs are probably going to want a veteran point guard at some point behind Irving even if they sign LeBron. James is pretty familiar with a lack of point guard depth after last year with Miami. 
The Cavaliers are reportedly not keen on moving Anderson Varejao, and that's going to take up some cap space. But this gets lost in the ideas of James going anywhere: you have to build a team around James. Making room for his max contract is just the first step. 
We've got all the scores, highlights and news for Thursday night

The Sixers big man got his first All-Star selection -- and maybe some revenge -- on Thursd...

It appears some players are not entirely taking the All-Star voting process seriously
There were some weird discrepancies between the fan, media and player votes

LeBron and Steph will be the captains for the 2018 NBA All-Star Game

Arron Afflalo was involved in an altercation with Timberwolves big man Nemanja Bjelica on...