Joel Embiid injures foot, it might be broken
Kansas big man Joel Embiid, a possible No. 1 overall pick in next week's draft, has suffered a foot injury.
• 2 min read
More Offseason Analysis: Coaching changes, news | Free Agency | Draft
Just a week before the 2014 NBA Draft, Joel Embiid has suffered a foot injury, via ESPN.com:
Joel Embiid, considered the front-runner to be the No. 1 overall pick in the NBA draft, has suffered a right foot injury, his agent and his mentor both confirmed to ESPN.com on Thursday.

"He suffered a foot injury to his right foot, sometime over the last few days,'' agent Arn Tellem told ESPN's Andy Katz by phone Thursday. "He's getting evaluations from various doctors and experts in the field. We'll know more Friday.''

One source told ESPN.com that Embiid "may have broken" his foot, but Tellem wouldn't speculate on the seriousness of the injury until he had heard back from doctors. Tellem also said it was unlikely he would be doing any more workouts before the draft, which is June 26.

Luc Mbah a Moute, Embiid's mentor, also was not certain as to the extent of the injury.

"I just heard he got hurt," said Mbah a Moute, who is overseas.
A source confirmed the injury to CBSSports.com's Ken Berger. This is bad news and awful timing for Embiid, as it looked like he had a good chance of being the No. 1 pick. He had worked out for the Cleveland Cavaliers, who own the pick, and the medical tests he did for them reportedly showed no reason for concern. He had missed time at the tail end of the Kansas Jayhawks' season because of a back injury. 
Concerns about Embiid's back had diminished significantly over last few weeks, according to execs. Seemed almost assured he would go No. 1.

— Chris Mannix (@ChrisMannixSI) June 19, 2014
As Jeff Goodman reports, Joel Embiid suffered a foot injury. Cavs want to workout Dante Exum for No. 1 spot now too, sources tell Yahoo.

— Adrian Wojnarowski (@WojYahooNBA) June 19, 2014
If you thought teams were scared of Embiid with back questions…top 10 GM: "it would be real hard now" to draft Embiid high w/foot issues.

— David Aldridge (@daldridgetnt) June 19, 2014
If it turns out this is serious, and the Cavaliers no longer consider him at No. 1, this could shake up the draft -- and even the trade market -- in a big way. 
Cavs, Bucks & Sixers in the dark on this. Waiting like the rest of us for report on Embiid's foot on Friday. If it's serious, he slides.

— Chad Ford (@chadfordinsider) June 19, 2014
Also hearing Cavs were scared off by Embiid's foot, now focusing on Jabari or Wiggins (Jabari is the favorite). Unbelievable turn of events.

— Bill Simmons (@BillSimmons) June 19, 2014
If/when Cavs take Jabari, Bucks are screwed (they wanted Jabari) + Sixers are screwed (they wanted Wiggins). Could Embiid drop to Bos or LA?

— Bill Simmons (@BillSimmons) June 19, 2014
Also - major ramifications for Boston's potential Kevin Love deal. Can't see them giving up the farm for Love if Embiid might fall to 6.

— Bill Simmons (@BillSimmons) June 19, 2014
Also hearing that Arn Tellem wanted Embiid to go first... but if that can't happen, he's going to push hard to steer him to Boston or LA.

— Bill Simmons (@BillSimmons) June 19, 2014
It's a wild, unfortunate situation so close to June 26. All the teams can do right now is wait and see the severity of it.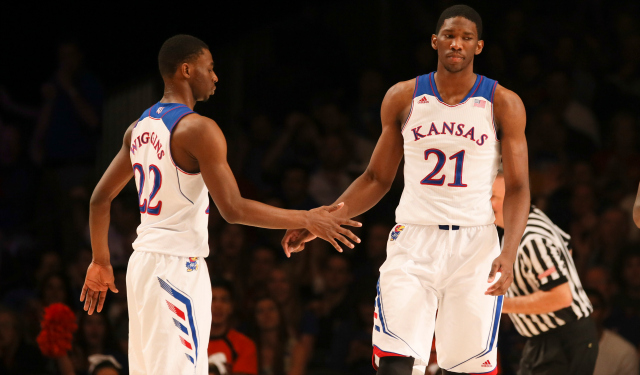 Boucek most recently was head coach of the Seattle Storm in the WNBA

The Rockets apparently aren't going to rush their new point guard back

The Bucks are going all in on retro with their jerseys and court design
Mike McClure, a DFS pro with more than $1M in winnings, gives optimal DraftKings and FanDuel...

LaVar's son couldn't live up to LaVar's hype. But there's more to this story

Carmelo Anthony is hoping for Kristaps Porzingis to see success on his own