Knicks and Nets need more for a rivalry
The Knicks and Nets are set to spark a major inter-city rivalry, but they're going to need some help to convince us they actually are competing against one another.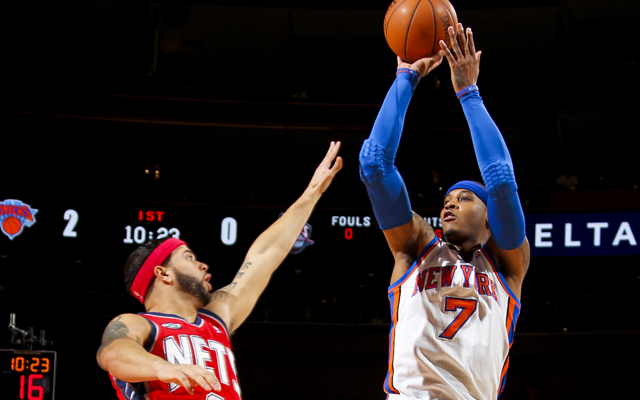 Carmelo Anthony and Deron Williams will battle for the soul of New York next season.
(Getty Images)
You know how during staged events, there will be some sort of forced production of a rivalry between two sides? Think during a halftime show, or at a basketball event sponsored by an energy drink. There's a lot of forced trash talk and staged theatrics of some sort of built-up animosity. 
This is a lot like the Knicks-Nets rivalry that's truly about to begin, in some ways. Not entirely. But some. 
First off, the most authentic thing about the rivalry actually comes from the fans, nothing with the teams or owners or on the floor. For years there's been a certain amount of resentment on both sides. The Nets were dismissed by the Knicks because they played in New Jersey. Nets fans, in return, responded by asking exactly how the Knicks could condescend to them, since they've been terrible since disco was a thing (barring the brief stretch of near-elite play during the Ewing era). The Nets, no paragon of basketball awesomeness themselves, at least had the early 00's Finals appearances.
So with the move to Brooklyn, the Nets fans in New York see themselves as both the more relevant franchise historically, and as the new kids, coming to crash the Knicks' party. There's a certain amount of old money vs. new money rivalry going on (and it is a lot of money either way you slice it). "The Nets have no history!" "The Knicks' history is Isiah Thomas!" It goes on and on. But from all indications to an outsider, Gotham seems ready to have a genuine distaste for the other side in this divide, even if the Knicks are the predominant franchise due to their history and iconic marketing. 
But it's where the leather meets the floorboard that things start to go awry. Because if this is going to genuinely become a rivalry? It's going to need some help from the stuff that happens between buzzers. 
The owners are definitely into it. The Nets planted billboards outside MSG during the 2010 summer of free agency, trying to lure targets from the Knicks. Mikhail Prokhorov made a personal plea to Carmelo Anthony to try and sway him in early 2011. Nets marketing packages are aimed at "converting" Knicks fans fed up with the franchise after they let Jeremy Lin go. 
But there hasn't been much of the way of tense, epic battles on the floor. The Nets were awful from the moment Deron Williams arrived, irrelevant for years before that (since they traded Jason Kidd and Vince Carter, essentially). They lost the season series 2-1 last year, even though all three meetings were decided by single-digits. There just hasn't been much on the line. 
This year, however, it's set to be different. Joe Johnson, Gerald Wallace, and a healthy Brook Lopez join Williams, while the Knicks feature Williams' mentor Jason Kidd, and of course Melo along with Amar'e Stoudemire and Tyson Chandler. The talent is there for there to be fireworks when they meet in their season opener on Halloween. 
One issue. Who's going to really push this thing to the next level? Anthony's a superstar, definitely so in his mind, but he's never really ran his mouth at the opponent or made bombastic comments in public. Stoudemire is more likely to expound on the intrinsic value of competition than to blast the other team, and Tyson Chandler is a quality team leader, but not going to be delivering any fouls to set the other side into an uproar.
For the Nets, Williams is as even-keeled as they come, Gerald Wallace is a great interview but never says anything inflammatory and Joe Johnson was literally depicted at a bus stop in the Free Darko Book, that's how non-descript he is. Brook Lopez is infinitely more likely to get into a heated battle about whether Thanos' Infinity Gauntlet could take out the Beyonder than to run down Tyson Chandler. 
There is hope, though. The Knicks now employ Marcus Camby (again). And the Nets have added Reggie Evans. It's going to be the benches that might have to build some bad blood in the blue-blood franchises. 
One thing is certain, the NBA could stand to really gain from this thing turning legit. The biggest market in the world, split between two star-studded franchises, the more complete Nets team with the underdog superstars vs. the marquee-headlining semi-circus that seems to be each Knicks season? This is tailor made for ratings glory. 
But we're going to need to see how they match up. It's an awkward fit mano-a-mano. Chandler is more physical than Lopez, but Lopez is more gifted offensively. Kris Humphries is dwarfed by Stoudemire's ability, but then, Stoudemire's drastically misused in the ISOMelo system and can't defend anyone. Deron Williams vs. Raymond Felton is a mismatch. But Joe Johnson vs. J.R. Smith and Gerald Wallace vs. Carmelo Anthony is interesting. Smith may be the wildcard who can ramp up the intensity of this rivalry-being-bred. 
The biggest thing the rivalry needs, though, is for both teams to be good. Great, even. The bad feelings could have been there before, but the teams haven't been good at the same time in so long, I need this account to help me figure out the last time. 
The pieces are there. The uniforms look cool. The storyline/narrative/whatever is in place. But these two teams will have to get out of their own natural identities for this to become the genuine rivalry the NBA is selling it as. 
Until then, it'll just feel forced. Much the same way the two star-studded teams were put together. 
Thomas took to Twitter to let the Celtics know he doesn't want to ruin Pierce's night

The Hall of Famer was a seven-time All-Star with the Celtics, and was MVP of the 1976 Fina...

It's rare to see a legit punch in an NBA fight, but this was definitely one of them
We've got all the scores, highlights and news from an NBA Tuesday

The former Slam Dunk Contest champion will take his talents to Tri-State

Do NBA players have look-a-likes from famous paintings? We found out on the new Arts & Culture...