Knicks officially sign Metta World Peace
The Knicks made it official that Metta World Peace has been signed to a contract.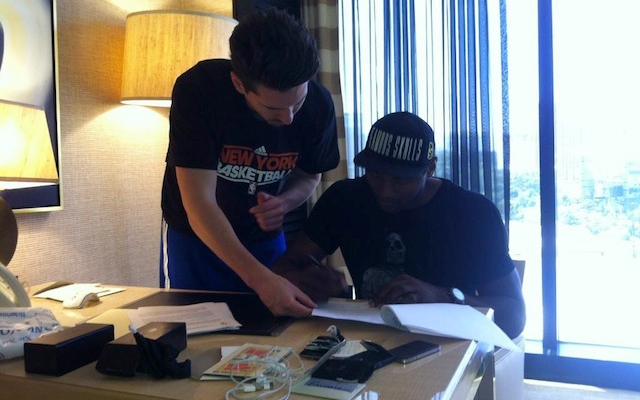 Make it official: World Peace is headed to New York.
The Knicks announced Tuesday that forward Metta World Peace has signed his contract with the team.
"Metta is a fierce competitor who brings toughness and championship experience to our roster," general manager Glen Grunwald said in a release. "We are excited to bring him back to New York and give him a chance to play for the team he grew up rooting for." 
After being waived by the Lakers via the amnesty provision, World Peace cleared waivers and became a free agent. He was said to have mutual interest with the Clippers, the Thunder and a few others, along with the option to play overseas or even join arena football. 
He ended up choosing the Knicks, mostly because he couldn't turn down the opportunity to return home. 
Born in Queens, NY, as Ron Artest, World Peace starred at La Salle Academy and then at St. John's University.
World Peace, 33, averaged 12.4 points, 5.0 rebounds, 1.5 assists and 1.63 steals over 75 games (66 starts) with the Lakers last season.
Have the Clippers reportedly found their next GM?

The NBA stayed to the point in their response to the Greek basketball federation

The Pacers believe the Lakers tampered with Paul George before they traded him
Among the questionable decisions by Jackson was signing Noah to a long-term, lucrative dea...

This Akron store doesn't want their hometown hero to leave again

Milwaukee's star did not get cleared to play for his national team due to a painful knee i...