Lakers C Dwight Howard (back) cleared for full-contact practices
Los Angeles Lakers center Dwight Howard has been cleared for full-contact practices after undergoing back surgery in April.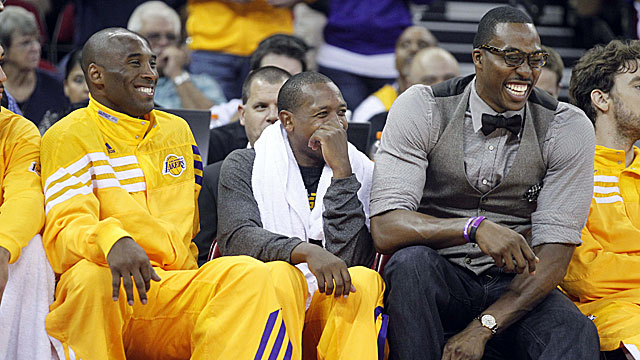 Dwight Howard can finally engage in full-contact practices with the Lakers. (US Presswire)
The Los Angeles Lakers announced Tuesday that All-Star center Dwight Howard has reached a new milestone in his rehabilitation from back surgery in April by receiving clearance for full-contact practices. Howard's minutes will initially be limited as he ramps up his participation in scrimmages.
Howard, 26, underwent surgery to repair a herniated disk in April that ended his 2011-12 season with the Orlando Magic. This summer, he was the centerpiece of a four-team blockbuster trade that landed him with the Lakers. He has participated in drill work with the Lakers' coaching staff during training camp but did not play in L.A.'s preseason opener against the Golden State Warriors on Sunday.
The Lakers will continue their preseason slate against the Portland Trail Blazers on Wednesday night in Ontario, Calif. Howard is not expected to play. The Lakers open their 2012-13 regular season against the Dallas Mavericks at Staples Center on Oct. 30. Howard is reportedly aiming to play in the opener.
Howard averaged 20.6 points, 14.5 rebounds, 2.1 blocks, 1.9 assists and 1.5 steals in 38.3 minutes per game for the Magic last season.
On Monday, the Lakers announced that reserve big man Jordan Hill would miss some time during the preseason with a herniated disk in his back.
Warriors' forward doesn't understand the reasoning behind the all-too-common double technical...

Hardaway Jr. gave a 'safe' call like he was an umpire in baseball

Barnes hits the trey with less than a second left to lift Mavericks to dramatic 95-94 vict...
Kevin Durant was once again back in Oklahoma City

Gregg Popovich has never seen an injury lead to the issues that Kawhi Leonard has been fac...

Kobe Bryant, of course, had his 81-point game against Rose and the Raptors back in 2006