Nets go ballistic from 3-point range in Game 3 win
Brooklyn made 15 of its 25 three-pointers on Saturday, making it a 2-1 series.
• 2 min read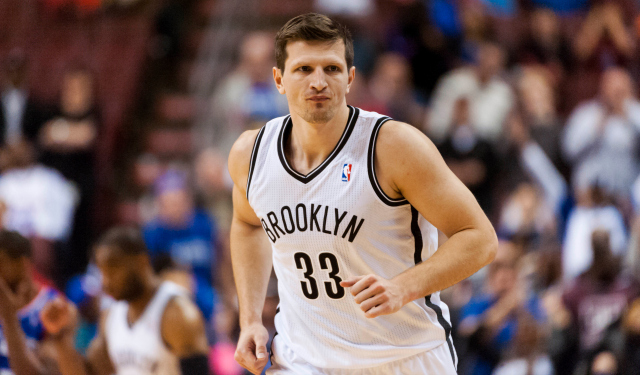 More postseason coverage: Playoff schedule, results | Latest news, notes
The Brooklyn Nets went bombs away in their 104-90 Game 3 victory over the Miami Heat on Saturday. They made 15 of their 25 three-point attempts, the most in this postseason and a franchise playoff record. 
Deron Williams, who didn't score a single point in Game 2, likely won't get most of the credit. He shot 3-for-11 from the field and made only one shot from downtown. It was his penetration, though, that started everything for Brooklyn. Williams had 11 assists, and nine of them were for three-pointers. His ability to get in the lane and find open marksmen is what made this a totally different game from the two that came before it.
The Nets spread the floor with their shooters, and those shooters didn't hesitate for a second. Forward Mirza Teletovic, who shot 6-for-9 from deep in Game 2 for 20 points, exploded once again. He made all four of his threes in a seven-and-a-half-minute stretch spanning the third and fourth quarters, and didn't even think about taking a two-pointer. Even if he's a few feet behind the line, if he catches the ball in rhythm, he is launching it.
"When he's hot like that, we're a tough team to go at," Brooklyn swingman Joe Johnson said.
It was Mirzanity, Mirzamania, Mirza Madness. Teletovic should probably tweet his shot chart, like he did after the last game:
Is not over @BrooklynNets @MiamiHEAT pic.twitter.com/S3yxQjyqDC

— Mirza Teletovic (@Teletovic33) May 9, 2014
Johnson, who missed all four of his three-point attempts in Game 2, shot 5-for-7 this time. The Nets, as a team, made basically everything. Including this:
"They got into a great rhythm," Miami head coach Erik Spoelstra said. "Teams can be dangerous when you give them a lot of rhythm. But you have to give 'em credit, they have guys that can knock down shots and they moved the ball well. They moved the ball extremely well in the second half. In that third quarter, they had a couple possessions where it was multiple passes for option shots. And we just have to step up those multiple efforts against those type of plays."
The Nets were only up by three points when Teletovic hit his first three-pointer. That started a 18-5 run, and the Heat were never able to make a serious challenge in the final frame.
"Obviously the basket seems as though it's a little bigger," Johnson said. "But I thought the thing that was great about it was the ball movement. Us getting to the teeth of the defense, kicking it out for wide-open shots, that was the biggest key. I think that's what kind of started guys making threes and us kind of going on a run." 
Brooklyn got those looks because it got the Heat's defense on its heels and passed the ball exquisitely. Miami's aggressive schemes, which bothered Williams so much on Thursday, were not all that effective. Still, the Nets got hotter than usual, in contrast to the Heat missing even their open threes. Miami went 8-for-24, including 0-for-9 from Shane Battier, Chris Bosh, Dwyane Wade, Ray Allen and Rashard Lewis. Don't expect things to remain the same for either team on Monday.
The NBA broke its silence with a statement related to the Lakers-Paul George tampering cha...

The Clippers big man thinks LeBron will reunite with the banana boat crew at some point

Have the Clippers reportedly found their next GM?
The NBA stayed to the point in their response to the Greek basketball federation

The Pacers believe the Lakers tampered with Paul George before they traded him

Among the questionable decisions by Jackson was signing Noah to a long-term, lucrative dea...