Phoenix Suns give Lon Babby two-year contract extension
The Phoenix Suns give Lon Babby, president of basketball operations, a two-year contract extension after a mixed three years on the job.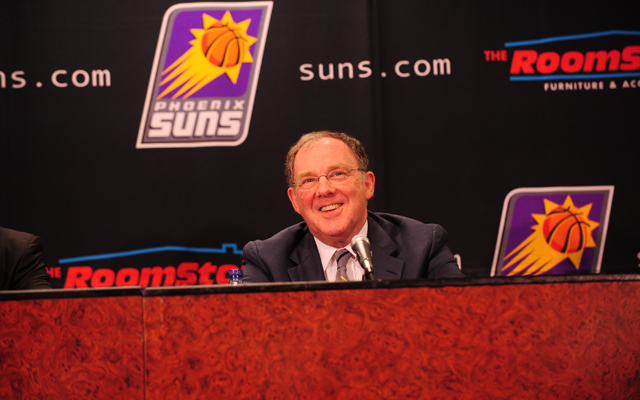 The Phoenix Suns were once a proud, exciting organization that provided its fans and fans of the NBA with some of the most entertaining basketball in the league. It appeared to be a forward thinking organization with its "seven seconds or less" style, quirky stars in Steve Nash and Amar'e Stoudemire and an underdog status that they didn't seem to mind trying to shake.
After owner Robert Sarver's frugal ways began directly impacting the progression of the organization, the Suns slowly started falling back down the ranks of the NBA and back into the cellar. In the 2009-10 season, they made one last miraculous dash toward the NBA Finals and eventually lost in six games to the Los Angeles Lakers in the Western Conference finals.
In the summer of 2010, when the landscape of the league changed so drastically, the Suns hired former agent Lon Babby to be the president of basketball operations. It was a mere six days after the Suns had traded for two of Babby's former clients -- Hedo Turkoglu and Josh Childress.
Since Babby has taken over, the team has spiraled out of contention and out of relevancy. They have missed the playoffs in all three seasons of his time with the Suns, won just 43 percent of their games during this time and had their franchise player leave when Nash orchestrated a sign-and-trade to the Lakers. 
The team recently fired Alvin Gentry as head coach and replaced him with Lindsey Hunter. This was in order to get a new direction with the organization as they try to figure out what young talent they have in Markieff Morris, Michael Beasley, Wes Johnson and Kendall Marshall. This sounds like it might be something that puts Babby's job in jeopardy, right?
Wrong. The team announced he's receiving a two-year extension that will keep him with the Suns through the 2014-15 season.
The Phoenix Suns today announced that the club has reached an agreement with President of Basketball Operations Lon Babby on a new two-year contract. The deal will keep Babby in his current position through 2014-15.

"Lon has led our front office during this important transition period for the organization and he has my full support as we continue to rebuild," said Suns Managing Partner Robert Sarver.

Babby was originally named just the fourth basketball president in franchise history on July 20, 2010, after almost 35 years as a practicing attorney with Washington, DC-based Williams & Connolly, LLP, where he was an industry leader in sports and contract negotiations.
This is kind of stunning when you think about the direction in which the Suns are headed. They have the worst record in the Western Conference and very little young talent on their roster that makes you think they've started the rebuilding process properly. And yet, Sarver could be saving millions of dollars right now, which makes him happy enough to keep Babby around.
The Suns are sitting around $52 million in committed salary for this season, which is roughly $3 million above the salary floor and $6 million under the salary cap. They only have $42 million committed for next season. The Suns are in good financial shape in terms of adding to the roster without spending an exorbitant amount anytime soon.
Babby was a pretty fantastic agent, representing players like Tim Duncan, Grant Hill and Ray Allen at one time. He even secured a big contract for Turkoglu that eventually became scorned by fans who saw the deal eat away precious salary-cap and roster flexibility. That's how you can tell someone is a good agent. When you hate their clients' contracts being on your team, it means they've done their job with negotiations.
We've got all the scores, highlights and news from all of Sunday's games

The Rockets beat the Warriors 116-108 on Saturday night

The Cavaliers gave up 148 points in their loss Saturday afternoon to the Thunder
Blatt made the comment before coaching in the All-Star Game in Turkey

Is this rock bottom for the Cavaliers because it sure feels like it is

Wade, as he's done so many times in his career, threw it up to LeBron for the thunderous f...