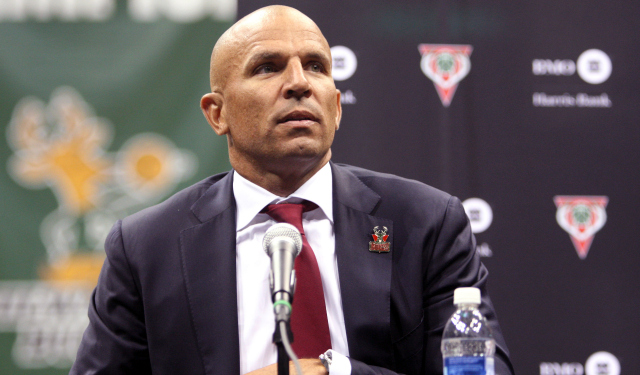 Jason Kidd's the head coach of a cellar dweller, and he sounds on top of the world. His exit from the playoff-tested Brooklyn Nets for the Milwaukee Bucks, who finished a league-worst 15-67 last season, was a total shock. The way it happened -- after just his first season on the sideline, before Larry Drew was dismissed -- did not exactly earn him praise. Since then, though, he's been in the gym with his new group. He's seen reasons for optimism.
This young Bucks roster will require plenty of patience, but it's talented. Forwards Jabari Parker and Giannis Antetokounmpo are building blocks about as promising as a coach could hope for. It'll likely take time and teaching for things to come together, but success isn't expected right away. Kidd talked to CBSSports.com about taking over the team and why he's so excited about the future. The following is a condensed transcript of the conversation:
What's Milwaukee like?
Well, they say it's cold but I think it's been beautiful. The weather's been great, the people have been great, the Bucks organization has been awesome making the transition. There are no complaints on this side.
What was the most meaningful message of congratulations or support you received when you went there?
I think the guys that I've talked to. From Jabari to Giannis, Zaza [Pachulia], Larry [Sanders], they're all excited about playing. As a coach or even as a teammate, when guys are excited, good things happen. 
How have you handled the summer in terms of getting to know these guys and spending time with them?
I've been fortunate. The month of September, most of everybody's been here. So that's helped, where I didn't have to travel anywhere to see anyone. That was big. Also by text, by phone, just talking, just checking in to see how guys are doing. The summertime is for them to relax and enjoy their time off, but for the most part guys were very responsive and I got to know a lot of them. 
Since you've done it twice now, what's the to-do list when you take over a team?
I think one is to understand the style of play you want to use or try to put in, and also to understand and talk to the guys about how they want to play. In this league, players will let you know if they like it or dislike it, a lot of times without saying anything. I think it's communicating but also understanding that my job here is to put those guys in a position to be successful and find a way to win.
Does your approach change at all with a team that's young and learning how to win versus last year when you had a team talking about competing for a title?
Yeah. You know, it's a process. For us, it's a process of understanding what it takes to win and the guys have already started that process here by coming in, working during the day and then coming back at night to get some more work in. And when you look around the league at the teams that have players that do that, you can point to the teams that have won on a consistent basis of winning 50 games every year because it's about their job, how they get better at their craft and become consistent. The more time you spend in the gym, the better the chances of that happening.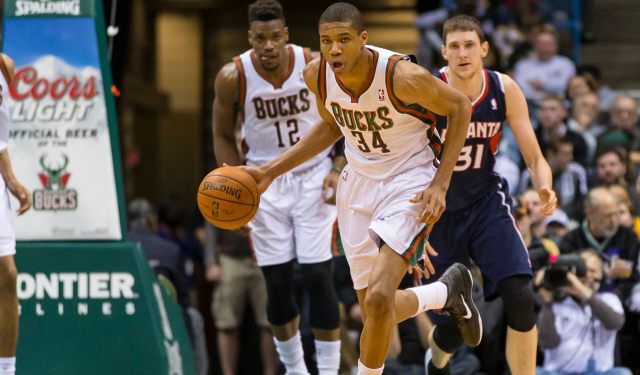 Is it true you're going to have Gary Payton mentoring Giannis?
No, I'm not having anyone mentor anyone. For me, it's looking at guys that I've played against or played with that can maybe help come in for a day or two to talk about what it takes to be successful. And so Gary at some point might come in and talk, but we're not going to hire him.
What have you learned about Giannis that you didn't know before you took the job?
Well, he loves to work. He loves to be in the gym. It's hard to get him off the floor. And that's all good stuff. Being 19 years old and understanding that he wants to work together is all good stuff that I've learned here in the last month or so.
His potential is obvious, but how do you plan to mold him into the best player he can be?
I'm excited. I think it's a great challenge. I think he has a lot of tools, there's a lot of skill that he already possesses to be good. When you look at his playmaking, understanding how to make plays for teammates, he's unselfish. I like what he brings to the table now and, for us, it's to help improve that and grow. And also when you talk about shooting and all that fun stuff, it's going to take time for him to be good at it because, again, he's only 19.
At summer league, he took losses pretty hard. What did you make of that?
Yeah, no one wants to lose and he's a competitor. He wants to win at shooting games, he wants to win at pickup games. That just shows that he cares and that he's a winner. That'll rub off on his teammates and that's all good qualities.
You're sort of been in Jabari's shoes, coming in as the No. 2 pick. What's the most important thing to tell him about handling what's ahead of him?
I think just being himself, working hard as his craft, understanding there's going to be good nights and there's going to be nights where you feel like you can't throw it in the ocean. And that, with the bad, you just gotta move on and learn from it and not just sit there and think about it to where it just consumes you. But you can learn from your mistakes, your bad nights, and make sure that you can try to work and be consistent every day.
You were linked to Grant Hill as a young player starting with the Rookie of the Year race. Do you think that the fact that Jabari has a counterpart in Minnesota could be a good thing for him?
Yeah, it's fun. I thought with Grant, coming in together, if he had a triple double I looked at trying to get a triple double. That's just friendly competition with your peer. Where it's all taken in light of trying to win. Grant is a winner. I tried to win in Dallas. So that's all good stuff. It can push you. You can use it all to motivate you.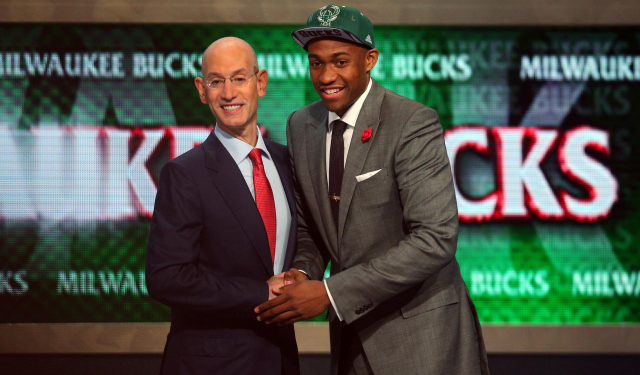 He said he's comfortable at the 4, you've said you're comfortable with him there. Is that the plan?
He's a basketball player, so we can throw the numbers out — 3, 4, it's putting your best five on the floor to find a way to win. For him, he can stretch it to the 3-point line. He's also a guy who knows how to put the ball in the basket. So we'll move him on the court and we'll definitely have him on the floor. We're looking forward to that. 
You always saw things develop three, four, five steps ahead as a player. Does that attract you to the way Kendall Marshall plays?
Yeah. Kendall, he's a general on the floor. One, he's unselfish. Guys know that they're going to get the ball, so they all get out and run. And it's fun to watch. For him, trying to advance the ball to a teammate, wanting to get an easy basket, is something that we don't see a lot in this league. 
What have your conversations with Larry Sanders been like this summer?
We've been great. He came out to summer league for a couple days to work out. We've talked all summer. I'm very excited. He has said on multiple occasions he's excited to play basketball. We understand how important he is to this team, and so, again, what he brings to the table on the defensive and offensive end, we're very excited to have.
He's said he wants to have a bounceback season. How's he looking, what are your expectations for him?
He looks great. He looks great. He's running. He's blocking shots, rebounding, he's talking, he's helping his teammates out on both ends. He's in shape. He looks great. Everybody that we've seen, the 15 guys that have been here most of September look great. 
David Blatt said he was trying to go and ask everybody questions at the coaches' meeting last week. You're not a rookie coach anymore, but are you still trying to soak up knowledge from guys?
I just listen. I'm a listener. When it comes to the Grgfest that we had in Chicago, listening to Jim Leyland talk, different coaches, you can always pick up and learn from them. Just like a player, when you watch them practice or play against them, you pick up a move or something that you might want to add to your game. So it was a great weekend to listen to some of the best coaches in the world, but also to some of the best players with [Kevin] McHale and [Larry] Bird talking about chemistry and them being teammates. 
The record was what it was last year and it's been a long time since the Bucks have been more than pretty good. What makes you confident that things are you going to change now?
Well, we gotta work at it. It's not just going to happen overnight. We're in this to get better each day, and that's not just players, but coaches, and so each time we take the floor, it's to get better. Again, we have a group of guys that believe that it can get better and that's what makes it exciting.