Roundtable on Sixers-Celtics Game 7: Who needs to step up?
With Game 7 on Saturday deciding who will face the Miami Heat in the Eastern Conference Finals, we thought we'd do a little roundtable action on exactly what has to happen for each side to come away wth a win as the Sixers and Celtics settle their series.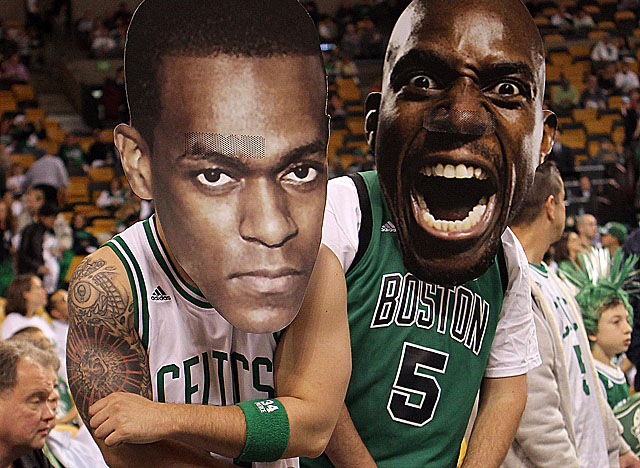 The only Celtics starters playing at 100 percent, Rondo and K.G. will need to play big in Game 7. (Getty Images)
With Game 7 on Saturday deciding who will face the
Miami Heat
in the Eastern Conference Finals, we thought we'd do a little roundtable action on exactly what has to happen for each side to come away wth a win as the Sixers and
Celtics
settle their series. 
1. If one player is going to step up for Philadelphia to give them the scoring they need to put Boston away, who's it going to be? 
Royce Young:
 Has to be
Evan Turner
. He's the most versatile scorer they have and a guy that can create his own.
Lou Williams
is a good candidate, but the Celtics seem to have figured out how to take him away. Turner can slash, shoot from midrange and finish at the rim. Scoring is obviously the challenge for the Sixers and there are multiple guys that coule potentially step up --
Elton Brand
,
Thaddeus Young
, Williams,
Andre Iguodala
-- but Turner makes the most sense because of the combination of athleticism and ability. He's a big 6-7 guard and should find favorable matchups. He's just got to be aggressive at the rim and be willing to put the scoring responsibility on himself. 
Ben Golliver:
 The Sixers have had different players step up offensively in all three of their wins. It's not all that surprising because of their by-committee approach on offense but that history does make this a difficult question to answer. They've won when Thaddeus Young has stepped up; they've won when he's been invisible. They've won with Lou Williams scoring and distributing; they've won with him chucking and bricking. They've won with Elton Brand getting a double-double; they've won with him scoring three points and grabbing two rebounds. They've won with scoring 12 points on 11 shots and they've won with him scoring 16 points on 22 shots. Yes, this team doesn't make much sense. In a Game 7 atmosphere "moxie" takes on an added importance. Who has the mental strength to play on the road, in a tough environment, against a tested opponent and deliver? That's the big question. Surveying those candidates, Turner and Williams are the two likely choices, especially considering the injuries to Boston's backcourt. Let's call Williams the make-or-break guy for Philly on Saturday.
Matt Moore:
Andre Iguodala. For years, the question has been if Iguodala can be that player that steps up and delivers. And he hasn't had any monster games. But very quietly, he's been a monster in the clutch these playoffs. It's not just the deciding free throws by driving full-throttle against the
Bulls
. It's Game 4 when he buried the Celtics with a pull-up jumper straight out of Pierce's playbook and an open three. That's his skill set. He has range, speed, strength, a skill set in the post, face-up, and off the dribble That versatility has to be put to good use Saturday night.
He's got the athleticism. He's honestly the most impressive physical force in the series. Fast enough to play guard, big enough to play power forward. Pierce can't guard him, he's too quick and has too much muscle. Pietrus can't guard him, he's got too much size and ability. He's the best player on the Sixers, but he always looks to make the right play. He's a superb passer and he can get his teammates involved while getting himself going at the same time. It's time to say "balance be damned, I'm getting points." Iguodala can put the Sixers into the ECF with a big performance. Will he choose to do so?
2. What's the biggest thing Boston has going for it? Royce Young:
 Game 7 is in Boston. The Sixers have already won there once, but finishing a series on the road, especially for a team with as much youth and inexperience as the
76ers
, is a massive undertaking. The Celtics have guys that have all been there. Most of them have a ring, most of them have played their share of Game 7s. Going into a place where the home team is 17-4 all-time in a Game 7 is a daunting thing. The Sixers know history is against them. They've got to prepare for things to not go their way, to get bad breaks and to have big issues. And through it all, somehow win.  
Ben Golliver:
 Boston's biggest advantage -- along with the obvious ones of homecourt advantage and big-game experience -- is that it still has the two best players in the series in
Rajon Rondo
and
Kevin Garnett
. Both are fierce, prideful competitors and both understand what is at stake in an elimination game. Both have been instrumental in Boston's wins against Philadelphia and both have raised questions with their play in Boston's losses. It would be truly shocking if they didn't pull it together and dictate the terms on both sides of the ball on Saturday.
Matt Moore:
Rajon Rondo. Rondo is the player more than any other in this series who can take over the game. Kevin Garnett has to be put in the right positions.
Paul Pierce
has to have a defender he can take.
Ray Allen
is a shell of himself. It's Rondo who can take over a game. When he's slashing and driving, the defense has no good option. Collapse to defend the layup and Rondo whips it to an open power forward for the mid-range J, which they knock down better than any team in the league. Stay home and he'll slip by for a layup. 
If Rondo's engaged, and he was not in Game 6, he can single-handedly drop one of those ridiculous triple-doubles and leave the Sixers defense in ashes in his his wake. But he has to mentally attach himself to this game. The issue with Rondo is always his mental volatility. If he's in the right mindset, as he usually is in the biggest games, he can send the Sixers home and the Celtics to Miami Saturday night.
Trail Blazers guards Damian Lillard and C.J. McCollum have been pushing for Anthony to join...

Anthony reportedly gave the Knicks an expanded list of teams he'd waive his no-trade clause...

The Suns will also receive a second-round pick in the deal
Kerr noted Warriors are deeper than the NBA championship team of last season

The Dubs will make a decision as a team on visiting the White House, but Steph would vote...

Wolves are an up-and-coming NBA squad, but this region knows heartache too well