Tyler Ennis approaches NBA Draft on accelerated path
Syracuse's Tyler Ennis didn't expect to be here already, but he's confident he can contribute in the NBA.
• 4 min read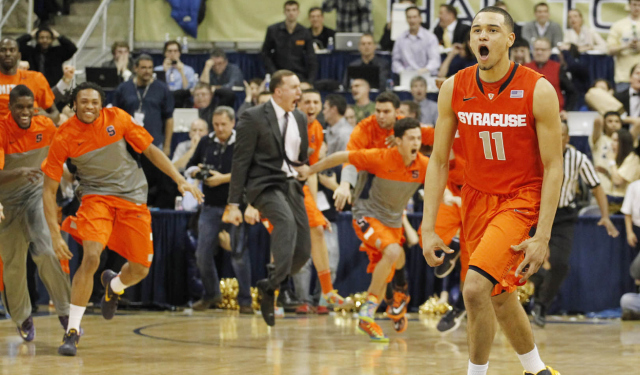 More Offseason Analysis: Coaching changes, news | Free Agency | Draft
TORONTO -- It wasn't supposed to happen this quickly for Tyler Ennis. He's been seen as a potential pro for years, but isn't the type of player normally pegged as a 19-year-old lottery pick. The 6-foot-2, 180-pound point guard won't wow anyone with his athleticism, but he attracted enough attention in a single year at Syracuse that he decided to fast-track it. 
This time last year, Ennis was getting ready to represent Canada in the FIBA Under-19 World Championship, and then to move to Upstate New York, where he thought he'd stay for a while. He'd had a solid senior season at St. Benedict's Prep, but was snubbed from the McDonald's All-American Game and ranked the fifth-best point guard in his class by ESPN and Scout.com. That was before he led the Orange to a 25-0 start, before he hit that incredible buzzer-beater against Pittsburgh, before it became clear that no one in college basketball could run a team better than him.
"Realistically I would have thought two years," Ennis said of his timetable for the next level. "Being able to come in as a freshman point guard is not easy, but as the year went on and seeing the success I was having, I kind of had to think about it. And during the year I tried to zone it out as much as possible, but near the end of the year I kind of had to make a decision. Coming in, I don't think anybody figured me as a one-and-done, but I was able to prove to people that I'm able to play on this level."
For about a month, Ennis has been working out with trainer Jay Hernandez in Long Island alongside other future NBAers. In just four weeks, commisioner Adam Silver will call his name. His first pre-draft workout was Thursday in Toronto, for his hometown Raptors. He called the whole process "surreal," and said reality didn't hit him until the draft combine in Chicago earlier in May.
He said all this standing outside the same Air Canada Centre practice court he competed on in August 2012 with a long list of more experienced players. Flying back from an AAU showcase in Los Angeles in time for the last day of the national team's mini-camp, Ennis' surprise appearance was a footnote in the story of Canada's basketball ascension back then. Now he'll be a huge part of the future for his country and an NBA team.  
"It felt like so long ago, even though it was two years ago," Ennis said. "I was going into my senior year of high school at the time. To look back and see the people I was playing against and the position I'm in now, it's a big jump for me. I think I've improved a lot and I've learned a lot along the way and I've had some fun along the way as well. I've pretty much enjoyed my time playing basketball for fun and I'm ready for the professional level now."
There's little question what he'll provide on the offensive end. He's a floor general, adept at running the pick-and-roll and reading defenses. He almost never turned the ball over in college, and, while his scoring could be inconsistent, he earned so much praise for his composed demeanor that it started sounding cliche halfway through the year. 
Toronto general manager Masai Ujiri interviewed Ennis at the combine and made the short trip to Syracuse multiple times. He observed how he practiced and played. Ujiri didn't deviate from the script, describing him as a fantastic kid who carries himself like a pro. Ennis grew up modeling his game after Jason Kidd, and compared himself to Tony Parker because he passes first but will take over games when it's necessary.
"The couple games I went to, he was quiet for some parts of the game and then just, that outburst," Ujiri said. "I asked him about that. It's funny to see. But we've tracked him a long time and, from what I've seen, he's very poised. Plays very calm. And that's the first thing I noticed. Can get his teammates involved, and then when he needs to score, he takes care of business."
Defense is another story. Jim Boeheim-coached Syracuse teams play zone and only zone. That "doesn't help in the draft process," Ennis said, understating it. He'll have a harder time adjusting to NBA-style schemes than most rookies, and there's no certainty he'll ever be quick or strong enough to hold his own. While he said he'll surprise people on that end, where he's selected on June 26 will show what the league thinks.
The vast majority of the teams picking where Ennis is projected -- in and around the lottery --- already have an established starter at his position. Sounding as polished and polite as advertised, he said the most important thing is that he fits with the franchise that takes him. He added that he's more than happy to serve an apprenticeship, but would be equally willing to take the reins immediately.
"I don't think anybody's entering the draft just wanting to make the team and be happy there," Ennis said. "Personally, I want to make an impact."
Griffin was traded to the Pistons in a blockbuster deal ahead of the trade deadline

Billups, who starred for the Pistons from 2002-08, currently works for ESPN

Adam Thompson has his finger on the pulse of the NBA and just locked in a play for Tuesday
The four-time All-Star has his eye on playoff success and doesn't mind rubbing people the wrong...

Forced to show off his new tattoos in Lithuania, the 19-year-old Ball feels the wrath of L...

Luckily for Gerald Green, his teammate Chris Paul offered to pay the hefty fine