Why Chris Bosh must keep options open in shadow of Decision 2.0
Heat star will be overlooked in free agency, but could change the future of any team he's open to, if he can get past how much he loves Miami.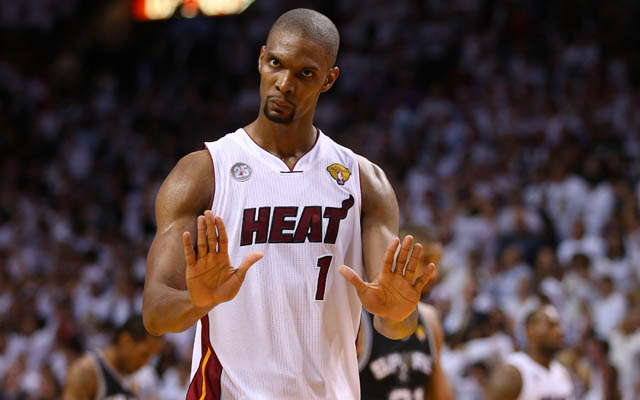 More Offseason Analysis: Coaching changes, news | Free Agency | Draft | Rumors
For the next eight to 20 days, the basketball world revolves around the Miami Heat and LeBron James. The Decision 2.0 is draped over everything, like a big red blanket inscribed with the insignia of a Lion and the crest of whatever soccer team it is he owns and probably an ad for Beats. The way NBA free agency and trade season works is fairly domino-set-like. The first piece has to go first for anything else to happen.
First James. Then Melo. Then everyone else. 
And somewhere in there, inexplicably, is Chris Bosh. 
Chris Bosh has become this forgotten figure in the NBA by mainstream sources. The fact that he's evolved to be the second most important figure on a two-time champion and four-time Eastern Conference winner gets wiped away every time he has a bad series. He struggled against the Spurs? Now he's irrelevant. 
And beyond that, Bosh doesn't carry the intrigue that James and Melo does. He's indicated he's happy in Miami. He's said he wants to return. His reasons go beyond the basketball and touch on his family, his culture, his hobbies and lifestyle. He's comfortable in Miami, and it's assumed that even if James were to leave, Bosh would return to South Beach. 
But if LeBron seeks out the expansion of his kingdom upon greener pastures, Bosh needs to reconsider the sacrifice he's already seemingly assented to. After the Heat's Game 5 demolition by loss to the Spurs, Bosh said he was going to take some time to review options. But every indication is that he plans to return. But without James, there's more that he should consider. 
If James were to leave, the Heat can still win the East. They still remain the best option for Bosh. He's comfortable. James leaving would mean he could likely sign a five-year max deal and still give the Heat breathing room to improve the team alongside Dwyane Wade. He and Wade plus another sub-star, someone like Kyle Lowry or Luol Deng, would still have a great chance at winning the horrible Eastern Conference ... if James went to the West. 
But if the Heat still want Bosh to take a paycut, or if they're still reticent to go into the luxury tax based on their exposure to the repeater tax this season, Bosh needs to pump the brakes. He just turned 30. This is likely to be his last major deal. He has no injuries to speak of. And he's one of the few players that can dramatically transform your team's performance on both sides of the ball. 
LeBron James is only judged on how many rings he gets. Not if he gets one. Bosh meanwhile already has the jewelry. What's amazing is how much Bosh has changed since he was a free agent four years ago. Then, he was sitting courtside at Lakers games while still under contract with Toronto. He was basking in being a star. Since then, Bosh has learned how hard winning is and how rewarding it is. 
So the balance between the money and title contention is a tough one for him, if he were to look at his choices beyond Miami. A place like Charlotte would likely give him max money, but it's a small market. But working under defensive specialist Steve Clifford and alongside Al Jefferson in the post? The two could compliment each other perfectly. Bosh could be the veteran leader who shows others how to win. 
The best plan, despite both sides hating the idea, is Dallas. Bosh's home town has never appealed to him, for a number of personal reasons. And Dallas thinks it needs a bruising, shot-blocking, rebound-snatching big man to put next to Dirk Nowitzki. This, despite the fact that Bosh is one of the top five of pick-and-roll big men defenders and that he would provide a transitional star from the end of Nowitzki's career to the start of whatever comes next. And for Bosh, he'd get one of the best coaches on both sides of the ball in Rick Carlisle, no state income tax and the chance to bring the home town team back to prominence. It doesn't matter that Bosh was never a Mavericks fan (because they were awful when he was a kid; and I mean awful). The home town kid comes home and helps the team get back to being a contender? Dallas fans love a story like that. And the city's cultural landscape, despite being Texan, would embrace his intelligent, sensitive persona. 
Houston's a good play, combining Bosh with Dwight Howard. The fact that Chicago is dead set on Kevin Love and Carmelo Anthony instead of Bosh shows a frightening lack of priority alignment. A sign-and-trade with Indiana putting him next to Roy Hibbert or giving them the ability to play small with him makes sense. Heck, he's one of the few players that might be able to make the Lakers halfway decent next season and give Kobe Bryant his new black swan to torment into contention. 
The Wizards would go from dangerous to contender with him, and a sign-and-trade would get Miami assets to field a competitive team and look to the future. And for a guy as smart as Bosh? Taking a look at what Ryan McDonough and Jeff Hornacek are building the desert is something he should take under serious consideration. 
But Bosh will likely stay in Miami, because it's comfortable, he's won there and he has trust in the organization for good reason. If James leaves and he gets the money, great. That makes the most sense. But Bosh needs to be careful. This season was a paralyzing warning sign about the future of Dwyane Wade. The Heat won't ever part with Wade. He'll play there until he retires, then transition to a front-office role just like his off-court mentor Alonzo Mourning. Wade's not going anywhere. But neither is his game. Bosh is at risk of chaining himself to Wade's anchor as he descends into irrelevance. Bosh's talent deserves better than to go down with the ship. 
If James comes back to Miami, this is a no-brainer. You hang on to the chance to play with LeBron James for as long as possible. But Bosh is so underrated by the public and media for his defensive acumen and ability to stretch the floor, for what he enables Miami to do on both sides of the ball, he shouldn't get lost in this opportunity. LeBron's not the only one who's earned the right to save himself if the ship is sinking. 
A dive into the NBA history books for every result from every NBA All-Star Game

The 76ers guard is in hot water after a controversial video surfaced showing him using a racial...

LeBron James earned his third career All-Star Game MVP award
With LeBron James and Stephen Curry as team captains, this was actually an entertaining basketball...

The old teammates worked their magic one more time

Here's how to watch Team Stephen vs. Team LeBron in the 2018 NBA All-Star Game