Without Serge Ibaka, where do the Thunder go from here?
A look at the Thunder's lineup options without Serge Ibaka who is done for the rest of the season with a calf injury.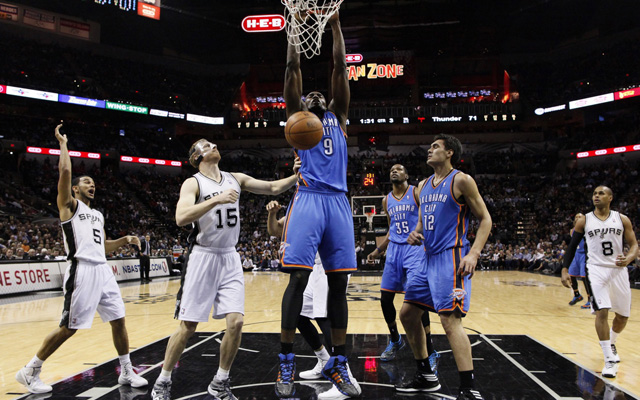 More Spurs-Thunder: Series Preview | Podcast | Playoff Assist | Ibaka injured
Serge Ibaka is done for the season for the Oklahoma City Thunder, two days before the conference finals begin against the four-time champion and defending Western Conference champion San Antonio Spurs. 
So that's not great, one might say. 
Now the Thunder have to figure out a way to beat arguably the greatest coach in NBA history with three future Hall of Famers, a deep bench, a game-changing young wing, a seven-foot rim protector, and home court... without their best rim protector and safety valve shooter. That athletic advantage the Thunder have enjoyed vs. the Spurs? It's mitigated to a super-high degree now. 
But they still have to play the games and hope they can pull of what is now a massive upset. 
So where do they go from here?
The biggest loss is rim protection, covered here by Zach Harper, and it's a big one. The Thunder use Ibaka as a playmaker, and he covers up for the lack of foot speed in their centers. He's also excellent in the pick and roll, able to corral, hedge, and recover off of guards like Tony Parker. He acts as a deterrent for Parker's floater, which is now going to be wide open. 
Offensively, it's a hit as well. Ibaka hit went 11-11 in one of their games two years ago, and has torched the Spurs historically. He's Westbrook's safety valve short-range jumper option out of the pick and roll, a pick and pop three-point shooter, and able to score inside on tip-backs and off offensive rebounds. They're missing a lot with him out. 
Let's look at some lineup possibilities. 
In the one game they played without Ibaka this season (did I mention this was a bad injury?), the Thunder were also without Russell Westbrook. They elected to go super-small, starting Durant at the four, and putting Nick Collison off the bench to start for Kendrick Perkins. This isn't a bad option, but it's complicated. 
Let's say they don't go small. What's the next option? The most likely scenario is to start Kendrick Perkins and play Nick Collison in Ibaka's spot. He has more experience, is more of a power forward, and is the best defender they have. Collison's actually a decent matchup on Tim Duncan, and even if he winds up in foul trouble, you have Steven Adams to spell time. 
Now, this one's a bit outside the box, but it might be their best approach. 
The Thunder might look to go with a dual-center combination of Steven Adams and Kendrick Perkins, to just slug the Spurs in the mouth. This might be their best chance, to completely abandon the strategy of running and gunning and instead adopt a Memphis-Grizzlies-like approach, only with the ability to actually hit jumpers. 
Then you open up the bench with Reggie Jackson, Nick Collison, Perry Jones, and Caron Butler. You balance those guys with one of the Big 2, and you can hit them with physicality and then outrun them when their sloppier players hit the floor. 
That bench is the bigger issue with Ibaka's injury, no matter how they adjust. You're now looking at either trying to ride Perkins-Collison-Adams through foul trouble at two positions for 40 minutes a game (if you don't go small, which they likely will), or now having to look at Perry Jones. 
Now, Jones is long, athletic, and talented, but he's still lost defensively a lot of the time. I'm just not sure you can survive with extended minutes from him. 
The truth is, there's no good answer here. Going small risks foul trouble and getting crushed inside. Going big risks being too slow to contain the Spurs' ball movement. Running and gunning without a rim protector risks defensive bleeding, trusting younger players increases the chances of mistakes. 
This is a crushing blow for the Thunder. Scott Brooks has to come up with a dramatically different gameplan in the next 48 hours or the Thunder could be in big trouble before the series even gets back to OKC for Game 3. 
Leonard's relationship with Spurs also reportedly strained because of how injury has been...

San Antonio hasn't missed the playoffs in 20 years, but the road is rocky this season

Last year's MVP finalist has missed all but nine games this season
The design for the patch is still being worked on

The explosive forward and upcoming free agent is having a career year

Cuban said on Dr. J's podcast that losing is Dallas' 'best option'