It wouldn't be a stretch to suggest that Monday night's matchup between the Chicago Bears and San Diego Chargers is, for all intents and purposes, an elimination game. Unless of course you've concluded that both two-win teams have already virtually been eliminated.
Longtime fans in San Diego might not see it that way. After all, the Bolts won the AFC West after a 1-3 start in 2007, a 4-8 start in 2008 and a 2-3 start in 2009. And if you want to jump back a decade, they also famously made the playoffs after losing seven of their first 11 games in 1995.
Recovering from 2-6 won't be easy, and they aren't catching the first-place Broncos, but wild-card spots appear wide open in a conference that lacks a strong middle class.
The Bears, meanwhile, are at least only three games back of .500 at 2-5. A total of 22 teams -- including the 2014 Panthers, albeit in a terrible division -- have come back to make the playoffs despite falling as many as three games below .500.
Point is, the Bears and Chargers are probably desperate regardless of their chances.
And really, there aren't many quarterbacks who can provide more entertainment value in a desperate situation than gunslinging former top-12 picks Jay Cutler and Philip Rivers.
Using numbers to tell the story, here's what to expect Monday night at Qualcomm Stadium.
1. Room to run
Key stat: Entering Week 9, San Diego had surrendered a league-high 5.0 yards per rushing attempt, while the Bears ranked dead last in terms of adjusted line yards allowed per rush and 31st in terms of DVOA (Defense-adjusted Value Over Average) on run defense.
In other words, both defenses have been carved up quite frequently by opposing backs, with Adrian Peterson, Giovani Bernard, James Starks, Le'Veon Bell and Latavius Murray all gashing the Chargers for at least 85 yards and five yards per carry, and Peterson, Thomas Rawls and Eddie Lacy all hitting that mark against Chicago.
The Chargers have clearly been hit a little harder on the ground, which is backed up by the fact Football Outsiders gives them DVOA totals that rank in the bottom six in the league in terms of adjusted line yards allowed, power run stopping, stuff rate and yards from opposing backs in the second level and open field (here's a deeper explanation of those metrics).
But Chicago might have more trouble taking advantage, because veteran back Matt Forte, who has led the team in rushing in each of the last seven seasons, is likely to miss his first game since 2012 due to a knee injury.
Forte was well on his way to another 1,000-yard campaign, and no other back on the roster has a resume containing an NFL start. Rookie Jeremy Langford, who is supposed to get most of the work, is averaging just 3.0 yards per carry, sophomore Ka'Deem Carey has just 36 career carries, and the 30-year-old Antone Smith has just 29.
But here's something to watch for with Smith, should he get some reps: Amazingly, five of his 29 career rushes have gone for 38 yards or more. We went back and checked the tape and while some came in garbage time and/or with massive holes, the majority of the runs were legit. An anomaly? Perhaps, but it'll be interesting to see if Smith can bust one again Monday night against a bad run D.
Leaders in 35-yard TD runs since the start of 2013
Player
TD runs of 35 yards or more
Total Rushes
LeSean McCoy
4
704
Adrian Peterson
4
440
LeGarrette Blount
4
347
Antone Smith
4
28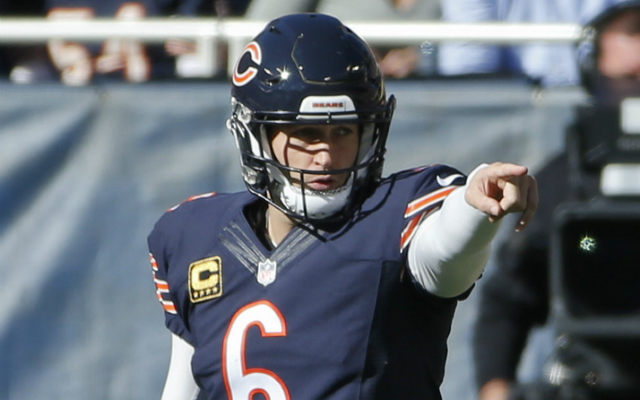 2. So Jay Cutler isn't the problem?
Key stat: Cutler has thrown just four interceptions and been sacked just nine times on 225 dropbacks, which has him on pace to record his lowest pick rate and sack rate since coming to Chicago in 2009.
Among 33 qualified passers, Cutler's interception rate of 1.9 ranks ninth, as does the sack percentage of 4.2.
Cutler turned the ball over a league-high 24 times last season and only eight quarterbacks took more sacks, which partially explains why the Bears won just five games. But this year, despite the loss of Brandon Marshall, injuries to Forte and Alshon Jeffery and instability along the offensive line, Cutler's been steady. In fact, he's on pace to cut his turnover total nearly in half.
As a result, the Bears have scored at least 20 points in five of their seven outings. Unfortunately, the defense is surrendering 28.9 points per game, which ranked 29th in football entering Week 9.
3. Philip Rivers will have to make plays
Key stat: Only 41.2 percent of Philip Rivers' passing yards have come through the air, which is the third-lowest rate among 33 qualified passers.
Highest percentage of passing yardage coming after the catch, 2015
Quarterback
Yards after catch
Passing yards
YAC percentage
Nick Foles
839
1,310
64.1
Alex Smith
1,189
1,969
60.4
Philip Rivers
1,620
2,753
58.8
In terms of overall air yards per pass attempt, Rivers ranks ahead of only Nick Foles, Sam Bradford, Alex Smith and Colin Kaepernick.
Now, this isn't a complete indictment of Rivers and it doesn't means we should throw his passing-yardage numbers out the window. He's averaging 7.9 yards per attempt and is on pace to break the single-season passing-yardage record, and you can't blame him for the fact Danny Woodhead and Keenan Allen both rank in the top 10 in football in terms of yards after the catch (Woodhead is first with 445).
Those guys have a combined 23 broken tackles. They've made livings out of making people miss.
Problem is, Allen has been placed on injured reserve with a lacerated kidney, leaving Woodhead to essentially play Houdini on his own against a Chicago defense that -- despite being maligned -- ranks third in football with an average of just 96.6 yards after catch allowed per game.
Fewest YAC allowed per game, 2015
Rank
Defense
YAC allowed
YAC allowed per game
1
Titans
547
78.1
2
Seahawks
712
89.0
3
Bears
676
96.6
4
Panthers
720
102.9
5
Chiefs
830
103.8
Through Week 8
And per Pro Football Focus, Chicago also had the third-lowest missed tackle rate in the league last season.
Yes, we've established that the Bears have a bad run defense. But there's no evidence a Chargers running game that is averaging just 3.6 yards per carry (which ranks 30th in football) can take full advantage of that. Unless Melvin Gordon suddenly breaks out with a big game, Rivers will likely have to do most of the heavy lifting on Monday night.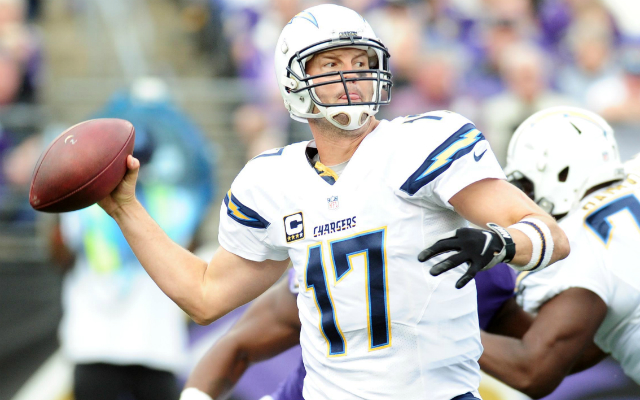 4. Expect sustained drives
Key stat: The average San Diego drive has spanned 2 minutes and 58 seconds, which ranks third in the NFL. Chicago ranks sixth at 2:49, and both teams have converted more than 40 percent of their third downs, well ahead of the NFL median of 37 percent.
Cutler has a 107.9 passer rating on third down, which is the fourth-highest mark in football among 27 players with at least 50 attempts under those circumstances.
Rivers hasn't been as good statistically on that down, but the Chargers have converted 44 percent of their third downs, which ranks seventh in football and beats Chicago (11th at 41 percent). And the good news there is Chicago's defense ranks 29th in football on third down and 29th in terms of time of possession per drive against.
The question is whether San Diego can actually gain quality field position so that some of these drives have the chance to wind up in the end zone. Partly due to the fact the Chargers are on pace to break a record in punt-returning futility with just one punt-return yard this season (you read that correctly), their average start position (the 21-yard line) is the worst in football.
5. At least it should be close
Key stat: Only three of the 15 games these teams have played have been decided by more than a touchdown.
Neither team has been good, but sometimes that makes for a closely-contested game. And in this case, recent history suggested it might remain close. That's because five of Chicago's eight games have been decided by eight points or fewer, while seven of San Diego's eight games have been settled by a single score.
Yes, the Bears were blown out earlier this year by the Cardinals and Seahawks, but the Chargers just don't blow teams out. Their two wins this year have come by a combined eight points and the seven wins they've registered in their last 19 games dating back to mid-October of 2014 have all come by seven points or fewer.
Prediction: Strangely, I trust Cutler right now more than I do Rivers. Neither defense is good and both offenses are shorthanded, but Chicago might not miss Forte as much as San Diego -- which is extremely banged up everywhere -- misses Allen. I'm giving the Bears an upset in a close game on the road.
---
Brad Gagnon has covered the NFL since 2007. You can also read his work at Bleacher Report, Awful Announcing and This Given Sunday. Follow him on Twitter. Or don't. It's entirely your choice.