NFL Week 10 picks: Buccaneers will beat Dolphins in instability battle
Here are three reasons why Tampa Bay will beat Miami this week.
• 2 min read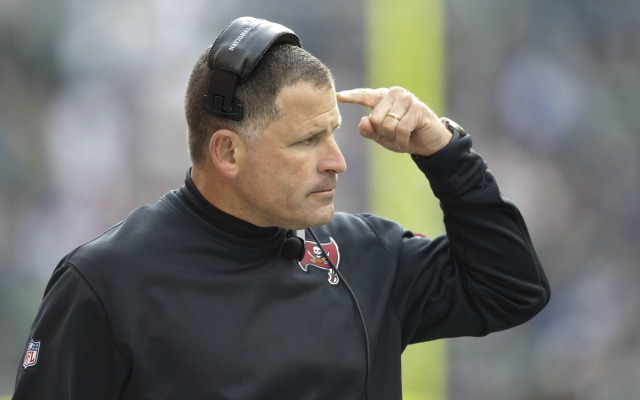 You know it's a crazy time in the league when the Jaguars are winless and have a real possibility at an 0-16 season, but they're still the most stable NFL team in the state of Florida. Which, in part, makes Monday's matchup between the Buccaneers and the Dolphins extra interesting.
You've got Tampa Bay, which took a 21-point second-quarter lead at Seattle (!) before somehow finding a way to lose game and a coach in Greg Schiano who it seems like could be fired any day now vs. a Dolphins team reeling from right tackle Jonathan Martin going AWOL and the suspension of left guard Richie Incognito, who's been accused of sending Martin racist and threatening messages.
The Dolphins started off the season winning their first three games before losing four-straight. The Buccaneers have had a huge quarterback mess, a trio of MRSA scares and a bunch of people who have said not-so-nice things about their coach.
Both teams are in disarray, but somebody has to win Monday (unless these teams make us suffer through an overtime tie). And even though the Buccaneers are +3.5 heading into their home game vs. the Dolphins, I like Tampa Bay to cover. And hell, I even like the Buccaneers to get their first win of the season.
Here are three reasons why:
1 ) Forget for a second about the psychological and emotional wounds the Dolphins will try to heal. What about the actual personnel? Now without two of their starting offensive linemen in Martin and Incognito, the team that leads the NFL by allowing 35 sacks in eight games has gotten worse in the span of a week. Now Miami will have to play right tackle Tyson Clabo -- who, according to Pro Football Focus, has allowed eight sacks, second most in the league, and 20 quarterback hurries -- and probably Nate Garner at left guard. Tampa Bay defensive tackle Gerald McCoy and defensive end Adrian Clayborn have to like the sound of that. As long, of course, as they don't help their opponent up from the turf.
2) The Buccaneers offense took it hard to the Seahawks last Sunday: This was one of the biggest on-field surprises of Week 9. Tampa Bay, led by rookie quarterback Mike Glennon (who played the best game of his career) and some savvy running from Mike James (not to mention a sweet jump-pass touchdown), Tampa Bay dominated Seattle in Seattle for the first half. Yeah, it was heartbreaking the way the Buccaneers lost last Sunday, but that kind of offense must give them confidence heading into the Miami game.
3) It seemed as if the Dolphins were poised for a big season when they won the first three games of the year, but their offense has sputtered along, ranking 29th in the league. Tannehill, who ranks No. 31 out of 39 quarterbacks using the Football Outsiders metrics (though Pro Football Focus ranks him No. 10 out of 31), hasn't played badly, but when you compare him to the rest of the rookie starting quarterback class of 2012, he ranks smack in the middle -- behind Andrew Luck and Russell Wilson and, for now, ahead of Robert Griffin III and Brandon Weeden. With the exception of the sacks, he's on pace for a better season than his rookie year, but the offense has a tough time making yards and scoring points. Now, he'll face a Tampa Bay defense that ranks in the middle of the league but has plenty of talent.
Follow Josh Katzowitz on Google+
CBS All Access allows viewers to stream every NFL on CBS game in their local market

CBS All Access allows viewers to stream every NFL on CBS game in their local market

Two NFC East divisional foes face off this weekend in a big battle for both teams
Owners and CEOs from several teams released statements in response to Trump's remarks in A...

Nick Kostos won big on Monday nights last season and gives his best 3-team NFL parlay for Week...

The Raiders are heading across the country for a showdown with the Redskins