Will Andy Tanner get cut by the Saints a 17th time?
As Andy Tanner battles with Preston Parker for a roster spot in New Orleans, he caught two touchdowns Sunday.
• 1 min read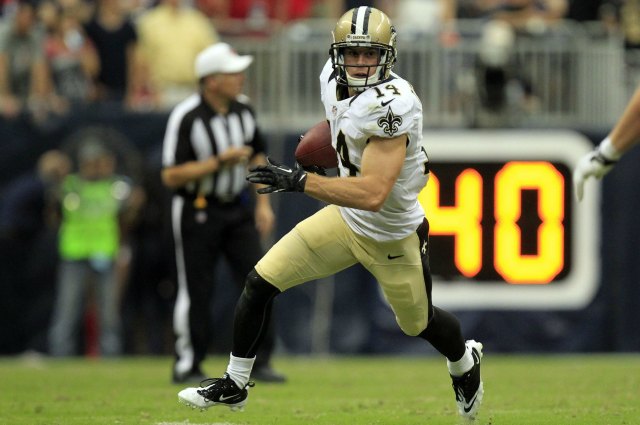 HOUSTON -- Wide receiver Andy Tanner has been cut by the Saints 16 times in his career. He's never made a regular-season catch, and his coach said this about him last week, "It seems like he's been here for a long time. For a player like that, every season will be like this."
Ugh, doesn't sound so good, huh?
But the 25-year-old Tanner, who's competing against Preston Parker and Courtney Roby for perhaps the final receiver roster spot, has made the coaches and quarterback Drew Brees notice him this preseason, and he continued that production Sunday vs. the Texans, catching two touchdown passes.
Parker continues to showcase his versatility, which might be why he has a better chance to win a roster spot instead of Tanner. Fifth-rounder Kenny Stills made an outstanding 40-yard catch on the sidelines Sunday before catching a 14-yard touchdown pass following a nasty double-move on Texans cornerback Johnathan Joseph.
The Saints probably have more quality receivers than they can handle, but hey, it's a nice problem to have.
"Yeah it is," said backup quarterback Luke McCown, who put together a nice day Sunday, going 10 of 14 for 118 yards and two touchdowns while playing with the first-team. "It's a blessing when you have that many guys that you can put into different positions. They can play X, they can play Z, and they can run the right route and they can understand the concept. That helps open other guys up. They're all capable players, and that's something that not every team has."
Tanner tied for the team-high with three catches for 33 yards Sunday, but he might have a tough time making the team.
"It's difficult," coach Sean Payton said. "We've got a lot of guys who are stepping up and doing a good job. Andy, Preston, those guys have had good games. There's good competition there. It's encouraging of our team.
"Those guys were all competing well. Andy's been with us a while. He knows what we're doing. He made some really good plays tonight. He's smart, and he's someone who has a really good feel for the game."


Follow Josh Katzowitz on Google+
The Seahawks apparently didn't enjoy getting shellacked by the Rams on Sunday

Week 15 provided a lot of clarity to the NFL postseason

The ending to New England-Pittsburgh was wild, and one play appeared to change the game at...
The Steelers' best player is expected back but not until the postseason

The Panthers owner announced he would sell the team after the year concludes

All of the best highlights from Week 15 are right here