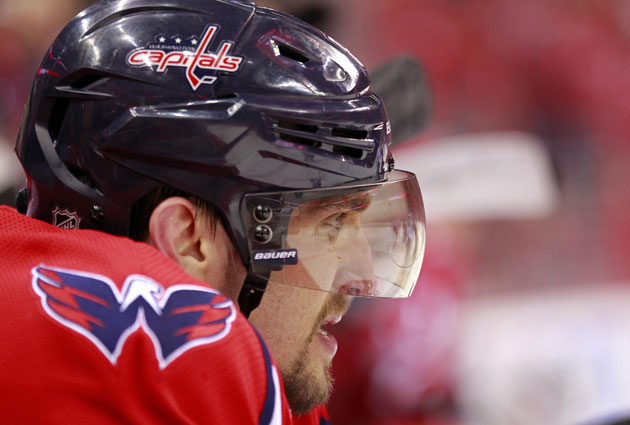 More NHL offseason: Rumors | Top 50 Free Agents 
Just call Alex Ovechkin Bugs Bunny, because he's everywhere on the ice.
The NHL announced its All-Star teams for the 2013 season, and the Capitals captain was, not so surprisingly, on the first team at right wing. He had a fantastic season after the conversion to the right side, leading the league in goals and winning the Hart Trophy as the MVP. Him being on the first team wasn't a surprise at all.
But, very impressively, Ovechkin was also on the second team at left wing. That's right -- Ovechkin is a two-time All-Star in one single season. And people dog Ovechkin for taking shifts off. No wonder! He was double-shifting all season.
How could this happen? Well, the All-Stars are voted on by the writers of the Professional Hockey Writers Association. In other words, you had enough people voting Ovechkin as an All-Star without really watching what Ovechkin was doing. He used to be a left wing so some just voted him on the left wing. More people thankfully were paying attention and put him in on the right spot -- the right wing.
This is how the All-Star teams looked.
First Team: G Sergei Bobrovsky, D P.K. Subban, D Ryan Suter, C Sidney Crosby, RW Alex Ovechkin, LW Chris Kunitz
Second Team: G Henrik Lundqvist, D Francois Beauchemin, D Kris Letang, C Jonathan Toews, RW Martin St. Louis, LW Alex Ovechkin
Sure, that makes sense. For those wondering, Taylor Hall finished third in the voting at left wing, so, really, it should be the young Oiler's spot.
UPDATE: The PHWA released a statement over the fiasco on Wednesday.
It was the Professional Hockey Writers Association's recommendation that its members vote for Alex Ovechkin on the right wing, the position he played in the vast majority of his games this season.

Prior to ballots being issued, we emailed a memo to our members reminding them of Ovechkin's position switch in 2012-13. But 45 of our members chose to vote for him on the left wing, the position he had played for many years. It is also the position listed for him on NHL.com.

We are troubled by the all-star voting results, and plan to take a closer look at the events that led to Ovechkin winning All-Star acclaim at two positions. We know we got this wrong, and our objective is to make sure it never happens again.

Even before this confusion was revealed, the PHWA had already planned a study of our voting process. At our annual meeting in New York, a committee was formed to look at all voting issues, including transparency and eligibility. The committee includes Mark Spector (Sportsnet.ca), Craig Custance (ESPN.com), Mike Russo (Minneapolis Star-Tribune), Nick Cotsonika (Yahoo.com), Bruce Garrioch (Ottawa Sun) and Frank Seravalli (Philadelphia Daily News).

That group will also review this situation to see what can be done to eliminate this in the future.