Blues veteran Andy McDonald retires, citing concussions
Veteran Blues forward Andy McDonald is calling it quits on his career, citing concerns with concussions.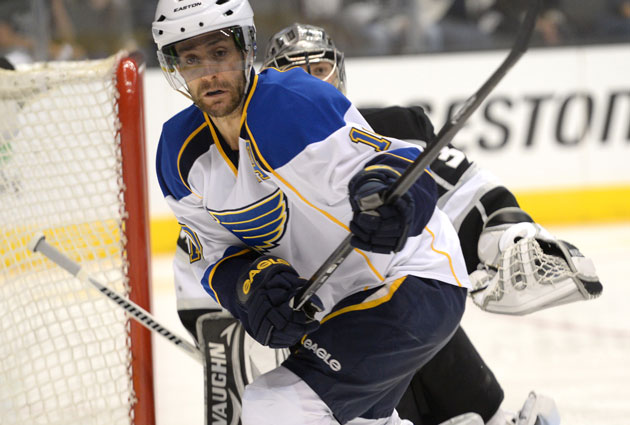 More NHL Playoffs: Scores | TV Schedule | Expert Picks | Odds | Mock Draft | Rumors
Veteran St. Louis Blues forward Andy McDonald will become a free agent next month, but he won't be testing the market. Instead he will retire, citing concerns with concussions throughout his career.
McDonald, 35, told Andy Strickland of True Hockey that he would like to keep playing but the risks outweigh the benefits. With at least five concussions in an NHL career that began with the Ducks in 2000-01, it was something on his mind far too often.
"The last few years, too much of the focus became worrying about the next hit. I was always thinking about it," McDonald told Strickland. "I'm fortunate to get out now. I know I could play two or three more years, and I love the game of hockey, but healthwise I know I shouldn't be playing."
It's a tough way to go out. With his speed and offensive skills, McDonald could probably play a couple of more seasons in the NHL, but it's probably the right decision. First and foremost should be his health, especially if he was thinking about taking a hit and getting another concussion.
This stinks, but it's exactly why there is more and more attention being paid to concussions and trying to do whatever can be done to reduce the number of concussions we see. It's a dangerous game.
McDonald played 685 games with the Ducks and Blues. He finished with 182 goals and 489 points in his career. This season with St. Louis he had seven goals and 14 assists in 37 games. He did not score a point in six games in the postseason.
Players are set to give personalized messages for Adidas' former hockey equipment brand

The 40-year-old center is returning to the Wild after a successful run in Pittsburgh

Edmonton locks up its 21-year-old RFA a month after McDavid's historic extension
Even with a new coach and added veteran help, the Canucks have a long road ahead

Unlike expansion teams before them, the Knights have enough talent to entertain right away

Brian Lawton says he 'would not be surprised' if Boston deals its young star to end contract...