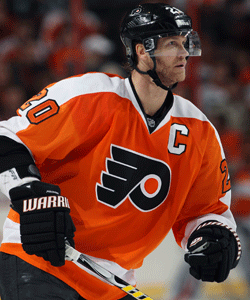 Chris Pronger is showing some improvement, but is not ready to return. (Getty Images)
Chris Pronger was limited to only 13 games last season because of a concussion. His recovery has been a long, slow and often scary one, and it has left his future playing career in doubt.
On Thursday, Flyers general manager Paul Holmgren told Sam Carchidi of the Philadelphia Inquirer that Pronger is showing some improvement after visiting doctors in Pittsburgh earlier in the week, but he's still not close to being able to return to the ice.
Said Holmgren, "He's doing better, but not to the point where he can think about playing."
It's still not known if, or when, he will be able to play again. Given the severity of the concussion (he was still having headaches more than 10 months after suffering it) and the fact he'll turn 38 in a few weeks, it's not exactly a stretch to believe that we've seen the last of Pronger in the NHL.
(Perhaps he should consider the story told by former Flyers forward Keith Primeau and his current situation after suffering concussions at the NHL level.)
Pronger last appeared in an NHL game on Nov. 19, 2011, against the Winnipeg Jets. During his 18-year NHL career, he has appeared in 1,167 games and won the Norris Trophy as the NHL's top defenseman as well as the Hart Trophy as MVP during the 1999-2000 season.
Pronger still has five more years remaining on a contract that pays him an average annual salary of just more than $4.9 million per season.
For more hockey news, rumors and analysis, follow @EyeOnHockey and @agretz on Twitter and like us on Facebook.