Flyers announce Danny Briere will indeed be bought out
Danny Briere is finished with the Flyers as GM Paul Holmgren announced on Thursday the team has decided to buy out his contract.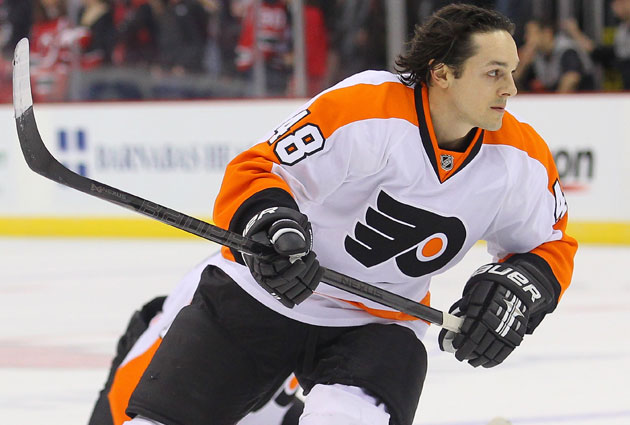 Danny Briere spent the past six seasons in Philadelphia. (USATSI)
More NHL Playoffs: Scores | TV Schedule | Expert Picks | Odds | Mock Draft | Rumors
Danny Briere's time in Philadelphia is finished. He will be bought out from his contract.
While the buyout cannot be made official yet, Flyers GM Paul Holmgren announced on Thursday the decision has indeed been made and Briere has been informed. Briere will be a free agent after the Flyers use one of their two amnesty buyouts.
"I met with Danny last week and informed him of our decision to use a compliance buyout on his contract," Holmgren said. "This was a very difficult decision for us to make as Danny has been a very good player for us over the past six years.

"Danny came to our organization as a free agent in July of 2007 and has been a tremendous player, person and role model in all aspects and for that we thank him. We wish him continued success and best wishes in any future endeavors."
Briere was an ideal candidate for a buyout, especially as the season progressed. He had a very disappointing season with just six goals and 10 assists over 34 games, hardly enough production to justify his $6.5 million salary-cap hit that was on the books for each of the next two seasons. With Briere turning 36 in October, it didn't seem like a rebound would come.
Don't feel too badly for Briere, though. He will now become a free agent. And while he won't get a deal anywhere near the one that was just bought out, he'll still get a deal from some team looking for a veteran presence who has performed his best in playoff games throughout his career. Briere said that he wants to play two or three more seasons and he will certainly get that opportunity.
Not to mention that the Flyers will still have to pay for 75 percent of Briere's contract even if the amnesty clause allows for it not to hit their salary cap.
If the Flyers weren't in a cap crunch, they perhaps wouldn't have made this move. As it stands, they are still above next year's cap -- though keep in mind that Chris Pronger is considered on the active payroll at the moment. Plus, they could also use their other buyout on high-priced goalie Ilya Bryzgalov, but there are conflicting reports on that.
Briere is the third NHL player to be bought out under the amnesty clause from the recent CBA deal, joining Wade Redden and Scott Gomez from the preseason.
Here is Briere talking about the buyout with the Philadelphia meeting on Thursday.
Sign up now, and your name can be under the Golden Knights' skates, too!

Pittsburgh coach Mike Sullivan says the team also respects players' right to protest

Some familiar faces are back, but a cap-strapped summer left Chicago a little shakier than...
The Pittsburgh Penguins will put politics aside and visit the White House out of 'respect'...

NBC will reportedly be devoid of NHL game broadcasts between Feb. 7-26

The Winnipeg winger suggests Trump is going after 'the principles the U.S. was founded on'