Introducing the soon-to-be Bikini Hockey League
Have you ever sat around watching hockey thinking to yourself: "Gee, this game could really use some women in bikinis?" If so, this is your lucky day.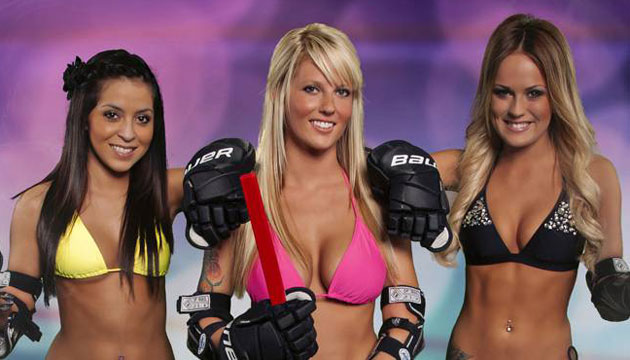 This is a sample of what the players will look like. (coutesy Bikini Hockey League via Fox Sports Southwest)
Have you ever sat around watching hockey thinking to yourself: "Gee, this game could really use some women in bikinis?" If so, this is your lucky day.
Cary Eskridge of Tulsa, Oklahoma is launching a new inline-skating hockey league featuring ladies in two pieces called, what else, the Bikini Hockey League. I'm not making this up. The league has a website and press release.
In fact, here's a little from that press release.
The idea of a bikini hockey league came to Tulsan Cary Eskridge back in 2004 when the National Hockey League lockout occurred. The lack of major league hockey left the media scrambling to fill the void of hockey news and fans looking for other forms of entertainment. Not a man to sit still, Eskridge started looking for ways to fill the void and that is when the idea of bikini hockey came to Eskridge's mind.

But there was not enough time to react and make the dream a reality at that time. So the idea stayed on the back burner waiting for the right time. Well, that time has finally come.

Eskridge has an extensive hockey background and feels now is the time to finally breathe life into his long-time dream. Eskridge has a background in video production and has also owned inline hockey leagues on and off for the past 20 years and believes the Bikini Hockey League could bring back the popularity and awareness of inline hockey to the mainstream and introduce new fans to a great sport.
Interestingly enough, the backstory doesn't have any mention of backsides, but come on, the backs are obviously at the front of this league's concept.
Just don't expect to see a full league up and running from the word go. The league, based in Tulsa, will actually begin as a reality TV show where the tryouts will be shown on TV. From there two teams will be made up.
"We have several different networks that are interested already," Eskridge said. "We're not able to say who right now, but we feel like this could truly be compelling and interesting. There's always a storyline with girls being from different areas of the country and the different personalities."
I'm going to take a wild guess here and say Spike TV is one of those networks interested. That's nothing more than a hunch, but I think a pretty good one. Or maybe VH1. I'm imagining this being like any of the reality shows they air.
But here's the homerun idea. You ready for this Mr. Eskridge? Reach out to Paulina Gretzky, hockey royalty who has no problem putting pictures of herself in a bikini all over the Internet. Get Paulina aboard and you have your pick of the networks to choose from then.
Naturally, people are going to make comparisons here to the Lingerie Football League. Don't do that, Eskridge doesn't take kindly to the connection being made.
"I don't like to be compared to that, really," Eskridge said. "It's a totally, completely different sport. I don't want to say anything negative, I just think this will be more compelling and engaging. But time will tell."
If so, then he should have a good league on his hands. I have no interest in watching Lingerie Football, but I know it's still around and has been for awhile. For a startup, novelty league that's not bad. Personally, I'd be surprised if this Bikini Hockey League lasts as long.
And considering they are playing hockey and all, the ladies will be wearing pads. Doesn't that take away a bit from the novelty? No? OK, nevermind me then.
H/t to Aaron Ward
For more hockey news, rumors and analysis, follow @EyeOnHockey and @BrianStubitsNHL on Twitter and like us on Facebook.
Stacia Robitaille says Donald Trump told her in an elevator that she was coming home with...

Vladislav Yeryomenko was the Teddy Bear Toss goal scorer for the Calgary Hitmen

The Golden Knights are finally getting their No. 1 goalie back after a 25-game absence
Washington has won four straight, and the Kings are also on a tear right behind the Lightn...

The NHL says it's only interested in expanding to Seattle, but here's a look at all the moving...

The NHL says it is only looking toward Seattle for the next expansion team