Maple Leafs sign GM Dave Nonis to five-year extension
Maple Leafs GM Dave Nonis, who has been on the job for half a season, has a new five-year extension. OK then.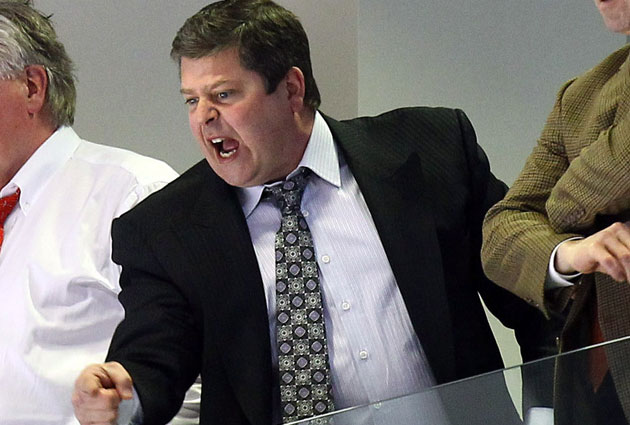 More NHL offseason: Rumors | Top 50 Free Agents | Buyout Tracker | Trades | Transactions
His first year on the job as the general manager in Toronto, Dave Nonis saw the Maple Leafs end their drought and make the playoffs. Apparently that was enough to convince the brass as Maple Leafs headquarters that Nonis is the man because he has a five-year extension to remain in Toronto.
The Maple Leafs made the announcement on Thursday.
"I'm very grateful to Tim Leiweke and our ownership group for this contract extension," said Nonis. "Together with our hockey operations staff, we'll continue to patiently put the building blocks in place which will lead us to future success."
This is sure to make the fans in Toronto happy. And by happy I mean nervous.
No offense to Nonis is meant by this at all, but the Leafs making the playoffs this past season was very little of his doing. He was handed the team just before the season started and he didn't make any significant moves that contributed to the Leafs making the playoffs. In a short season, no less. The track record is so small you can hardly call it a record at all.
What Nonis has done is make some big moves this offseason in trading for Jonathan Bernier, re-signing Tyler Bozak and brining in David Clarkson on a big deal while buying out Mikhail Grabovski. Those moves were not met with a resounding round of applause from all in Toronto, so really the verdict is still out on Nonis. And that's being kind.
To put it another way, it's baffling that Nonis would get an extension. Why now? Don't you at least wait to see how things go with the moves that Nonis has made? What's the rush to get him under an extension now, are there suitors banging down the Leafs doors?
It doesn't make a whole lot of sense, even if Tim Leiweke tried to explain the reasoning.
"Ownership and management felt it was critical to extend David now for a lengthy period of time and to reward him for the progression of the Leafs and Marlies," said Leiweke. "This extension will allow David the time to build his kind of team to produce steady results, year after year. Everyone is excited about his ability and grasp of the NHL landscape and today's new contract agreement will offer the Leafs consistency and a long-term vision."
This is a five-year extension but Nonis cleared up any confusion on Thursday by saying his previous deal was scratched, so this is not an extension on top of a deal, this is a new deal completely.
The former Boston Bruin was the first black player to play in the NHL

Inclement weather led to the Charlotte Checkers and Bridgeport Sound Tigers playing in front...

The NHL chose the Detroit rocker as its All-Star Game entertainment and not everyone is th...
NHL fans from all over seem to agree on one thing: Hating Kid Rock

The team tweeted on Monday that Shaw would be re-evaluated in 7-10 days

The Montreal forward was hospitalized after taking a Zdeno Chara slap shot to the head