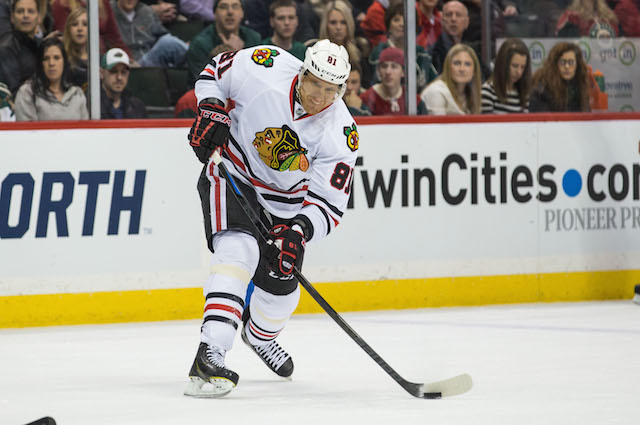 Marian Hossa, by pretty much any objective or subjective measure you want to use, is one of the absolute best players of his generation.
He has already topped the 1,000 point mark for his career and should top the 500-goal mark at some point next season, both of which put him in the top-five among all NHL players since he joined the NHL in the late 1990s. And if that's not enough, he is also one of the best defensive wingers to ever player in the NHL. Put it all together and you have a Hall of Fame resume.
Even though he doesn't get the same fanfare or attention as teammates Jonathan Toews and Patrick Kane, he is a sensational talent that has been a core player for a Blackhawks team that is getting ready to play in their third Stanley Cup Final in six years, an incredible accomplishment for a team in a salary cap league.
Their team success is a testament to not only the job the Blackhawks front office has done to keep this core together for as long as it has, but also their ability to stay healthy for the playoffs and consistently come through time after time.
Perhaps the only thing more impressive than the Blackhawks' run to another Stanley Cup Final is the fact that for Hossa this will be his fifth trip to the Final in eight years. And he has done it with three different teams. It will be his third trip with the Blackhawks, the team he won the Stanley Cup with in 2010 and 2013, while he also went in back-to-back years in 2008 and 2009 with the Pittsburgh Penguins and Detroit Red Wings. 
When it comes to Stanley Cup Final appearances in recent years, there really isn't anybody close to Hossa. His 24 Finals games since the start of the 2005-06 season are five more than any other player in the league (Rob Scuderi, who played in 19 with the Penguins and Los Angeles Kings, is second) and that gap is only going to increase this season (by at least four more games barring injury, and by as many as seven).
Obviously he isn't the only reason his teams have had the success they have had. A lot of it definitely comes down to choosing wisely in free agency in 2008 (signing a one-year contract with Detroit) and then again in 2009 (signing a 12-year contract with Chicago) and joining teams that already had a ton of talent in place (not to mention having the good fortune to get traded to a Pittsburgh team that had Sidney Crosby and Evgeni Malkin in 2007).
But it's also not a coincidence that every team he goes to competes for a Stanley Cup as he has been a major contributor for all of them.