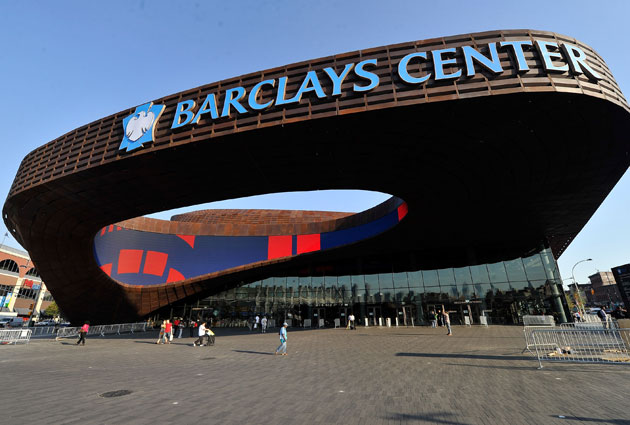 This will be the new home of the New York Islanders starting in 2015. (Getty Images)
It's official: The New York Islanders announced on Wednesday that they have a 25-year "iron-clad" agreement to play in the Barclays Center in Brooklyn.
Owner Charles Wang made the announcement at a press conference. The Islanders will begin playing in Brooklyn at the beginning of the 2015-16 season, when their current lease with the Nassau Coliseum expires.
Wang said he is committed to honoring the remaining lease and anticipates the 2015-16 season will be their first one in Brooklyn.
"It was our goal from day one to keep the Islanders in the local New York area." Wang said in a team statement. "We're thrilled to have the opportunity to play in Barclays Center, a first class arena. This has been a long journey for the Islanders family starting with our loyal fans, sponsors, and employees. I want to personally thank them for their patience, loyalty and support. I am excited about today's announcement, and I am looking forward to a long and successful future in Brooklyn."
The press conference was attended by everyone from Wang, to New York mayor Michael Bloomberg, to NHL commissioner Gary Bettman, to Brooklyn borough president Marty Markowitz.
"Today is another great day for Brooklyn," Markowitz said. "When I first campaigned for borough president, I made the promise that I would bring a major league sports team to Brooklyn. But never in my wildest dreams did I think we would be home to both the Brooklyn Nets and the New York Islanders.
Barclays Center majority owner Bruce Ratner was also in attendance. As recently as August, Ratner said he was "trying like hell" to get the Islanders to join the Nets in Brooklyn.
In making the move of about 25 miles west, the Islanders will be rejoining the Nets. The Nassau Coliseum opened in 1972 as home to both the expansion Islanders and the New York Nets of the American Basketball Association. The Nets moved to New Jersey in 1977, one year after joining the NBA.
The Barclays Center will hold an estimated 14,500 fans for hockey, which will make it the smallest arena in the NHL. The MTS Centre in Winnipeg is the smallest, with a capacity of 15,004. The Islanders averaged just 13,191 last season and haven't had an average of more than 14,000 since the 2002-03 season.
Bettman said he didn't think the number of seats would be an issue and pointed out the "intimacy" of the building.
The seating bowl in the lower level doesn't seem ideal for hockey (here is the seating chart) and is pretty obviously designed for a basketball setup.
The team is already taking season-ticket deposits for the 2015-16 season.
For more hockey news, rumors and analysis, follow @EyeOnHockey and @agretz on Twitter and like us on Facebook.