NHL All-time teams: Calgary Flames
Born from Atlanta, the Flames have played for three Cups over the years, winning one. No surprise their all-time team comes from those runs.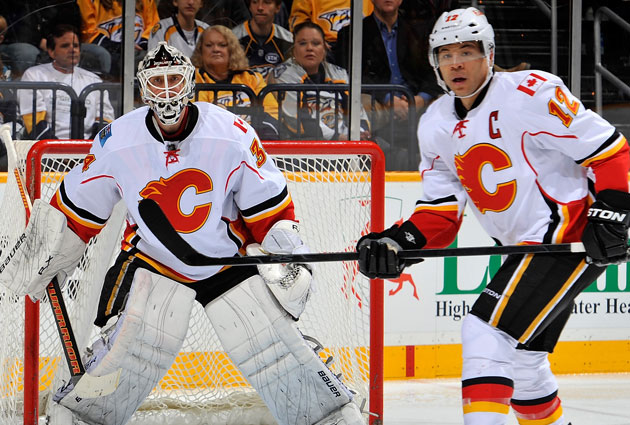 More NHL offseason: Rumors | Top 50 Free Agents | Buyout Tracker | Trades | Transactions
Ah, hockey in the summer, where things come to a grinding halt for about two months in between one long season and another. To fill the void we at Eye on Hockey thought it would be fun to make an all-time team for each of the 30 organizations in the NHL today.
The ground rules: The teams will consist of a center, two wings (regardless of which side), two defensemen and a goaltender. A player must have spent at least 200 games with a franchise to be considered. So Bobby Orr won't be on the Blackhawks' roster or Wayne Gretzky for St. Louis.

These days things are a bit rough in Calgary as the Flames have hit lean times and are finally going with the youthful approach, something perhaps a bit overdue. As a result it can be kind of easy to forget some of the strong teams the Flames have had over the years, having the unfortunate position of being at their best in the late 80s when the provincial rivals in Edmonton were playing pretty well too. It didn't stop the Flames from hoisting the Stanley Cup in 1989, however.
They had another little run in the mid-to-late 2000s that were highlighted by a Stanley Cup Final appearance in 2003-04 but surrounding a five-year run of reaching the playoffs every year, the Flames have been cold, missing the playoffs in the seven seasons before 2003-04 and then missing them in each of the past four seasons since 2008-09. It's not hard, then, to see why this all-time team comes from two specific eras in franchise history, the late 80s and the past decade.
What you won't see here are many guys from the Flames' original days in Atlanta. While the Flames did have a little success in Atlanta, they were defined in Calgary. At least they brought the old Atlanta logo to Calgary in a way with the alternate captain patches on their sweater.
Before we begin, let me take this opportunity to bemoan the fact that I couldn't squeeze Lanny McDonald onto the team, the Flames had a couple of wingers that just couldn't be dismissed ahead of him. With that glorious mustache, that's a disappointment.
Instead of depriving of you of video of that mustache and Lanny dancing in a sweater because he missed the team, I'm taking that chance here. You're welcome.
Joe Nieuwendyk: Nieuwendyk bounced around a bit throughout his career but it all began in Calgary and that is where he had the longest stay of his career, playing 577 games with the Flames, close to half of his career total. It's also where he had the best seasons of his career, at least in terms of overall production.
Nieuwendyk won the Calder in 1987-88 with 51 goals and 92 points right out of the gate. He followed it up the next season when he had 51 goals again and added 10 more in the postseason as the Flames won their one and only Stanley Cup in franchise history (and another bonus McDonald appearance!).
Heck, Nieuwendyk was even great in his trade out of Calgary too as the Flames were able to land Jarome Iginla in return. Inducted into the Hall of Fame in 2011, Nieuwendyk is third in franchise history with 314 goals and fourth with 616 points.
Jarome Iginla: When you think of the Flames you likely think of Iginla, who resides atop almost all offensive categories in franchise history with a career that, until this past trade deadline, had been spent entirely in Calgary (at least in terms of NHL games played). He is tops in games (1,219), goals (525) and points (1,095) while second in assists with 570. Undoubtedly he is the franchise's best player partly because of his longevity but also because he was awfully good over all those years.
Year in and year out, Iginla was good for at least 30 goals and around 70 points or more for a long time in the prime of his career. He twice won the Rocket Richard Trophy including in 2001-02 when he had 52 goals as well as a league-high 96 points.
Iggy was a fan favorite and the captain for a long, long time in Calgary and was also very durable with the Flames. At no point in his career that began in 1996 has he played fewer than 70 games in a season. Off the ice he was lauded as much for his demeanor on the ice which not only included leading the Flames and being an elite scorer in the game but he also was never afraid to drop the gloves when needed. Basically everything that Iggy did in Calgary further endeared him to the franchise, making the divorce this past year that much more painful.
But they will always have the Iggy Dance.
Theo Fleury: Questioned for his size (or lack thereof at only 5-feet-6) early in his career, Fleury showed that little guys can be big throughout a career that was never not exciting. He was a big goal scorer for a long time in Calgary and was as exuberant as they come, especially in his NHL days. I mean who can forget his celebration after forcing a Game 7 vs. the Oilers with an overtime goal in 1991? It's the career-defining moment for Fleury.
While that might have been the greatest goal of his career, it was far from the only goal Theo scored. He had a career-high 51 goals in 1990-91 (and a career-best 104 points) with only nine of those coming on the man advantage. He was simply electric, scoring 364 goals and 830 total points in just 791 games in Calgary.
Fleury might have had his troubles off the ice and on the ice he was certainly a pest and thorn in the side of many a player, but the guy could score
Al MacInnis: MacInnis has already appeared once in this series, making the Blues' team as well but his career began in Calgary and it began with a bang. The Flames got MacInnis for the first 13 seasons of his career and he was simply an offensive monster from the blue line.
MacInnis is third in franchise history with 803 games and he's third in points too, only eight behind Fleury as he finished with 822, better than a point-per-game average over those 13 seasons. Reminder, he was a defenseman. Only once between 1984-85 and 1993-94 did he finish with fewer than 66 points and that's when he had 54 points in just 50 games in 92-93. He maxed out with 103 points in 1990-91 on the strength of 75 assists.
MacInnis was even better in the Flames' Cup run in 88-89 as he had seven goals and a whopping 24 assists in 22 postseason games. In total he had a 17-game postseason point streak that all began with the goal below on a booming shot, one of the things MacInnis was known for most. No surprise that it was MacInnis who took home the Conn Smythe Trophy.
Gary Suter: Not to be confused with any of the Sutter brothers that were such a fixture in the Flames organization for a long time -- Gary is Wild defenseman Ryan Suter's uncle -- Suter wasn't exactly on MacInnis' level as a scoring defenseman, but he wasn't that far behind.
Suter came on the scene in 1985-86 and jumped out of the chute with 68 points, helping him to win the Calder Trophy. In the process he also established himself as a force on the power play with half of his 18 goals coming on the advantage. He hit his peak in points two seasons later racking up a whopping 91 in 75 games. Unfortunately for Suter he was injured early in the Flames' Cup run with a broken jaw and had to watch the Flames win the Cup but that doesn't take away from the very strong career he had in Calgary. He is seventh in franchise history with 617 games yet he's fifth in points with 564 with 436 assists.
Miikka Kiprusoff : No, Kiprusoff was not the goalie that led the Flames to the only Stanley Cup in franchise history, that title belongs to Mike Vernon. But Kiprusoff did lead the Flames to the Cup Final in 2004 and is atop almost every Flames goalie record there is.
Kiprusoff has 576 games to his credit with the Flames while Vernon had 526. Kiprusoff also had 205 wins to Vernon's 262 while he has only five more losses. His .913 save percentage, 2.45 GAA and 41 shutouts are all tops in franchise history as well. He was so good, he even inspired a mini-me in the stands, the Kipper Kid.
The assumption at this point is that Kipper has played his final game in the NHL, going out after a long time as the Flames goalie from 2003-04 until this most recent season. He cemented himself as the guy in Calgary in that Cup run in 04 going 15-11 with a .928 save percentage and 1.85 GAA. Following that in the next seven seasons he never played in fewer than 70 games, a true workhorse in net for the Flames, and won the Vezina in 2005-06.
For so long in franchise history the Flames never had to worry about who was between the pipes, something that wasn't taken for granted as Kipper's role in the franchise is well recognized by the fans, so much so that they gave him quite the ovation in what was presumed to be his final home game.
Lanny McDonald, Gary Roberts, Joey Mullen, Hakan Loob, Doug Gilmour, Paul Reinhart, Robyn Regehr, Mike Vernon, Dan Bouchard, Joel Otto, Kent Nilsson, Eric Vail, Guy Chouinard, Sergei Makarov
Saturday's showdown will serve as a rematch of one of the NHL's first-ever regular season...

Stacia Robitaille says Donald Trump told her in an elevator that she was coming home with...

Vladislav Yeryomenko was the Teddy Bear Toss goal scorer for the Calgary Hitmen
The Golden Knights are finally getting their No. 1 goalie back after a 25-game absence

Washington has won four straight, and the Kings are also on a tear right behind the Lightn...

The NHL says it's only interested in expanding to Seattle, but here's a look at all the moving...