NHL All-time teams: San Jose Sharks
The Sharks have become a perennial contender despite their short time in existence behind a strong core of longtime players.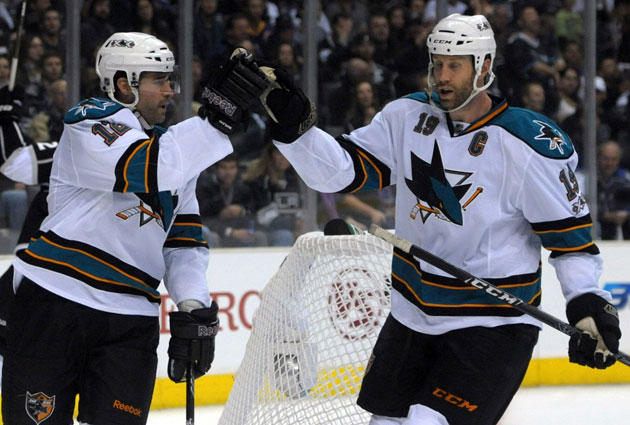 More NHL offseason: Rumors | Top 50 Free Agents | Buyout Tracker | Trades | Transactions
Ah, hockey in the summer, where things come to a grinding halt for about two months in between one long season and another. To fill the void we at Eye on Hockey thought it would be fun to make an all-time team for each of the 30 organizations in the NHL today.
The ground rules: The teams will consist of a center, two wings (regardless of which side), two defensemen and a goaltender. A player must have spent at least 200 games with a franchise to be considered. So Bobby Orr won't be on the Blackhawks' roster or Wayne Gretzky for St. Louis.

The San Jose Sharks haven't been around long but they have made quite an impression in their 21 seasons. What many people think of as a franchise that has always failed to live up to potential and underachieve you can also call a franchise that become an established and perennial contender despite not having some of the intrinsic benefits of teams in the traditional hockey markets or the Original Six squads.
Naturally, with a sustained level of success in the past decade-plus, the Sharks have had some pretty good players come through town. What's a little more interesting about the Sharks is that they have been able to maintain a strong core of leaders through the years, meaning this team falls into place in some spots, largely with a flavor of today and recent years.
While this list is about recognizing the greatest players in franchise history, here's a shout-out to the marketing crews in San Jose. Any group that could help put together a video like this deserves some love.
Joe Thornton: Big Jumbo Joe came to San Jose in a big trade from Boston and has been nothing but a stellar player since in San Jose, a stalwart center who has also worn the C. All in all, Thornton has pretty much been the face of the franchise in the recent past, a time that has been rife with playoff trip after playoff trip and three All-Star Games for Thornton.
Thornton's career began incredibly and has continued. He became the first player to ever win the Hart Trophy as the MVP of the NHL while playing for more than one team during that season. He had 33 points in 23 games and brought that and them some to San Jose as he had an incredible 92 points in 58 games with the Sharks, including 70 assists. Let me put it this way; Jonathan Cheechoo was a 56-goal scorer playing with Thornton in 2005-06.
In total Thornton has played 593 games as a Shark, the third most in franchise history. Behind the strength of a franchise-best 502 assists (and counting), Thornton is second in points, less than 200 behind Patrick Marleau despite close to 600 fewer games in San Jose.
Besides, if he didn't make this team he might have to resort back to being a ventriloquist.
Patrick Marleau: No matter what Jeremy Roenick has to say about Marleau and his approach/commitment to the game, there is absolutely no denying that Marleau is the greatest Shark in franchise history. The second overall pick by the Sharks back in 1997, Marleau has spent his entire career in San Jose, making him far-and-away the franchise leader in games played with 1,165, nearly 500 more than Mike Rathje.
And yes, it's been a very strong 1,165 games as well. Marleau has always been a goal scorer, with close to as many goals (404) as assists (457) in his career. He has been pretty consistent, too, and actually hit his goal-scoring peak later in his career than most. His 44 goals in 2009-10, part of a three-year stretch where he had at least 37 goals a season.
Marleau has always taken a lot of heat for the Sharks' lack of postseason success, but his postseason play but his 0.69 points per game in the postseason isn't that far behind his 0.74 career regular season number.
Owen Nolan: Nolan played for a few different teams in his NHL career, but the Sharks got the bulk of his prime as Nolan played in San Jose from 1995-96 until he was traded in the 2002-03 season. His time in San Jose wasn't necessarily consistent from season to season in terms of points but at his best it was pretty good, such as his 44-goal season in 1999-2000. Just as memorably that season was perhaps his postseason when he had eight goals and two assists in 10 games.
The rare Northern Irishman in the NHL (hey, he was born in Belfast), Nolan remains second in franchise history with 206 goals and is third in points with 451. Indeed, Nolan was the star in San Jose before the Marleau/Thornton era hit, appearing in four All-Star Games while in San Jose.
Perhaps his most memorable moment, though, came in a game that didn't actually matter. In the 1997 All-Star Game in the Shark Tank, Nolan capped off a hat trick on home ice with his called-shot goal. Not exactly Babe Ruth but at least we know for sure this one happened, there's video to prove it.
Dan Boyle: For the second straight day in this all-time series, Boyle makes a team after appearing on the Lightning list. He has only been in San Jose for the past five years and he is starting to hit the twilight of his career but it appears nobody told him as much. A true two-way defenseman, the veteran has had some of his best seasons while a member of the Sharks, scoring at least 48 points in his first four seasons before the lockout-shortened campaign this past season.
I mean, the guy was doing this at 36, he's still playing some pretty good hockey.
There has been little disputing who the Sharks have looked to first on the back end in recent years, it's been Boyle. He has logged big minutes from the beginning in San Jose, logging 25-26 minutes per game for most of his time with the Sharks.
Mike Rathje: For the most part the Sharks team was pretty easy to compile with longtime faces in the franchise who excelled, but trying to pick two defensemen was a very tough task. It really comes close to a matter of splitting hairs when you try and choose two guys from what is a veritable stable of defensemen over the years.
It's tough to differentiate between a number of guys the Sharks have had over the years (you can see them at the bottom) but one thing Rathje has going for him is that he spent more time in San Jose than any of the other defensemen. His 671 career games are second in franchise history to only Marleau. Big Mike was never much of an offensive player -- he topped out at 29 points in 2002-03 -- but was instead a defenseman's defenseman, a guy who used his big frame to help slow opposing offenses.
Evgeni Nabokov: There can't really be much question with this position, right? No, no there can't be because it's Nabokov in a runaway.
Nabokov was such a mainstay in San Jose for so long that he appears in the top five in the organization for games played, something you don't see often from goaltenders. But what else should you expect from a goalie who was in San Jose for 10 seasons, serving as the No. 1 guy for all but one of those seasons.
Starting with his Calder Trophy-winning season in 2000-01, Nabokov never did much to warrant losing the position. He was reliable, healthy and overall just good. He earned two All-Star berths with the Sharks racked up 293 wins in San Jose while sporting a .912 save percentage and a 2.39 goals against average. His 293 wins are 200 more than current No. 1 Antti Niemi.
And there was this save. In the playoffs. This should say enough.
Jeff Friesen, Joe Pavelski, Scott Hannan, Ryane Clowe, Marco Sturm, Mike Ricci, Vincent Damphousse, Jonathan Cheechoo, Marc-Edouard Vlasic, Christian Ehrhoff, Gary Suter, Marcus Ragnarsson, Douglas Murray, Sandis Ozolinsh, Arturs Irbe, Antti Niemi
Sign up now, and your name can be under the Golden Knights' skates, too!

Pittsburgh coach Mike Sullivan says the team also respects players' right to protest

Some familiar faces are back, but a cap-strapped summer left Chicago a little shakier than...
The Pittsburgh Penguins will put politics aside and visit the White House out of 'respect'...

NBC will reportedly be devoid of NHL game broadcasts between Feb. 7-26

The Winnipeg winger suggests Trump is going after 'the principles the U.S. was founded on'