NHL All-time teams: St. Louis Blues
The Blues lost the Final in their first three seasons and haven't been back. But they were no strangers to the postseason with their latent.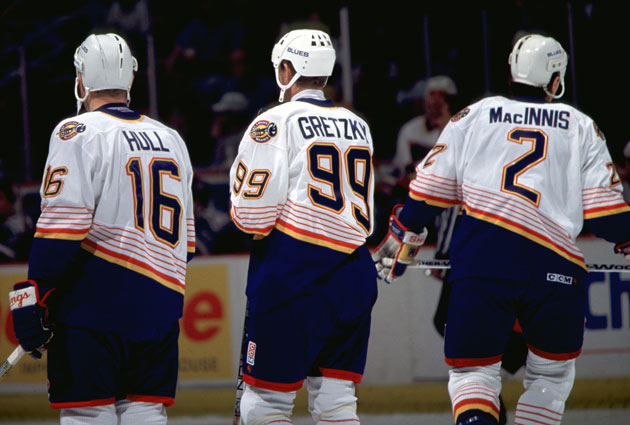 More NHL offseason: Rumors | Top 50 Free Agents | Buyout Tracker | Trades | Transactions
Ah, hockey in the summer, where things come to a grinding halt for about two months in between one long season and another. To fill the void we at Eye on Hockey thought it would be fun to make an all-time team for each of the 30 organizations in the NHL today.
The ground rules: The teams will consist of a center, two wings (regardless of which side), two defensemen and a goaltender. A player must have spent at least 200 games with a franchise to be considered. So Bobby Orr won't be on the Blackhawks' roster or Wayne Gretzky for St. Louis.

The St. Louis Blues are incredibly unique as a franchise in that they had their best seasons at the very beginning, not later. Their first three seasons in the NHL the Blues reached the Stanley Cup Final. Unfortunately for them, they lost all three and haven't been back since. They were the Buffalo Bills before the Bills were the Bills. Their Stanley Cup drought is tied for the longest right now in the NHL with the Maple Leafs. Seeing as how the Leafs have won the Cup before, the Blues' just feels longer.
Despite the fact that the Blues have no Stanley Cup titles to their credit, they were one of the NHL's most consistent teams for a long time. People seem to forget this now with what the Red Wings have been doing over the past two decades but the Blues reached the postseason 25 straight times from 1979-80 through 2003-04. The unfortunate case of being good but not good enough. Overall, the Blues have made the playoffs in 37 of their 45 NHL seasons.
As you would guess with that kind of luck, they had some pretty good players over the years. While this is true, it's also the case that not a lot of them were Blues for very long. No player has reached 1,000 games as a member of the Blues and only one -- Bernie Federko -- ever played more than 780 games with the Blues.
Bernie Federko: Unquestionably, Federko is the top center in Blues history. He's a Hall of Famer, spent almost the entirety of his long career in St. Louis and has the franchise records to prove it. Seeing how he was better than a point-per-game player in his career, there isn't a whole lot his résumé is missing.
Once Federko got going he had a stretch of seven out of eight seasons where he had at least 30 goals. Then consider he wasn't necessarily a goal-scorer, at least not a player with a score-first mentality. He was the first player in history to have at least 50 assists in 10 straight seasons. Four times in Federko's career he did top the 100-point mark, including three straight seasons from 1983-84 through 1985-86. Three other times he had more than 90 points. No wonder he leads the franchise in points, assists and games played.
I really did want to give a nod to Red Berenson for being the leader on those first Blues teams that reached three straight Stanley Cup Finals, but Federko fits the bill for the Blues just a little bit better. Sincere honorable mention to Berenson, however.
Not to mention, Federko had a pretty rockin' mustache, too (via Getty Images).
Brett Hull: While Hull still loves to reminisce and tease Buffalo fans about his Stanley Cup-winning goal as a member of the Dallas Stars, Hull was at his best as a Blue. Heck, he was one of the best in the entire league for a long time while in St. Louis, living up to the incredible legacy left by his father Bobby.
Starting in 1989-90 Hull had three straight seasons of at least 70 goals, scoring an incredible 86 goals in 78 games in 1990-91. Granted, there were a lot of lamps being lit in those days but Hull was the best of the bunch in those years. He was honored with the Hart Memorial Trophy as MVP in 1990-91 for his 131-point season. He played 744 games in St. Louis and posted a remarkable 1.26 points per game over that time, a great number for such a large sample size. Simply put, Hull was a monster in St. Louis. His 527 goals as a Blue are well ahead of the rest of the pack. Federko is second with 352.
As a bonus, Brett Hull and his purely awesome early '90s mullet on Late Night with David Letterman. You know you've made it big at that point.
Brian Sutter: This was a tough spot to choose from because there aren't any guys who clearly deserve it more than the others. In the end I took the guy who played for the Blues and only the Blues. That would be Sutter.
It is a little more than just longevity for Sutter since it's not as if he was a bad player for the Blues. His 779 games in St. Louis are second in franchise history. In that time he finished with 303 goals (one of only three Blues to top the 300 mark; the other are two listed above) and 333 assists for 636 points, again third in franchise history. A three-time All-Star, Sutter topped out at 46 goals in 1982-83 and the following season had a career-best 83 points. As a result of all that his No. 11 hangs in the rafters in St. Louis.
He is one of three Sutter brothers to have played in St. Louis and was undoubtedly the best. Yes, that remark is pretty much just an excuse to show a picture of the Sutters with Rich and Ron in Blues uniforms too while the other four brothers look on. Also interesting to note: Darryl's face hasn't changed one bit in 20 years.
Al MacInnis: The Blues did get MacInnis for the second half of his career and not his prime years, he was still a pretty doggone good player while in St. Louis. A Blue from 1994-95 until he retired in 2003-04, MacInnis was a big point-getter on the back end who logged heavy minutes. In 1998-99 with the Blues, for example, he had 29:07 per game during the regular season. That's pretty crazy. That was also the only season MacInnis won the Norris Trophy as the league's best defenseman, something he never did in Calgary. He was a true two-way guy.
Consider it this way; MacInnis is eighth in franchise history with 613 games played but is actually sixth in points with 452. His 325 assists are fourth in team history. It bears repeating that he was a defenseman, a Hall of Fame defenseman I might add. MacInnis remains in the Blues organization today.
A six-time All-Star with the Blues, his No. 2 also hangs in the rafters in St. Louis and MacInnis has a permanent place outside Scottrade Arena (via Getty Images).
Chris Pronger: Pronger had his fair share of stops in the NHL, evidenced by the fact that he also was on the Ducks' all-time team in this series. But no stop was as long as the one he had in St. Louis -- he spent nine seasons with the Blues, serving as the captain for some of his tenure there as well.
While you could make an argument that Pronger really hit his prime a little later in his career, he had some excellent seasons in St. Louis as well. The best offensive season of his career came in 1999-2000 when he had 14 goals to go with 48 assists. He also had a league-best plus-52 that season while averaging -- averaging -- 30:14 of ice time per game. Not only did he win the Norris Trophy that season as the best defenseman but he won the Hart Trophy as the MVP as well. He is the only defenseman to take home the Hart since Bobby Orr did it three straight times from 1969-70 through 1971-72.
The Blues never missed the postseason while Pronger was in St. Louis. All in all, those were some good times in Eastern Missouri (via Getty Images).
Curtis Joseph: This was not an easy decision, with three goalies who could make a claim to this spot; Joseph, Mike Liut and Grant Fuhr. Despite the fact that Liut is the franchise leader in games played (347) and wins (151), I went with Joseph as he was just a bit better in his time with the Blues.
Like Liut, CuJo began his NHL career with the Blues, playing the first six seasons of his career in St. Louis. Joseph took over the No. 1 job during his third year in 1991-92. Over the next three seasons as the starter he saw a lot of shots, making more saves than any goalie in the league in each of those seasons. His .911 save percentage in '92-93 was the best in the league despite facing more shots than any other goaltender. It would help him earn an All-Star spot the next season.
All told, Joseph's 137 wins with the Blues are only 14 fewer than Liut despite playing 67 fewer games. Despite the fact he played in a time much less friendly to goalie stats, his .907 save percentage is the third-best career mark in franchise history (Jaroslav Halak and Chris Mason are each at .915).
Plus, CuJo could fight.
Gary Unger, Keith Tkachuk, Red Berenson, Barret Jackman, Joe Mullen, Brendan Shanahan, Pierre Turgeon, Doug Gilmour, Pavol Dmitra, Grant Fuhr, Mike Liut, Bob and Barclay Plager. David Backes is on his way there, Alex Pietrangelo in time probably too
The puck didn't go in the net but the skater did!

Another sign that Houston is a potential destination for an NHL relocation
The two teams combined for 111 penalty minutes and five ejections

The veteran Minnesota goaltender has recorded three consecutive shutouts

The historic start for the NHL's newest team has come largely from unprecedented balance in...