NHL All-Time Teams: Winnipeg Jets
A short life spent between two cities and without much success. Yes, the Thrashers/Jets all-time team isn't loaded, but it has star power.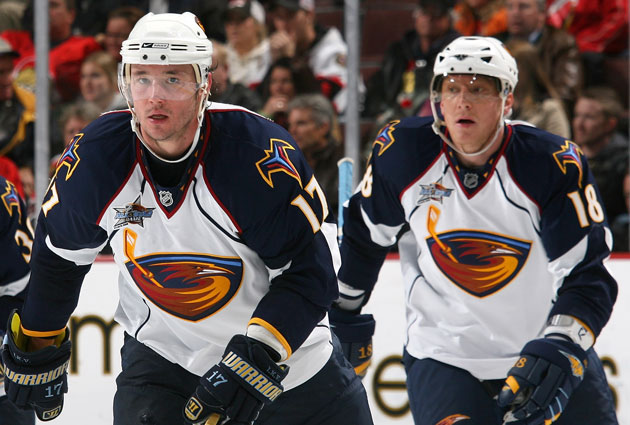 More NHL offseason: Rumors | Top 50 Free Agents | Buyout Tracker | Trades | Transactions
Ah, hockey in the summer, where things come to a grinding halt for about two months in between one long season and another. To fill the void we at Eye on Hockey thought it would be fun to make an all-time team for each of the 30 organizations in the NHL today.
The ground rules: The teams will consist of a center, two wings (regardless of which side), two defensemen and a goaltender. A player must have spent at least 200 games with a franchise to be considered. So Bobby Orr won't be on the Blackhawks' roster or Wayne Gretzky for St. Louis.

The Winnipeg Jets have not been all that good either in their current state or in their previous existence in the form of the Atlanta Thrashers. They actually have seen a few good players come through the organization but they were never able to keep them together long.
The result has been a franchise that has never quite gotten going, reaching the postseason just once. This is something they are trying to change now that they're in Winnipeg, sticking with a core group that began to be pieced together at the end of their time in Atlanta.
It also leads to a franchise that isn't all that deep outside of a couple positions. The Jets/Thrashers have had some pretty good wings but not much at the other positions. The better guys that they have had weren't around for a lot of time. You can thank the management back in Atlanta for all of that, though I don't think the fan in Winnipeg today are thanking the Atlanta management all that much (except in its assistance on making the Thrashers a candidate for relocation in the first place).
Also, for the sake of simplicity, from here on out in this post I will just refer to the franchise as the Threats, a bit ironic given their lack of threatening teams in their brief history.
Ray Ferraro: Well this was some slim pickings for as many good wingers as the Threats have had -- honestly, they have had a few -- they've been very thin down the middle. Consider that their first draft pick, No. 1 overall in 1999 Patrik Stefan, was in consideration. This would have been Marc Savard's without too much question but he didn't play enough games. So to Ferraro we go.
I hate to make it sound like Ferraro is by default because that's not entirely fair. He was on the original Thrashers team in Atlanta and thus had to endure with some bad teams. Still, he was productive and in their second season he led the team in points with 76 as he had 29 goals and 47 assists all at the ripe age of 36.
And let's be real, the guy deserves credit for actually wearing these things.
Ilya Kovalchuk: Of course Kovalchuk makes the team. He was the Thrashers' main attraction for most of their existence. Management in Atlanta got a lot of things wrong over the years but Kovalchuk was one of the few things they did right. That was until it came time to trade him, of course. But selecting him first overall in 2001 and not trading him away earlier like they did with all their other top players over the years was their most competent doing.
He is the best player in franchise history and it's not even remotely close. Not only is he the Threats' all-time leader in games but he also leads in goals, assists and of course points. His 328 goals as a Thrasher are more than double the next most in team history (Vyacheslav Kozlov at 145). He had six straight seasons of at least 41 goals as a Thrasher including two 52-goal campaigns, went to two All-Star Games while with Atlanta and won the Rocket Richard Trophy in 2003-04 (shared with Rick Nash and Jarome Iginla).
Heck, he was so good in Atlanta that he was able to star in a national commercial. Now that's a true feat.
Marian Hossa: Hossa was not in Atlanta very long but it was enough to leave a mark. You won't find him anywhere near the top of the games played list with just 222 with the Threats yet he is third in franchise history with 108 goals as a Thrasher. To put it another way, that was in less than three full seasons. He is the only player in franchise history to hit the 100-point mark, netting 43 goals and 57 assists in 2006-07.
The Threats have a few good options on the wing and that includes Vyacheslav Kozlov, who is second on all the franchise lists behind Kovalchuk. However Hossa was simply spectacular while in Atlanta, first in franchise history with 1.12 points per game.
While Hossa was great for the Thrashers while he was there, he did next to nothing for them when he was traded. On the long list of moves that didn't work out is the trade that sent Hossa to Pittsburgh (along with Pascal Dupuis). The return was Erik Christensen, Colby Armstrong, Angelo Esposito and a first-round pick that the Thrashers used on Daulton Leveille. Not exactly a good deal.
Tobias Enstrom: Enstrom is somewhat of a rare player in this franchise in that he has only ever been with the Threats. An eighth-round pick by the Thrashers in 2003, it took Enstrom a few years to get to the NHL but since he made it he has stuck. He is one of just two players on this list that lasted with the franchise through the move to Winnipeg and is still with the Jets now.
He has proven himself to be a reliable defenseman for the Threats. In addition to being a point producer -- he had back-to-back 50-plus point seasons to end the franchise's tenure in Atlanta -- he had been a reliable defenseman playing big minutes on the back end. He has averaged 23 1/2 minutes thus far in his career. In total he is seventh in franchise history in games but is fifth in points, even as a defenseman. His 183 assists are the third most.
Enstrom and Hainsey both wore Thrashers and Jets jerseys. (USATSI)
Ron Hainsey: The only other player to make the move from Atlanta to Winnipeg with the franchise, Hainsey was with the Threats for five seasons but it looks like that time has come to an end. As it stands now his 346 games just crack the top 10 in franchise history.
Hainsey has never been a huge points man but he did produce 39 points in his first season with the Threats. In the past two seasons, however, he hasn't put one puck in net, racking up 23 assists. He's not exactly the two-way defenseman he was a few years back.
The fact that he makes the team speaks to a couple of things at this point. 1) The franchise is still young and there aren't a whole lot of options -- a guy like Dustin Byfuglien hasn't played enough quite yet -- and 2) the Threats have never been very good. You could make an argument for Zach Bogosian here and I wouldn't disagree much, though with Bogosian supposedly being the more offensive-minded of the two, it should be noted that they have each been with the franchise for five seasons and Hainsey has more points -- and about 50 more games. Bogosian hasn't been healthy enough.
Kari Lehtonen: Lehtonen is in Dallas now but he was in Atlanta for five seasons, backstopping the Threats to their only postseason appearances thus far back in 2006-07 when he started 68 games that season. He gave the Thrashers good and dependable goaltending in his time there before moving on.
If it weren't Lehtonen then it could pretty much only be Ondrej Pavelec or Johan Hedberg so yes, it's a pretty clear call it's Kari. Pavelec has been very inconsistent and overall pretty bad and Hedberg, well, he wasn't much better (there is some latitude on games played for goalies). Despite the fact that Pavelec has played 27 more games for the Threats than Lehtonen did, Lehtonen is tops in wins with 94, has the best franchise save percentage at .912 (Pavelec is at .907) and is tied with Pasi Nurminen for the best goals against average at 2.87. Clear call here.
Vyacheslav Kozlov, Bryan Little, Evander Kane, Andrew Ladd, Nik Antropov, Zach Bogosian and yes, Patrik Stefan
Also notable in their omissions are Marc Savard, Dany Heatley and Dustin Byfuglien because they didn't play enough games to make the squad.
Former Lightning standout will be guarding the net in style in 2017-18

Devils are still in rebuilding mode, but they have reason for hope thanks to young additio...

Buffalo is in the midst of contract extension talks with Jack Eichel, and the payout could...
Los Angeles isn't rushing to sign the 45-year-old forward any time soon

The University of Denver star and Hobey Baker Award winner is drawing interest

Intrigue is high in Arizona after a wild offseason, but expectations should still be tempe...