NHL Homegrown: No. 30 Calgary Flames
Imagine an NHL without free agency or trades, that once a player is drafted with a team he stays with that team for his entire career. What would the rosters look like?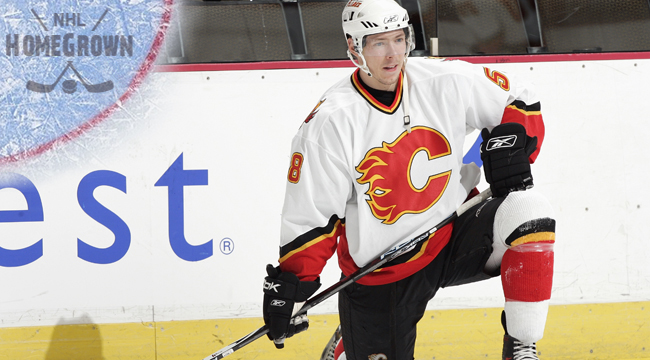 Imagine an NHL without free agency or trades, that once a player is drafted with a team he stays with that team for his entire career. What would the rosters look like? We at Eye on Hockey will take a look at the Home-Grown Teams of all 30 franchises -- three lines, two defensive pairs and two goaltenders. Three lines and two D pairs because this doesn't include undrafted free agents, only drafted players. We want to see who has drafted the best.
We're ranking the teams from No. 30 to No. 1 each day. At No. 30: The Calgary Flames.

Not interested in the Flames? See every NHL Homegrown team here. 
The Calgary Flames are just a wee bit thin when it comes to home-grown talent. How thin? Consider the last time they drafted a player who has scored more than 120 goals -- only 120! -- in his career was in 1993 when they took German Titov in the 10th round. He ended his career with 157 goals.
You can probably guess how this team will look from that.
Line 1: David Moss -- Matthew Lombardi -- Eric Nystrom
Yes, this really is the top line that we can put out there for the Flames. Believe it or not, Lombardi is the active points-leader among forwards drafted by the Flames who signed (Jarret Stoll has more but went to the Oilers in a re-entry draft). He has 97 goals and 156 assists for 254 points, 55 more than Chuck Kobasew. When Moss has been healthy he has shown some flashes, scoring 17 just two seasons ago and Nystrom? Well he just had a career season with 16 goals in Dallas. There you guy, Calgary, your top line.
Line 2: Sven Baertschi -- Mikael Backlund -- Travis Moen
Backlund is still young and has promise but admittedly he is getting the second spot almost by default. Perhaps the only legit first-liner on the team here is Baertschi but given his unproven status, he'll have to play up from the second line. Moen has the potential for a double-digit goals season, but he's playing too high on the second. Alas, there's little choice.
Line 3: Brandon Prust -- Lance Bouma -- Chuck Kobasew
Prust will be able to handle the tough stuff should the Flames need it while producing a small amount. Kobasew is actually the second-leading career scorer among the forwards, believe it or not. And Bouma? Well, we're really hurting at center. He has 43 career NHL games and has 1 goal, 3 assists to show for it.
Offensive Scratch: Brent Sutter
Sutter appears destined to be a player who bounces back and forth between the AHL and NHL, mostly in the AHL. The man with the familiar last name in Calgary was traded to Carolina and saw the most action of his career last year, playing in 15 games.
Defensive Pairing 1: Dion Phaneuf -- T.J. Brodie
Finally, we have a player who could fill the star quota in Phaneuf. He's as hard a hitter as there is in the game and produces offense from the blue line, too. Brodie hasn't seen much action in the NHL but he'll the top pairing push here and hopefully will pick up some from Phaneuf.
Defensive Pairing 2: Adam Pardy -- Derek Morris
If you had Derek Morris down as the all-time points leader on this team, you win. Granted, it's thanks to his longetivity and his big-scoring days are a thing of the past, but facts are facts. Pardy doesn't have a long track record but again, not a lot of options here. He at least has 183 games worth of experience in the NHL.
Defensive Scratch: Tim Erixon
Erixon might certainly earn a spot in the regular lineup, but he still has to prove it. He has been regarded well enough as a prospect and the Blue Jackets will find out in real life if he is capable. In the meantime, he'll sit in the press box.
Goaltending: Leland Irving -- Curtis McElhinney
Taken in first round of the 2006 draft, Irving is young and still unproven but would appear to be the real life heir apparent to Miikka Kiprusoff in Calgary. McElhinney played just two games for the Coyotes last season. The 2006 sixth-rounder has a career GAA of 3.10 in the NHL and a .899 save percentage.
HomeGrown Power Rankings
No. 30 -- Calgary Flames
Coming Friday: No. 29. This recent expansion team has botched top 10 draft pick after top 10 draft pick.  
For more hockey news, rumors and analysis, follow @EyeOnHockey and @StubitsCBS on Twitter and like us on Facebook.
The former Boston Bruin was the first black player to play in the NHL

Inclement weather led to the Charlotte Checkers and Bridgeport Sound Tigers playing in front...

The NHL chose the Detroit rocker as its All-Star Game entertainment and not everyone is th...
NHL fans from all over seem to agree on one thing: Hating Kid Rock

The team tweeted on Monday that Shaw would be re-evaluated in 7-10 days

The Montreal forward was hospitalized after taking a Zdeno Chara slap shot to the head