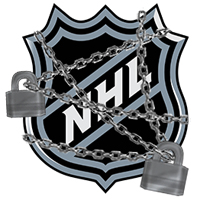 The NHL announced its latest round of cancellations on Friday by scrapping the regular-season schedule through Dec. 14 as well as the All-Star weekend in Columbus, Ohio.
Friday's cancellations mean that a total of 422 regular season games have now been lost due to the lockout, plus the two signature events of the season: The Winter Classic, which was scheduled for New Year's Day in Ann Arbor, Mich., as well as the All-Star Game.
"The reality of losing more regular-season games as well as the 2013 NHL All-Star Weekend in Columbus is extremely disappointing," said NHL deputy commissioner Bill Daly in a statement. "We feel badly for NHL fans and particularly those in Columbus, and we intend to work closely with the Blue Jackets organization to return the NHL All-Star events to Columbus and their fans as quickly as possible."
It has been a rough year for Columbus hockey fans and losing the All-Star Game is just another bad break for the fans and organization. And while the All-Star Game might not be of much interest to most fans (or even players) around the league, it's still a big financial boost for the host team and city.
The two sides met last week with the NHLPA presenting another offer to the owners. The owners, as expected, did not accept it.
"On Wednesday, the players presented a comprehensive proposal, once again moving in the owners' direction in order to get the game back on the ice," said NHLPA leader Donald Fehr in a statement on Friday. "The gap that remains on the core economic issues is $182 million. On Wednesday, NHL Commissioner Gary Bettman said that the league is losing $18-20 million per day during the lockout, therefore two more weeks of cancelled games far exceeds the current economic gap. It makes the NHL's announcement of further game cancellations, including the 2013 All-Star Weekend, all the more unnecessary, and disappointing for all hockey fans – especially those in Columbus. The players remain ready to negotiate but we require a willing negotiating partner."
The main issues remain the split of hockey-related revenue and player contract rights.
The players have started to throw around the threat of decertification of their union. Daly told Fan 590 in Toronto on Friday that such a move could likely mean the end of the season.
For more hockey news, rumors and analysis, follow @EyeOnHockey and @agretz on Twitter and like us on Facebook.