NHL rumors: Why Ryan O'Reilly, or nobody else, will get an offer sheet
Avs forward Ryan O'Reilly remains unsigned. Why won't anybody throw him an offer sheet?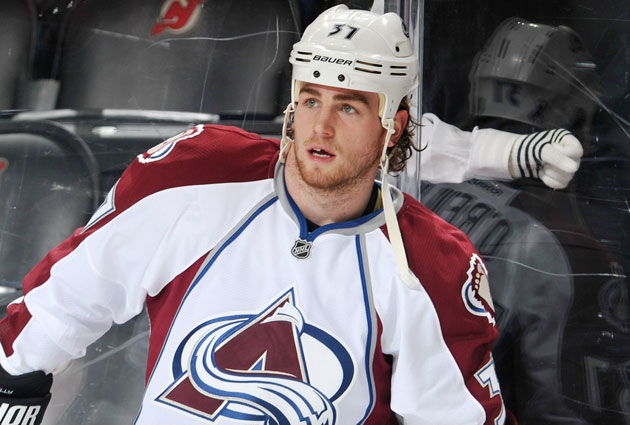 O'Reilly had 18 goals and 37 assists with the Avs last season (Getty Images)
More NHL: Scores | Standings | Odds | Fight-O-Meter | League Leaders | Rumors
Every time there is an impasse with a restricted free agent, everybody wonders why teams won't throw offer sheets their way. It's a tool in the CBA designed to be used, but it's so rare that we actually see it in practice.
To that nature, there have been a lot of people screaming about offer sheets to P.K. Subban before he signed his two-year extension with the Canadiens on Monday, and Avalanche forward Ryan O'Reilly, who still remains without a contract.
If Colorado won't sign him, why won't somebody else try? He's a very good player who led them in points last season. Who wouldn't want that?
The problem is, the offer sheets appear to be pretty pointless, particularly under the new CBA. Here's what one GM had to say to the CBC's Elliotte Friedman in his most recent edition of 30 Thoughts:
As one GM (not one quoted elsewhere in this blog) said: "If Nashville is going to match that offer to Shea Weber, what the [bleep's] the point of doing one?" He added that some of the vulnerable teams are getting increased revenue sharing under a new CBA, giving them even more incentive to match -- with your money.
A few thoughts here: First of all there's still a point. Yes, the Predators matched on Weber and, yes, there's certainly still a chance the team will match. If they do match, then so what? You didn't lose anything except perhaps a trading partner down the line -- but if push comes to shove, I doubt that grudge would last. At best, you potentially forced a fellow competitor to overpay for a player.
For example, if the Avalanche don't want to pay O'Reilly, say, $4 million per season and somebody throws an offer sheet of $4.25 million per season and the Avalanche match it, then you just forced them to pay more than they wanted. Surely there's some level of point in that, is there not?
The second thought on the matter is the interesting aspect brought up at the end -- smaller-market prey paying with the predator's money. The new CBA brought up an increased amount of revenue sharing -- not a massive increase, but an increase nonetheless. So if a GM were to try to poach a player from, say, the Islanders, then the poacher might end up footing some of the bill anyway.
Even though the teams that are paying the chunk of the revenue sharing are making money hand-over-fist in cash and probably wouldn't even notice a few million being spread out here and there, there is a principal in play here. Some of the rich teams probably won't like the idea that they are helping another team spend their money, even if it does negligible damage to their bottom line.
That brings us back to O'Reilly. According to Friedman, there's still no movement toward a deal with the Avalanche.
As of Monday night (when I wrote this), there didn't seem to be any movement between him and Colorado. With him unsigned, Steve Downie out for the season and Gabriel Landeskog in an uncertain position, it's believed the Avalanche are trying to add a forward. Ideally, that guy would be O'Reilly.
It still remains a bit of a mystery to me why he hasn't been signed yet by the Avs; they could undoubtedly use him. And so could a lot of other teams.
As much as some teams could use O'Reilly and have the space to try to sign him to an offer sheet (we're looking primarily at the Maple Leafs, but a lot of teams would fit the bill), it's highly unlikely to happen for the reasons mentioned above and the one other unmentioned reason: the unwritten rule about not using offer sheets.
This has long upset me and I know I'm not alone. Player movement is exciting. That's why the trade deadline and the first day of free agency are so fun. Owners have this tool at their disposal that in a lot of cases would really come in handy -- seriously, with Montreal in cap trouble, Subban could have been ripe for the picking, or at least strained the Habs even more.
Let me put it this way: The last time a team was able to get a player through an offer sheet it was way back in 2007 when the Oilers took Dustin Penner from the Ducks. Since then, only four more offer sheets have even been signed, and all were obviously matched.
But it seems even less likely now to change. Even though the offer sheet's most outspoken critic, Brian Burke, is no longer a GM, I doubt that lifts the wall of collusion that seems to exist around them.
Offer sheets were already as rare as a blue moon before last summer, but with the Weber attempt from the Flyers and the new CBA giving more help to the struggling teams, offer sheets will likely become as prevalent as Halley's Comet.
For more hockey news, rumors and analysis, follow @EyeOnHockey and @StubitsCBS on Twitter, subscribe to our YouTube account and like us on Facebook.
Stacia Robitaille says Donald Trump told her in an elevator that she was coming home with...

Vladislav Yeryomenko was the Teddy Bear Toss goal scorer for the Calgary Hitmen

The Golden Knights are finally getting their No. 1 goalie back after a 25-game absence
Washington has won four straight, and the Kings are also on a tear right behind the Lightn...

The NHL says it's only interested in expanding to Seattle, but here's a look at all the moving...

The NHL says it is only looking toward Seattle for the next expansion team